Insiders Reveal On-the-Job Perks From Starbucks and More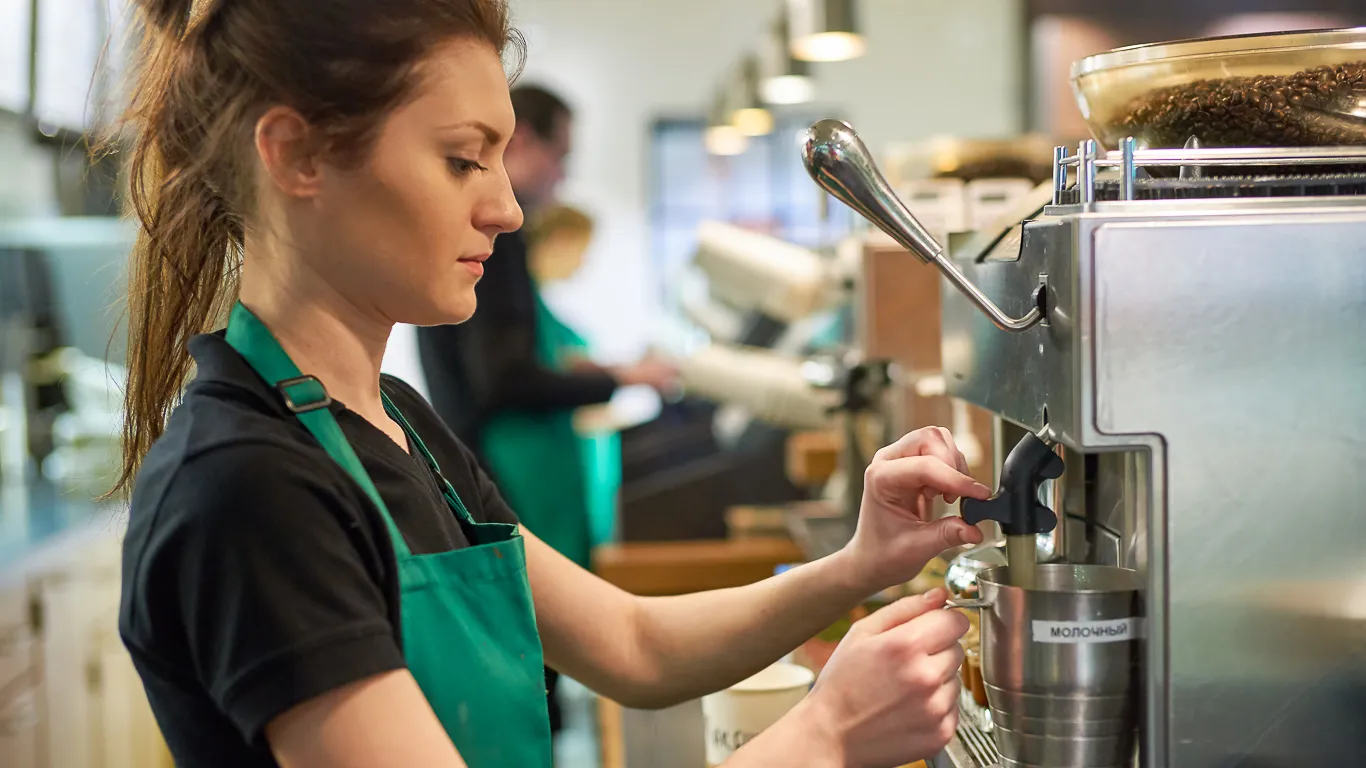 Millions of people earn a paycheck working for a chain eatery, but employees at some establishments really benefit. Certain companies offer seriously impressive perks that put others to shame, including free meals, retirement benefits and health insurance.
Here's a look at companies offering the best job perks.
Starbucks
Starbucks certainly has a lot of competitors, but its "Your Special Blend" employee benefits package can save you money — and make you one loyal employee.
Staffers who log at least 20 hours per week are eligible for a slew of perks tailored to fit their unique needs. This includes bonuses, a 401k match and discounted stock purchase options. You'll also earn adoption assistance and health insurance coverage for yourself and dependents — including domestic partners. The coffee giant also gives employees 30 percent online and in-store discounts and one free pound of coffee, box of K-Cup Packs or tea each week.
Perhaps most unique is its Starbucks College Achievement Plan, a program that offers full-tuition to all employees who enroll in Arizona State University's online program. Military service members and veterans are even given an additional benefit to share with their spouse or child.
Make Your Money Work Better for You
In-N-Out Burger
Forget minimum wage. In-N-Out Burger offers an hourly wage of at least $11 from day one.
Part-timers get a free meal on workdays, 15 percent discount at the company store, invites to employer-sponsored events and holiday pay for the three days the company is closed each year — Easter, Thanksgiving and Christmas. All employees are eligible for dental and vision coverage, and some receive basic life and accidental death and dismemberment coverage, in addition to 401k benefits.
Full-time workers enjoy all the benefits of part-time employment, and then some. Additional perks include medical, dental and vision coverage for employees and their dependents. In-N-Out also offers life insurance, AD&D and business and travel insurance. Employees with one to five years of service receive two weeks of paid time off.
Trader Joe's
It pays to be part of Trader Joe's Crew. The average worker receives a base rate of $14 per hour, reaching average annual earnings of $27,681 when all perks are totaled, according to Glassdoor.
A major perk for foodies, the company also provides regular product tastings, allowing employees to sample its delicious fare. Staffers also receive a slew of benefits, including medical, dental and vision coverage, plus paid time off. Crew Members can also receive a pay bump up to 10 percent annually.
Anyone looking to build a career with Trader Joe's is in luck, too. More than 75 percent of the company's Mates — store leaders — have been promoted from the Crew.
Make Your Money Work Better for You
Chipotle
Slinging burritos at Chipotle can work up quite the appetite. That's one reason why the company offers a free meal every shift. Come during your off hours and you'll get a 50 percent discount on food and soft drinks at your home store.
But discount burritos aren't the only perk you'll cash in on working at Chipotle. Unlike many employers, the company provides free uniforms and even hourly employees are eligible for paid time off.
Chipotle also encourages employees to get ahead by offering an educational assistance program, where staffers can earn a college degree for as little as $250 per year. The company provides health, dental and vision coverage, and sponsors a wellness program. After one year on the job, employees can participate in a 401k match program, but all funds are fully vested from the first day of employment.
Golden Corral
Working at Golden Corral comes with a smorgasbord of benefits, including training programs designed to help employees move up within the company. Eligible staffers working toward educational goals are able to apply for a no-interest loan to help with the cost of schooling.
All employees can participate in voluntary medical, dental, vision and life insurance programs, and benefits are enhanced for those working an average of 30 or more hours per week. You'll also receive meal discounts and, most importantly, paid vacation time.
The Cheesecake Factory
Not surprisingly, if you're interviewed for a job at The Cheesecake Factory, you'll be asked your favorite flavor of the restaurant's signature dessert. Then, before your first day on the job, the company will send you a cheesecake to enjoy with friends and family, according to Fortune in its 100 Best Companies to Work for in 2016 ranking.
Even better, 100 percent of general managers, executive kitchen managers and area field leaders are promoted from within. Hourly staff also receive discounted shift meals, plus 25 percent off food, non-alcoholic beverages and cakes Sunday through Thursday.
The company prides itself on offering flexible schedules, and staffers who work an average of 25 hours per week are eligible for health insurance, following a set period of employment.
Make Your Money Work Better for You
Wegmans
Not your average grocery store job, a gig at Wegmans nets you employee discounts on cell phone service, computers, movie tickets and amusement park admission. Hourly associates also get extra pay for working Sundays and recognized holidays.
Meanwhile, development programs help employees boost their career and earnings potential, and the company provides a generous 401k match. All employees receive medical and dental benefits, and a comprehensive wellness program. Perhaps most unique is the company's scholarship program, which awards more than 1,500 employees each year.
Sheetz
Working at a convenience store is often a thankless job, but Sheetz makes sure its employees feel appreciated. One of the many employee perks includes a free lunch and cookies for anyone working Christmas or New Year's Day, according to Fortune. That's just the beginning, though.
In addition to offering a suite of medical, dental and vision coverage, the company provides an extra $2,000 to store-level supervisors and managers for extra dental work. Sheetz also provides a $1,500 tuition reimbursement each year, and partners with 26 colleges to provide employees discounted credit hours. Its 401k plan matches 100 percent of employee contributions up to 4 percent, and funds are fully vested.
Olive Garden
Olive Garden is known for its unlimited soup, salad and breadsticks, but what few people know is that employees can feast on this delight for just $1 during their shifts. And while the eatery offers customers a Tour of Italy, top employees and team members have the opportunity to actually win a trip to the country.
Employees receive discounts on cellphones, clothing, childcare and more, along with management career opportunities. Eligible staffers get paid vacation, medical and dental coverage and a 401k savings plan.
McDonald's
The hamburger haven markets itself as America's best first job, and it doesn't disappoint. The company's Tuition Assistance Program covers all costs for eligible employees to earn their high school diploma. Its Archways to Opportunity Tuition Assistance Program also helps workers afford higher education, while McDonald's scholarships can cover up to $7,500 of college costs for select employees.
The company also offers English as a second language classes. If you're looking to move up at the company, you'll also be happy to learn that nearly 50 percent of corporate restaurant managers and more than 60 percent of owner/operators started with the company as crew members.
Make Your Money Work Better for You
Bob Evans
At some restaurants, hourly employees earn nothing but a paycheck. That isn't the case at Bob Evans. All team members enjoy a 50 percent discount on food while working, serving as a cost-effective alternative to packing a lunch. The company also offers location transfers, allowing many employees who need to relocate to have a job waiting for them in their new city.
Outstanding efforts by team members are recognized with service awards. Hourly employees are also eligible to participate in a 401k or 401a retirement plan, employee stock purchase program and voluntary life insurance coverage.
Bahama Breeze
As if working in a tropical oasis wasn't fun enough, hourly workers at Bahama Breeze are treated to a variety of perks. One of the most notable being a 25 percent discount for themselves and up to seven guests — excluding tax and alcohol — at any Darden sister brand. Eligible employees also get anniversary pay and paid vacation time.
All team members are entitled to health insurance from the first day of employment. Dental, vision, short-term disability and term life insurance coverage are also available. After one year with the company, hourly staffers qualify for a 6 percent 401k match. Additionally, employees have access to a computer and wireless program discount and a dependent care flexible spending account.
Up Next:

BEFORE YOU GO
See Today's Best
Banking Offers