6 Insurance Options That Can Help You Manage Job Loss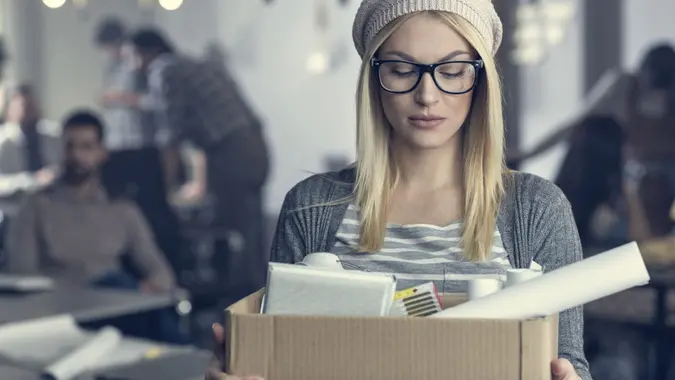 hoozone / Getty Images
An unexpected job loss can be one of the most emotionally and financially devastating experiences in a worker's life. Along with the stress of a loss of employment comes the reality of living without employer-based group health insurance coverage.
The last thing you want when unemployed is to be 100% responsible for health costs in the event of an accident or emergency. That is why you want to avoid a health insurance gap between jobs. Fortunately for the newly unemployed, there are a number of insurance options depending on your situation, finances and needs.
Before you consider insurance options, it is important to do two things. First, you have to receive specifics from your former employer about the end date of your benefits and check legislation and state guidelines to ensure that your rights are met following a notice of termination.
Second, consider applying for unemployment insurance and check how much you can expect to receive and the factors that can affect this benefit. You may be eligible for this temporary state-federal income program if you lost your job through no fault of your own and are actively looking for a job.
Here are six insurance options to consider in order to manage job loss and protect yourself and your family.
Make Your Money Work Better for You
1. Job Loss Insurance
Primarily job loss insurance is designed for people with full-time jobs, as a temporary means to help them make payments on specific debt obligations should they involuntarily lose their employment (this may include a lay-off, dismissal without cause, a unionized labor dispute, a legal strike or a lockout). Typically, people who are retired, unemployed, self-employed or working on a temporary or contract basis will not qualify for job loss insurance.
There is usually a qualifying period of 60 days from when you enroll to when your job loss benefits begin. There may also be policy limits, such as a maximum monthly amount of debt payment that will be covered and a maximum number of months it will be paid while you are unemployed.
2. Join Your Spouse's Plan
If you are married and your spouse has a job, the best option might be to get added to their employer-sponsored insurance plan. While it will be an additional cost that's taken out from their pay, it will probably be more affordable than buying health insurance on the marketplace. You may also receive better coverage if you can be added to your spouse's health insurance.
Figuring out if this is a viable option might be the best and easiest insurance plan available to you following a job loss. "That's always, in some sense, the lowest-cost option and, in fact, may be the preferred option," said Gerald Kominski, a senior fellow at the UCLA Center for Health Policy Research.
Make Your Money Work Better for You
3. Credit Protection Insurance
Credit Protection Insurance, or Creditor's Insurance, is used to pay out a variety of debt obligations, including mortgages, consumer loans, lines of credit and credit cards, or to make or postpone debt payments on the customer's behalf in the event of a job loss.
Credit protection insurance can be purchased at the financial institution where you have your mortgage, personal loan, line of credit or credit card. The premium is usually paid monthly for a defined period of time and, for the most part, is based on the balance or payment amount being insured and the age of the applicant.
4. COBRA Health Insurance
COBRA stands for Consolidated Omnibus Budget Reconciliation Act, a federal law that was established in 1985 to give individuals temporary health coverage after a qualifying event such as a job loss. COBRA provides the option to continue with your current company health insurance for a limited amount of time and coverage under COBRA will typically be the same coverage you had while you were an employee.
You will receive a notice from your employer with information about deadlines for enrollment, but generally, you have 60 days to enroll in COBRA once your employer-sponsored benefits end and your first COBRA premium will be due within 45 days after registration (the full premium now as opposed to your previously employer-sponsored portion). More information can be found on the Department of Labor website.
5. ACA Health Insurance Marketplace
Like COBRA enrollment, you have 60 days after losing your job and health coverage to take advantage of the special enrollment period afforded to you by an Affordable Care Act (ACA) plan. These insurance marketplaces are a place to shop for plans, some of which may be subsidized by the government depending on your income.
Make Your Money Work Better for You
To qualify for a special enrollment period, keep in mind you must be leaving a job that provided employer-based coverage and the premiums and out-of-pocket costs that you will be paying will vary depending on what level of coverage you buy. All ACA plans are required by law to cover 10 essential health benefits including preventive services, maternity care and hospitalization and the plans must cover all pre-existing conditions as well.
6. Private Unemployment Insurance
The prospect of losing your job and your employee benefits program may force you to look into purchasing private unemployment insurance. This product is intended to supplement state insurance benefits in the event that you lose your job. It's not intended to replace government insurance benefits or replace the wages you earned when you were working.
Like all types of insurance, you can purchase private unemployment insurance policies from a certified agent, so take the time to compare different rates and packages, just as you would with buying car or home insurance. The premium rates you pay for private unemployment insurance may be affordable, but the amount ultimately depends on the benefits package you select.
More From GOBankingRates