AI, Management and 5 Other Job Skills That Make You Big Money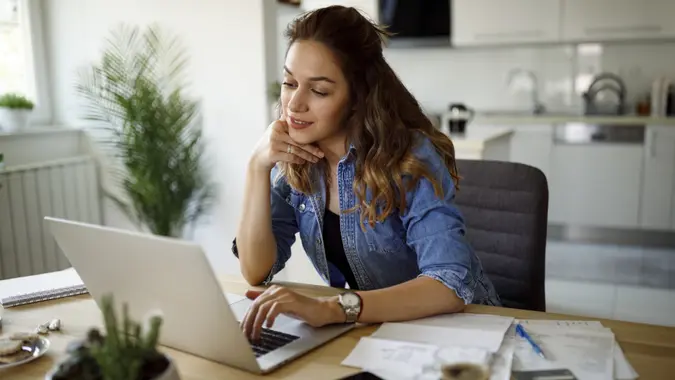 damircudic / iStock.com
In today's tight and highly competitive job market, acquiring the right skills can be the key to unlocking lucrative new opportunities — and earning serious money. Some in-demand skills are evergreen, while others have emerged as highly sought-after assets as industries continue to evolve and adapt to technological advancements.
AI Prompt Engineering
You've probably heard of ChatGPT recently — it's what is called a large language model, or LLM. Basically, you enter a prompt and the model generates a response for you based on that. OpenAI's latest version of ChatGPT has recently garnered a lot of attention, and employers have taken notice, making "prompt engineering" a high-demand skill.
"The fields most affected by this trend are marketing, engineering and data science," said Chas Cooper, CEO of Luminos, LLC. "…[as well as] a wide range of fields from product management to sales to finance. Over half of the jobs demanding ChatGPT skills offer an annual salary of $100,000 or more. Anyone looking to advance their careers by picking up prompt engineering skills can find online courses and certifications like Udemy's ChatGPT prompt engineering course."
Management and Leadership
Leadership skills don't always translate directly into a particular job title, but these skills are obviously critical for any management or executive-level position, regardless of the industry or field. Even better, they will remain in demand regardless of how technology continues to change the employment landscape.
Make Your Money Work Better for You
"Developing skills like strategic thinking, team management, decision-making and emotional intelligence can make you a competitive candidate. Participating in leadership programs, taking on leadership roles in volunteer organizations or work projects and pursuing an MBA or executive education can help refine these skills," said Chris Walker, CEO of Legiit.
Walker notes that potential salaries at the managerial and executive level can be substantial, ranging from six figures all the way to millions of dollars, depending on the industry and organization.
UX/UI Design
As more and more businesses and services continue to increase their online presence, user experience (UX) and user interface (UI) design skills have become ever more needed. The two are closely related but not identical — UX design is the process of planning out the way a customer will interact with a product, while UI design is the process of designing the aesthetics of that product.
"Those who work in UX figure out the best way to present their company's product to customers day in and day out and are well-compensated for it, with salaries averaging about $100,000 nationwide," said Justin Soleimani, co-founder of Tumble.
There are plenty of certificate programs and boot camps out there for UX/UI skill seekers. Soleimani recommends the Google UX Design Certificate, as it covers all of the fundamentals in just six months' time.  
Digital Marketing
Like UX/UI design, digital marketing and social media management skills have become increasingly valuable as more and more of the world goes digital.
"This skill set is particularly sought after in industries such as marketing, advertising, e-commerce and media. By acquiring expertise in areas like search engine optimization (SEO), social media advertising, content marketing and analytics, you can effectively drive targeted customer engagement," said Gene Caballero, co-founder of GreenPal.
Make Your Money Work Better for You
Online courses and workshops offered by platforms like Google Digital Garage and Facebook Blueprint can be good options to learn digital marketing skills. "Highlighting these certifications and hands-on experience on your resume demonstrates your ability to leverage digital platforms for business growth, making you an attractive candidate," Caballero noted.
On average, a digital marketing manager receives an annual base salary of about $82,000.  
Data Science
Data science is a complex field that combines mathematics, statistics and specialized programming languages with specific subject matter expertise. These skills are in high-demand in industries like tech, finance, consulting and healthcare, although they will also be sought out by any organization that needs to manage and understand large data sets.
"By mastering data manipulation, statistical analysis and data visualization, you can extract valuable insights from complex data sets. Online certification courses and boot camps, such as those offered by reputable platforms like Coursera, Udemy and DataCamp, provide a convenient and structured way to learn these skills," continued Caballero.
The average base salary for a data scientist is just under six figures.
Emotional Intelligence
Emotional intelligence, sometimes shortened to EQ, is a skill often overlooked by job seekers, but one that is useful in almost any environment. Simply put, EQ is the ability to understand and manage both your own emotions and the emotions of others.
"Emotional intelligence skills include self-awareness, self-regulation, empathy, social skills and motivation. These competencies, when effectively honed, yield remarkable benefits across various organizational and personal contexts," said Casey Jones, founder of CJ&CO. "It is especially useful in industries or jobs that require a lot of human interaction, such as marketing, healthcare, education, hospitality or social work. [EQ] can help you communicate effectively, build rapport, handle stress, resolve conflicts and inspire others."
Make Your Money Work Better for You
While EQ does not lead directly to any particular job title, learning this skill could significantly increase your earning potential — one study showed that those with a high EQ earn $29,000 more per year on average than people with a low EQ. To showcase EQ in your resume, Jones recommends using keywords like "empathetic," "collaborative" or "resilient."
Sales and Negotiation
Not unlike leadership skills, sales and negotiation skills will almost certainly always be needed by employers, regardless of the extent to which technology changes industries and jobs. These skills are especially useful in fields like real estate, finance and business development, but pretty much every business with something to sell will have a need for them.
"Developing effective communication, persuasion and relationship-building skills can set you apart," said Adam Karl, founder of HRO. "Books like "Never Split the Difference" by Chris Voss and online courses from platforms like LinkedIn Learning and Sales Hacker University can help hone your negotiation and sales skills. Salaries in sales roles can vary widely, but can range from $50,000 to well into six figures or beyond with commission-based structures." 
Invest In These Skills Now
Whether you are just starting your career or seeking to pivot into a more lucrative field, investing in these skills can lead you to big money and rewarding professional opportunities. Remember, acquiring these skills is not a guarantee of instant success, but they lay a solid foundation for long-term career growth and financial stability. With dedication, continuous learning and the right opportunities, you can position yourself for a successful and lucrative career in today's ever-evolving job market.
Make Your Money Work Better for You
More From GOBankingRates