10 Jobs That Still Come With a Pension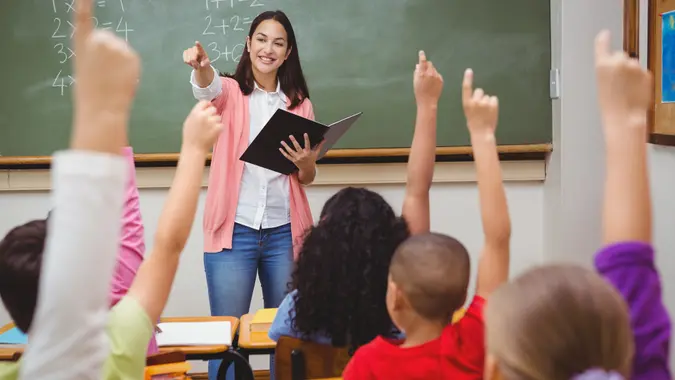 wavebreakmedia / Shutterstock.com
People who are counting on a pension to finance their golden years are rarer than ever. The reality is that most employers ditch pension plans in favor of defined contribution benefit plans for their employees because they're more cost-effective, according to Forbes. Even though this type of retirement plan is not nearly as popular as it once was, companies that still offer pensions do exist — if you know where to look.
Click through to learn how to make your retirement planning easier by getting a pension.
Jobs with Pensions
Traditional pensions — also referred to as defined benefit plans — pay fixed amounts, usually monthly, to retirees based on a formula determined by salary, years of service and age. A pension can be appealing to people who want to be able to plan on a guaranteed amount of income each month after they retire.
Here are 10 industries in which employers might still offer jobs with pensions to full-time employees:
1. Teaching
Jobs that offer pensions are typically available to most primary, secondary and special needs teachers as well as educational service providers at colleges and universities, according to the U.S. Bureau of Labor Statistics.
Don't count on these jobs offering a pension in the future, however. Alaska, for example, discontinued pensions for teachers in 2005.
Pension or no pension, carefully consider where you'll work as teachers can make way more money in some states than others.
2. Manufacturing and Production
Workers who do the heavy lifting — particularly those in unionized trades — have historically received pensions; however, those retirement benefits are dwindling.
Make Your Money Work Better for You
JM Family Enterprises, Inc., an automotive manufacturing and production company based in Deerfield Beach, Fla., is the only manufacturing company on Fortune's 2016 list of "30 Best Workplaces to Retire From." Employees are eligible for the pension plan almost immediately after they're hired.
3. Insurance
Insurance companies typically offer defined benefit pension plans, according to the latest data from the Bureau of Labor Statistics, but that trend might be cooling. Several insurance companies appear on Fortune's 2016 List, but Nationwide Mutual Insurance is the only one that still provides pensions for its employees.
4. Finance
Employees in the finance industry can often count on retirement benefits — in fact, a few financial services companies made Fortune's 2016 list. Only one, however — Navy Federal Credit Union, headquartered in Vienna, Va. — currently offers an employer-provided pension.
5. Nursing
Registered nurses comprise the largest component of workers in the U.S. healthcare field. Nursing is a physically and emotionally challenging profession in which employees deal with patients from birth to death. Nurses are usually eligible for a pension after years of service or immediately after starting work.
6. Protective Service
Providing a pension for the policemen and women who risk their lives to protect the public seems natural to compensate them for performing this dangerous job. People who protect and serve fall into the category of public-sector employees and might receive a substantial payout if they work for a state government.
7. State and Local Government
Look outside the private industry to public service employment with your state or local government if you want a pension. Nearly all public-sector employees are entitled to pensions, according to the statistics bureau.
Make Your Money Work Better for You
Private-sector employment should not be compared with state and local government jobs, according to the statistics bureau. The data is skewed due to the unequal distribution of occupations. For example, professionals and administrative support workers comprise two-thirds of local government workers, but only half of private-sector employees.
8. Military
The military still offers pensions, but you shouldn't join the military to get rich, said Doug Nordman, retired Navy submariner and author of "The Military Guide to Financial Independence & Retirement."
The military recently enacted its Blended Retirement System plan on Jan. 1, 2018. It provides members with a monthly income for life coupled with the Thrift Savings Plan, a defined contribution plan that's similar to a 401k. "The pension is very confusing because the military's total compensation consists of taxable base pay and one-time bonuses as well as untaxed allowances for housing, food and uniforms," said Nordman.
9. Pharmaceuticals
Fifty percent of pharmaceutical companies still offer pension plans, according to a study by Willis Towers Watson, a leading global advisory company. One such company is Roche Diagnostics, which made Fortune's 2016 list of 30 Best Workplaces to Retire From.
Additionally, the Willis Towers Watson study found that pharmaceutical companies, along with insurance companies, are the most likely sectors to offer retirement benefits in the form of traditional pension plans to new hires.
10. Utilities
Although some companies in the utility sector have frozen or terminated employee benefit plans, almost half of Fortune 500 employers in the utilities sector still offer pension plans to new hires as of 2017, according to the Willis Towers Watson study. Pacific Gas & Electric is one example.
Make Your Money Work Better for You
One reason utility companies might tend to offer pensions, according to Willis Towers Watson, is because they are "typically heavily unionized" and often want to "keep their retirement structure consistent between their union and nonunion workforces." In addition, jobs in this sector are often physically demanding, and a pension plan can help make retirement easier after devoting years to full-time employment.
Click through to learn 20 ways to increase your savings and retire rich.
Cynthia Measom contributed to the reporting for this article.
Editorial Note: This content is not provided by American Express. Any opinions, analyses, reviews, ratings or recommendations expressed in this article are those of the author alone and have not been reviewed, approved or otherwise endorsed by American Express. American Express credit card products are not available through GOBankingRates.com.