12 Jobs That Let You Play With Animals All Day

8 min Read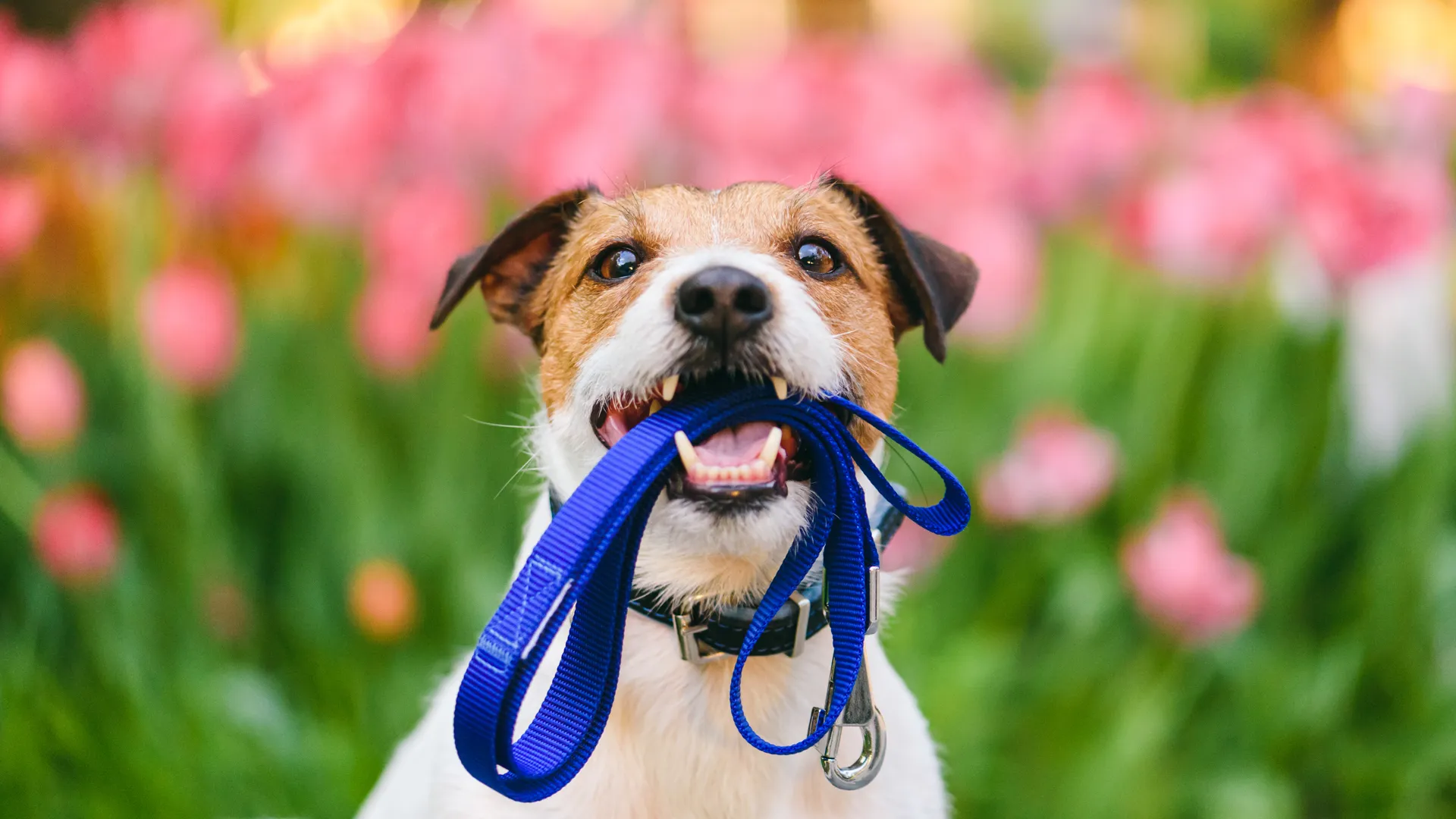 Make Your Money Work Better for You
1. Dog Walker
Dog walkers primarily exercise animals for owners who aren't physically able or don't have the time. Other duties include cleaning up doggy waste and providing water as needed.
Although there aren't any minimum educational requirements for this job, you'll need experience working with dogs and getting them to obey. You'll also need a certain amount of physical strength to control the dogs that you walk, especially if you walk more than one animal at a time or find yourself wrangling spirited canines. Dog walkers can work as independent contractors or seek out a position with a dog-walking service.
Take Our Poll: Do You Believe in Quiet Quitting?
2. Animal Trainer
Median hourly wage: $15.04
Animal trainers are responsible for teaching certain skills or behaviors to animals such as horses, dogs and marine mammals. Training methods include voice commands and body language and are intended to facilitate obedience, security, disability assistance and entertainment.
Formal animal training degree and certification programs are available, but many animal trainers acquire their skills on the job by learning how to successfully interact with animals. Animal trainers are often self-employed; however, job opportunities exist at zoos, aquariums, military bases, ranches, horse farms and boarding kennels.
Not all trainers have the animals' best interests in mind. Learn why one woman tells people not to spend money on animal attractions.
3. Pet Hotel Worker
Median hourly wage: $13.81
Interactive pet care, along with a side of customer service, are the primary duties of a pet hotel worker. No minimum educational requirements exist for the job, but you'll need to enjoy interacting with pet parents as they check their animals in and out of the hotel.
Once the pet is checked in, you'll help with tasks like feeding, watering and walking the animals, as well as facilitating canine play groups and petting the various dog and cat boarders. Other priorities include ensuring each animal has clean and comfortable bedding and administering any necessary medication.
Make Your Money Work Better for You
4. Wildlife Rehabilitator
Median hourly wage: $31.08 (with a bachelor's degree)
Although you might not be able to play with wild animals, you'll definitely work closely with them as a wildlife rehabilitator. You'll help treat and provide care for injured, sick or orphaned wild animals until they are able to successfully survive in their natural habitats again.
Respect and admiration for wild creatures is a good start, but you'll also need specialized knowledge and training to succeed in this job. Vital knowledge includes the nutritional needs, caging protocols and behavioral considerations of various animals, as well as basic first aid and handling and restraining safety. Various legal permits are also required, which you can study and qualify for.
Wildlife rehabilitators often learn necessary skills through volunteering or working at an animal rehab center or participating in an intern program. Getting a formal education in veterinary medicine or wildlife biology can also be helpful.
5. Pet Sitter
Median hourly wage: $13.75
Pet sitters come to pet owners' homes while they vacation, travel for business and more, which means responsibility and integrity are required for the job. Owners might want the sitter to make routine visits each day or temporarily stay in their home full-time while they're away.
Pet sitters are responsible for various tasks, including walking or playing with pets, cleaning up waste, giving medications and providing food and clean water. Pet owners might also request additional tasks, such as collecting the mail or watering plants.
Pet sitting is popular as a side hustle but could also be a full-time job if you build up a large clientele.
6. Cat Cafe Worker
Median hourly wage: $13.75
Although food and beverage servers are needed in a cat cafe, you'll work in a separate area if you want to interact with cats. Being a cat lover is a fundamental requirement because you'll be spending the bulk of your time around a potentially large group of felines.
Job duties include providing food and clean water, administering medication, documenting health concerns, cleaning litter pans, tidying cat areas and handling cats. You'll also need the ability to bend, stoop and lift up to 50 pounds. Some cat cafes also facilitate adoptions, so you might need customer service skills.
Make Your Money Work Better for You
7. Animal Massage Therapist
Knowledge of animal anatomy and physiology, as well as proper massage techniques, are vital to the success of an animal massage therapist. And, in some states, certification or other specialized training might be required to practice in this field.
Animal massage therapists develop treatment plans for their clients to relax muscles, facilitate range of motion and stimulate circulation. They sometimes work in tandem with the animal's veterinarian. Animal massage therapists might choose to specialize in massage for certain animal species or work with a variety of animals. They can work as independent contractors or seek out positions at vet clinics, grooming salons, zoos or pet store chains.
8. Zookeeper
Median hourly wage: $15.98
A degree in zoology, animal science or biology is typically required of a zookeeper, as well as extensive experience working with animals in places like aquariums, wildlife rehab facilities, vet clinics or stables. Physical labor, often taking place outdoors, is a basic requirement of the job.
Zookeepers are also tasked with ensuring the health of a wide variety of species in their care. Typical duties include feeding, watering and monitoring the health of animals, as well as giving medication and cleaning and maintaining habitats and enclosures.
Zookeepers report animal health concerns to veterinarians and might also assist with any medical or reproductive procedures. In some facilities, zookeepers take on the role of educating the public about the animals via special programs or presentations.
9. Veterinary Assistant
Median hourly wage: $14.32
Veterinary assistants work under the supervision of a vet tech or veterinarian while performing routine animal care tasks. Typical duties include feeding, bathing and exercising animals. Vet assistants also restrain animals during exams or lab procedures, assist in emergency first aid, monitor and care for animals following surgery, and clean and disinfect kennels, exam rooms and related equipment.
A high school diploma and experience working with animals are all that's typically required of a vet assistant. Both vet clinics and animal hospitals employ people in this field.
Make Your Money Work Better for You
10. Marine Biologist
Median hourly wage: $27.47
Students who are interested in becoming marine biologists often get an undergraduate degree in biology, zoology or animal science before pursuing a master's or doctorate in marine biology. Most marine biologists choose a specialty, such as marine ecology or marine mammalogy, or opt to study a particular species. As part of their training, many students participate in an internship at a marine research institute, where they work in a hands-on aquatic environment using equipment such as scuba gear, nets, traps and sonar.
Marine biologists can work for research institutes, universities or private companies. Job opportunities are also available with the U.S. Navy and the U.S. Coast Guard. Job duties vary but can include collecting and analyzing data, writing grant proposals, publishing papers, delivering lectures, advising students, facilitating lab sessions or taking on a consulting role.
11. Animal Shelter Worker
Median hourly wage: $14.62
Animal shelters house homeless pets to reunite them with their owners or help them find a new forever home via adoption. Animal shelter workers are tasked with caring for the animals in the shelter, as well as providing customer service to people who are looking for their lost pet or express an interest in adopting.
Job duties are mostly routine and include cleaning kennels, changing litter pans, feeding and watering animals, exercising pets and administering medications. Animal shelter workers might also be responsible for the intake and documentation of new animals.
12. Animal Photographer
People with photography skills and a love of animals can seek out a job as an animal photographer. Animal photographers can specialize in one type of animal or photograph a wide variety of species. Photography equipment, computer photo software and a professional portfolio are requirements for this type of job. No formal degree is required, but technical classes or participating in an internship can be helpful.
Animal photographers are generally independent contractors, and those who shoot wildlife often travel the world while working to pursue their subjects. Those who focus on domestic animals or pets often have a studio or offer to travel to a convenient location for photo shoots. Many animal photographers hold a full-time job in another industry while building their photography portfolio and clientele to a level that can sustain them financially.
More From GOBankingRates
About the Author