Kevin O'Leary vs. Elon Musk: Was Going Remote a Mistake?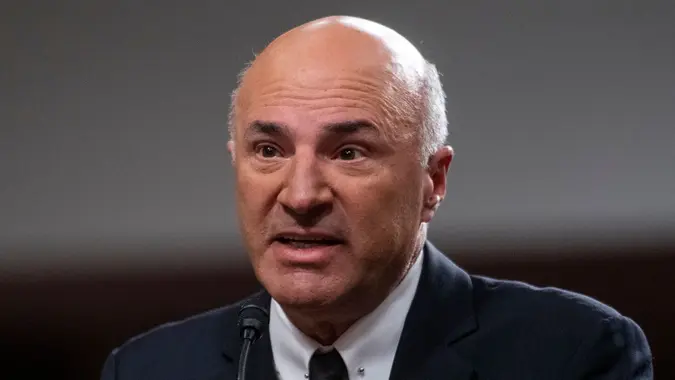 ©Shutterstock.com
When the pandemic hit in early 2020, no one could foresee the effects and changes it would have on a global scale. One of those areas was how society and culture view work. It was once a 9-to-5 world where everyone worked on location. Covid-19 changed all of that as nearly everyone who wasn't considered an essential worker or laid off found themselves in a new position: working from home.
Now, in the wake of the reopening of the world, there's a big question to ask: Was going remote a mistake?
Also, see 40 companies that will pay you to work from home.
What Musk and O'Leary Think
One big name to answer that question, Elon Musk, the head behind Tesla and Twitter, said emphatically: "Yes."
Musk publicly criticized remote work earlier this year with some harsh interrogation of the ethical ramifications behind what it means to work from home, choosing to highlight that essential workers do not have that luxury.
"I think that the whole notion of work from home is a bit like the fake Marie Antoinette quote, 'Let them eat cake,"″ Musk told CNBC in May. "It's not just a productivity thing. I think it's morally wrong."
Kevin O'Leary, star of "Shark Tank" and a well-regarded financial investor, hit back at Musk's controversial diatribe during an interview with CNN in May.
Make Your Money Work Better for You
"The world's changed. The economy's changed. The ethics of work have changed," O'Leary said. 
He pointed out that Musk's businesses Tesla and SpaceX rely more on in-person interaction to solve problems, so that perhaps colored Musk's viewpoint. O'Leary also pointed out that his businesses have netted a 20% gain in cash flow due to the reduced costs in office space as the cubicles have been emptied.
"So," he said, "you can't tell me this doesn't work."
GOBankingRates wanted to pitch this same question to a few other business experts and get their insights on remote work and what they think of the views of Musk and O'Leary.
'Both of Their Opinions Have Merit'
"This exchange between Musk and O'Leary is super interesting because both of their opinions have merit," said Scott Lieberman, founder of Touchdown Money. "Collaboration is obviously important, especially in certain types of workplaces, and face-to-face interaction can be really fruitful. Musk is right to highlight that.
"But O'Leary's observations are spot on," Lieberman added. "Not all jobs, and not all types of collaboration, depend on that sort of face-to-face contact."
Casey Jones, founder of digital marketing agency CJ&CO, said, "Elon Musk's concerns over remote work impeding innovation underscore the importance of in-person collaborations for sectors such as tech and manufacturing. Physical proximity can often breed the kind of dynamic synergy and spontaneous knowledge sharing that drives radical innovation. Yet, this need for in-person collaboration may be industry specific rather than a universal norm."
Make Your Money Work Better for You
Lieberman said many people like to work from home due to the flexible hours, the ability to care for family and loved ones, and the desire to eliminate the commute. He said smart employers will do what makes their employees the happiest.
As O'Leary said in the CNN interview, "I can make them work in the office, and they will say, 'Thank you, but I'm going to work for somebody else: your competitor.' So we choose not to do that."
'Each Organization Has Different Needs'
Lacey Leone McLaughlin, president of LLM Consulting Group, Inc., said, "There's a middle ground between what Musk and O'Leary are saying. The reality is not every organization is the same, and each organization has different needs."
"For companies with engineers or writers who need to collaborate, working in person may be the way to go," McLaughlin said. "For other companies, they may find higher productivity when workers work from home. It's about the needs of the team and the needs of the business, whether teams or employees are staying home to work or coming into the office, do it with purpose. Nothing is more frustrating than joining a Zoom in an empty office building. Everyone knows people have long wasted time commuting."
Jones said, "Kevin O'Leary's endorsement of remote work finds resonance in many service-based sectors, including my own field of digital marketing. The advent of digital tools for seamless online collaboration and project management has opened up opportunities for working with a global talent pool. The potential for cost savings, increased productivity and higher employee satisfaction are significant drivers for the remote work model in such sectors."
Make Your Money Work Better for You
Jones argues that global industry heads of the world like Musk should be viewing the current status of work on a macroeconomic scale.
"Remote work carries the potential for regional economic balancing," Jones said, "reducing congestion and pollution in overcrowded cities and fostering inclusivity by facilitating work opportunities for people residing in remote areas. Conversely, it could widen the digital divide if not managed inclusively, with benefits accruing predominantly to those with access to requisite technological resources."
Jones concluded that remote work is not a question of good or bad. He said the focus should instead be on "the question of compatibility with a specific industry's needs, the preparedness of the workforce and the robustness of the supportive infrastructure in place." 
"The future, in my view, may be a hybrid model," he said. "Effectively balancing the benefits of both physical and virtual workspaces."
More From GOBankingRates