9 Things You Should Never, Ever Lie About on Your Resume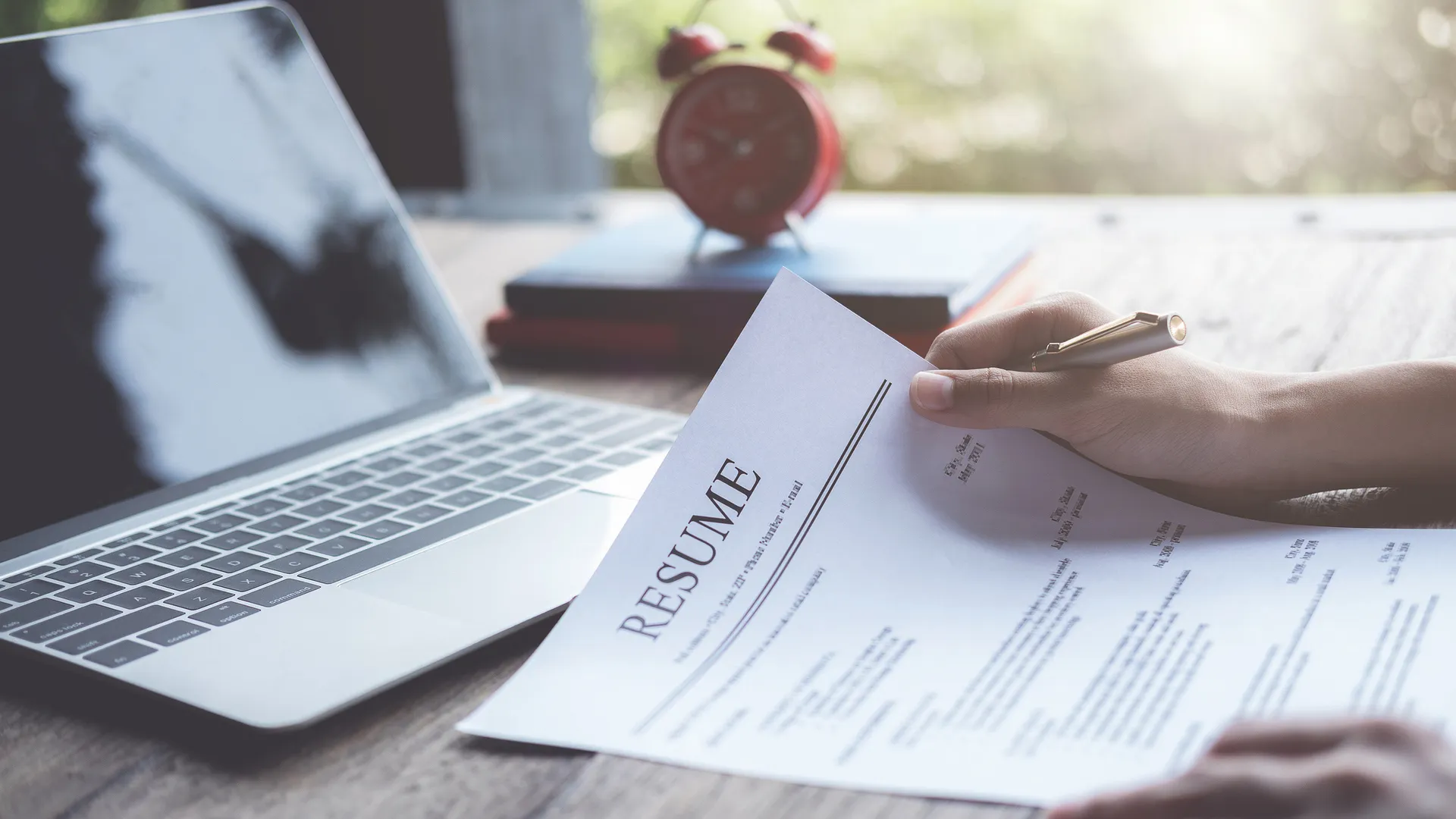 Make Your Money Work Better for You
The Lie: Your Dates of Employment
Kathleen Steffey, CEO of Naviga Recruiting & Executive Search, said that when it comes to the lie she encounters most often, "Dates of employment are the culprit. I also catch unemployed candidates who state their last employer as 'present/current' when they should list an end date to be transparent with employers."
People often alter employment dates to hide a significant gap in employment. Gaps could be due to a layoff, parental leave or something else entirely. Another reason job candidates alter their dates of employment is to hide the fact that they worked somewhere less than ideal, or that they have been job-hopping.
What To Do Instead
Consider creating a functional resume which puts emphasis on your skills over your employment history. Use a template, such as Zety's functional resume template, if you're not sure where to start.
Further, be ready to address those gaps in an interview and put a positive spin on things. For instance, if you took a few years off of work to raise children, you might say, "I stepped away from a professional setting to work in the home, raising a family. That time taught me so many invaluable skills I would never have otherwise had. In fact, research shows that mothers experience a bit of a neuro-makeover after birth that in some ways makes them better employees than others."
Take Our Poll: Do You Think Student Loan Debt Should Be Forgiven?
The Lie: Your Work Experience
There are some embellishments you can get away with, but your job history is not one of them.
"I'm not overly concerned with white lies like bumping up your college GPA a couple points or stating you're a self-starter when really you're not," said Matthew Ross, managing member of MLR Ventures.
In 2018, Ross caught a job applicant in a lie about her job experience and said, "[once someone starts] fudging where they worked, what projects they worked on or who they worked under, that's where I draw the line. In my eyes, relevant work experience is the most important factor for hiring, so it's imperative to receive truthful information."
Make Your Money Work Better for You
What to Do Instead
There's no way around this one: You can't lie about where you've worked. If you have been in the workforce for a long time, however, you can omit older jobs that are no longer relevant.
If you're ashamed of where you've worked, remember that every job counts. What matters is the skills you learned on the job, the objectives you met and your major wins. Be sure to share those. Having a stellar cover letter stating why you're the right person for the job — even if your work experience doesn't look like much — is also one of the simplest ways to improve your chances of getting a job.
The Lie: Your Job Title
Dawn D. Boyer, Ph.D., is the CEO of D. Boyer Consulting, which helps with resume writing, among other services. When asked what the most egregious lie on a resume would be, she said it would be, "Jobs or job titles for positions they really did not do. [For example,] the president's nephew claiming to be special technical assistant to the president … when [he was only] a summer intern mailroom clerk."
Employees tend to lie about job titles to make themselves sound more important or qualified. Manager of office operations sounds a whole lot better than an office assistant, obviously.
What to Do Instead
Be honest about your job title, but, again, focus more on skills and achievements. This can be done with a specific resume format, such as the combination, which highlights your most relevant and important skills and accomplishments at the top of your resume.
When discussing achievements, be sure to include anything quantifiable. For example, when you were a mailroom clerk, how many letters did you have to sort and deliver? If you never had an incident where mail was misplaced or undelivered, mention that. However, try not to get too granular or immaterial — your future employer doesn't need to know that you used a total of 57 paper clips during your internship.
Make Your Money Work Better for You
The Lie: Your Professional References
Timothy Wiedman, retired associate professor of management and human resources at Doane University, said that lying about your professional references is a sure-fire way to lose out on a job. Back when he worked for a restaurant chain, he witnessed that very situation with another employee.
"Before hiring him, my boss called the phone number provided, and the person who answered verified that the applicant had been one of the store's assistant managers and that he was eligible for re-hire," he said. "But, later, during a random re-check, our HR people called the number again — and a child answered the phone. It was a private residence!" The employee later admitted that the reference he had put down was his cousin.
People tend to falsify references when they don't have enough professional contacts, don't have a way of contacting former colleagues or they parted ways on bad terms.
What to Do Instead
If you left a job on bad terms, you likely won't be able to list your former manager as a contact. But, what about co-workers? Did you have a positive experience with anyone? If not, try going further back to other jobs if possible. If you still don't meet the required number of references, list what you do have and try to ensure that at least one was a direct supervisor.
If you don't have much job experience because you're a recent graduate, think of references in a different way. It's OK to list former professors, academic advisors and directors of programs you participated in. They can attest to your character and work ethic.
The Lie: Your Skills and Level of Proficiency
"The worst lies I see on resumes are inflating job skills," said Amy White, a former HR director in the healthcare industry who now runs the blog Daily Successful Living. "There is nothing more frustrating than spending the time and effort to hire someone and then have them be unable to fulfill the role because of a lack of skills."
Lying about your skills might seem like a white lie and, therefore, acceptable, but if the skill is central to the job, you're going to be a disappointment to your employer. You're also going to struggle to do a job you don't know how to do, which is unnecessary stress.
Make Your Money Work Better for You
What to Do Instead
When it comes to soft skills like effective communication and organization, play up the ones you already have, and tailor them on your resume — without lying — to mirror the job you're applying for. If you are good at juggling a lot of projects and you know the job posting says the company is looking for a "jack of all trades," then use that language. You should also play up your eagerness to grow and learn in your cover letter.
As for hard or technical skills, that's when things get trickier. Fortunately, there are a ton of money-making skills you can learn quickly. You might have to take a lower-level job in the meantime, however, while you develop your skill set.
The Lie: Your Volunteer Experience
Of the list of things to put on a resume, you might not think of volunteer experience. But, if you're applying for a job at a nonprofit, charitable organization or company with a specific mission statement, you might provide this kind of information.
Candidates who lie about volunteer experience are likely doing it to make a good impression. If you're trying to get a job at the American Cancer Society, for example, it probably looks good to say you participate every year in its community fundraising event, Relay for Life.
What to Do Instead
This one is very easy to remedy: Go volunteer. Find a cause that you'd like to support and sign up via the organization's website. Once you have an event under your belt, then you can consider adding it to your resume. Just don't make it out to seem like you've been volunteering for years. You never know who might be on the board or have a relative who volunteers with the organization.
Make Your Money Work Better for You
The Lie: Where You Went to School
Sandi Knight, president of Knight HR Consulting and Coaching said, "I [once had] someone misrepresent their education. When we went to look into the background, the individual did not have [a] record of ever attending or being associated with the institution noted on the resume. This, in my opinion, is the worst thing someone could lie about on their resume."
People who lie about the college or university they attended often do so because they perceive their own education to be insufficient or not as prestigious.
What to Do Instead
There's no easy way around this. You simply can't lie about the school you went to. If you went to Clusternut Clown College, own it. If you got a GED, own it. Don't say you went to Yale and think that the interviewer isn't going to look into it.
If you want to downplay where you went to school, you can always use a resume format that highlights skills or work experience over education.
The Lie: Degrees, Certifications and Other Achievements
"The worst thing that someone could lie about is having graduated with a certain degree," said Rich Franklin, founder and president of KBC Staffing. "It demonstrates a commitment to dishonesty that goes well beyond your average resume lie and shows poor judgment and character that should not be overlooked."
Whether it is a degree, certification or some other type of achievement, by lying, you're stating that you're qualified for a job when you actually aren't and that could be dangerous. Think about it, you wouldn't want to find out a surgeon doing an operation on you has fabricated their qualifications.
What to Do Instead
Look into jobs that don't have extensive requirements. There are some high-paying, even six-figure jobs that don't necessitate a four-year degree.
If you truly want to get a job that requires a certain qualification, try taking an adjacent job in the meantime, while you continue your education. Or, better yet, take advantage of jobs that pay you to get accreditations.
Make Your Money Work Better for You
The Lie: Your Name
If you turn in a resume with a fake name, you're effectively submitting a fake resume. Still, people do it, and sometimes, for a very good reason. In 2016, a study by professors from the University of Toronto and colleagues found that "resumes containing minority racial cues, such as a distinctively African-American or Asian name, lead to 30% to 50% fewer callbacks from employers than do otherwise equivalent resumes without such cues." Due to discriminatory practices by organizations, some minorities may employ "resume whitening," concealing their race or ethnicity by taking on a more Caucasian, "American-sounding" name.
Peter Yang, CEO of ResumeGo, said, "While there's a good reason for it, hiring managers like myself can't help but feel taken aback when we suddenly find out that you aren't who you say you are."
What to Do Instead
If you're concealing your real name because you fear discrimination — which is a legitimate concern — unfortunately, there is no easy answer. Yes, changing your name could very well win you a callback, but if the company wouldn't give you an interview because of its own shameful prejudices, that's an unethical organization and an unsafe environment for you to be in. Try utilizing job search platforms, like Black Career Network, that can help connect you with equal-opportunity employers.
On the other hand, if you're changing your name on your resume to conceal something like bad work experience or criminal history, just know that a background check will reveal those things. It's best to be upfront. An excellent resource for those with criminal histories, in particular, is the Fair Chance Pledge. Over 100 organizations have committed to giving Americans with some sort of criminal record a fair shot at employment.
More From GOBankingRates
About the Author