Looking for Work During a Recession? Expert Suggests Pitching Yourself as the 'Solution'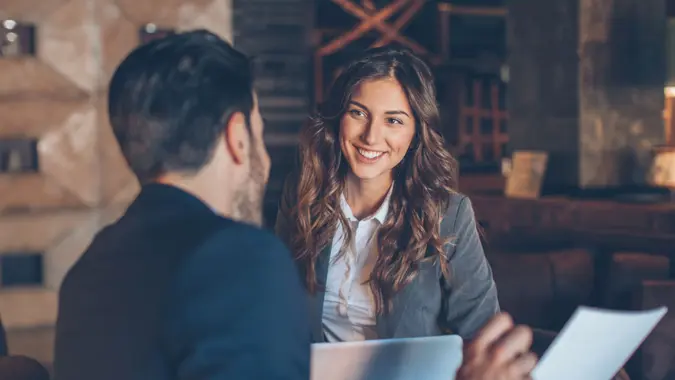 pixelfit / Getty Images
One of the great unknowns of 2023 is whether the U.S. economy will head into a recession — and if so, how long it will last. There is general agreement among economists that the economy will struggle over the next year or so, though there is no clear consensus over whether those struggles will lead to a recession or a softer landing in the form of "slowcession," in which growth slows but doesn't head into negative territory.
See: Does Working After Full Retirement Age Increase Your Social Security Benefits?
Read: How To Invest In Precious Metals To Protect Your Retirement
Find: States Whose Economies Are Failing vs. States Whose Economies Are Thriving
To deal with the uncertainty, many large employers are either freezing their payrolls or cutting jobs. A number of major tech companies have already announced layoffs, including Amazon, Twitter and Facebook parent Meta. Others considering downsizing include Stripe, Salesforce, Microsoft, Zillow, Snap and Robinhood.
A study published last year by KMPG found that 91% of U.S. CEOs believe there will be a recession at some point in the near future, with only about one-third (34%) expecting it to be mild and short. More than half of CEOs considered downsizing their workforces over the next six months.
Make Your Money Work Better for You
More recently, earlier this month CNBC reported that more than one-fifth (22%) of CFOs it polled said they expected capital spending to decrease over the next 12 months. On the bright side, more than one-third expect spending to increase, while 39% expect it to stay the same. Roughly 40% of CFOs said their company's headcounts will remain the same.
The one certainty is that job hunters will find a challenging environment as employers weigh how much new staff to take on, if any. The median cost per new hire is $4,700, according to data from Activate 180, which provides career coaching and other services to employees and employers. Many employers have found that recruiting a new employee can actually cost as much as three or four times the position's salary.
Given the high cost of hiring new people, companies will be especially careful in an uncertain economic environment. If the economy does fall into recession, there are steps you can take to improve your chances of landing the right job.
Activate 180 CEO and co-founder Rod McDermott recommended approaching it not so much as looking for a job, but providing a solution.
"Look for a problem for which you would be an ideal solution [and] target companies that would benefit significantly from the skills you are offering," McDermott told GOBankingRates in an email statement. "From there, rather than just sharing your resume, sell yourself by sharing stories about the companies you have elevated or helped in the past to showcase your effect on their bottom lines."
Make Your Money Work Better for You
He said you might need to take a "granular approach" in connecting your previous experience to how you are a solution — especially if the skills required at potential new jobs don't align with your duties at previous positions.
"Even if the abilities you present are different from the majority of your previous responsibilities, they could prove invaluable and create positive change," McDermott added. "Sell yourself as a solution by explaining applicable accomplishments and how you can assist their efforts."
Take Our Poll: Are You In Favor of More Inflation Relief in 2023?
More: Do You Have To Go Back? What To Do If Remote Jobs Run Out
In terms of where to find jobs during a recession, he suggested researching which industries or businesses are doing well and might need to expand their workforces. If you work in the field of construction, for example, you might need to be creative with your job search because builders tend to hit the brakes during down economies.
Make Your Money Work Better for You
"Look for jobs related to remodeling or improving industrial or office spaces," McDermott said. "For example, many landlords will be looking to renew their buildings in between tenants… and many companies may downsize their office sizes or seek out virtual work to cut costs, leaving many buildings empty for months at a time. The key is to look for openings in the market and follow opportunities for professional expansion."
More From GOBankingRates
Make Your Money Work Better for You