7 Low-Stress Jobs for Boomers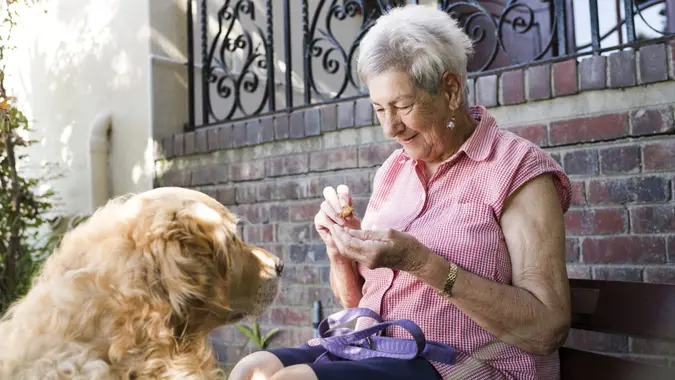 Boomers are either retired or approaching retirement. And with the retirement landscape having dramatically changed in the past few years, some of them decided to "unretire" as well.
Indeed, inflation and rising rates have put a strain on Americans' savings and have put retirement planning on the back burner for many.
In turn, Nationwide's eighth annual Advisor Authority Survey found that 25% of pre-retirees (non-retired Americans) aged 55 to 65 said they are planning to retire later than expected, and another 15% are unsure if they will ever retire. What's more, an F&G Annuities & Life survey found that 44% of U.S. retirees or former retirees have unretired or are considering returning to work.
While many of them said that the financial challenges they face push them to take that step, 50% cited they enjoy the intellectual stimulation from working and 36% say they don't want to feel a lack of purpose, according to the survey.
However, life doesn't have to be lived at the same pace during the golden years, and taking a low-stress job might be the way to go about it.
"According to analysis by the St. Louis Fed, the pandemic pushed more than 3 million baby boomers into premature retirement. It makes sense that some may want to return to work, but not at the same stressful levels as before," said Scott Lieberman, founder of TouchdownMoney.com.
Make Your Money Work Better for You
Here are some low-stress jobs boomers can take on, according to experts.
Dog Walker
Gig economy platforms such as Rover are always eager to hire dog walkers and pet sitters, said Nathan Brunner, CEO at Salarship.
"Becoming a dog walker is the ideal stress-relieving job for baby boomers. Spending time outdoors while walking dogs allows them to enjoy the benefits of fresh air and physical activity, which are known to alleviate stress and promote overall well-being," said Brunner.
Online Tutor
Online tutoring is another low-stress job for boomers who want to pass the torch to the next generation.
"Working remotely from the comfort of their homes eliminates the stress of commuting. Additionally, tutors can have flexible working hours, enabling them to maintain a healthy work-life balance," said Brunner.
Librarian
Boomers who appreciate reading and have a knack for organization will find librarian jobs enjoyable and fulfilling.
"This profession takes place in quiet and peaceful environments, contributing to reduced stress levels," added Brunner. "Furthermore, many libraries offer stable, long-term employment opportunities, providing job security for Boomers seeking consistent income."
Archival Positions
These tend to be low-stress for several reasons.
"They're often work-at-your-own-pace jobs in comfortable environments without much performance anxiety. Some require special degrees or training, but many, especially at the municipal and local levels, do not," said Peter C. Earle, an economist at the American Institute for Economic Research. Earle added, however, that these positions are also sought after, and may require having an inside track to know about pending openings. 
Make Your Money Work Better for You
Proofreading and Copyediting
Earle said that avid readers, especially those who've done some writing, can often find work as proofreaders or copyeditors.
"While there can be some deadlines–and in some positions required weekends–it's a job that frequently allows for a lot of free time, the ability to work from home, and the satisfaction of perfecting works-in-progress," he added.
Tour Guide
Jobs such as tour guides are excellent, low-stress jobs that allow you to accept work on your schedule, leaving plenty of time for vacations, family socialization, and hobbies, said Lieberman.
"With the wealth of knowledge baby boomers have, being a tour guide in their city or for a local botanical garden or museum is an excellent way to socialize and share knowledge, as is becoming an online tutor," he added.
Blogging and Content Creation
"A low-stress job that I often don't see mentioned is blogging, or content creation with the intent of monetizing via ad networks and affiliate programs," said James Parkinson, head of marketing content at Personnel Checks.
The low-stress aspect comes from minimal interaction requirements as you're not dealing with 'clients' in the traditional sense, said Parkinson.
"Once your website gains traction you're likely only going to have to talk to internal partnership managers or affiliate program owners, and as your site grows these are only ever positive interactions," he said.
And, with nearly 70% of boomers owning a smartphone, it has never been easier or cheaper to use sites such as YouTube to become educated on how to not only set up a website but actually grow the site into a functioning business, he added.
Make Your Money Work Better for You
More From GOBankingRates