5 Low-Stress Jobs That Pay $80K or More a Year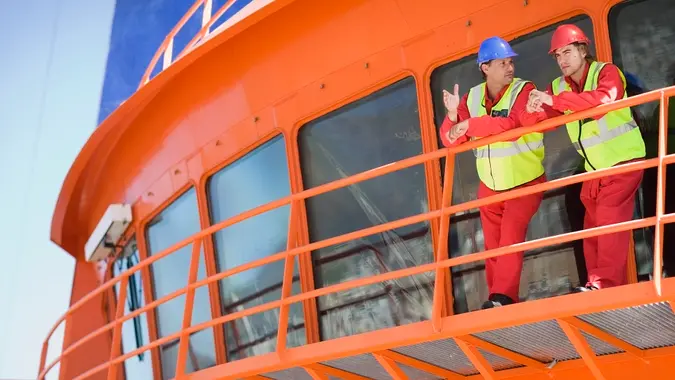 Zero Creatives / Getty Images/Cultura RF
You've probably heard the adage, "work smarter, not harder," which reportedly dates to the 1930s and has probably meant different things to different people ever since. Some take it to mean you should make the most efficient use of your time to increase productivity on the job. Others interpret it as an excuse for lazy workers to take shortcuts instead of rolling up their sleeves and putting in maximum effort.
Those who see it as an excuse for laziness will not be cheered by a new trend, called "Lazy Girl Jobs," that is becoming a thing on TikTok among Gen Z followers. According to a recent Wall Street Journal column, the Lazy Girl Jobs movement involves pursuing "low-stress, mostly or completely remote jobs paying $60,000 to $80,000 so that you can enjoy lives of non-work-focused safety and comfort."
The phrase was reportedly coined by TikToker Gabrielle (@gabrielle_judge), who recommends eyeing job listings such as "Marketing Associate" and "Customer Success Manager" that might allow workers to "go live our lives and be amazing humans."
(Relatively) Low-Stress Jobs That Pay $80,000 or More
If that sounds like a good gig to you — but you still want to haul in a very good salary — certain jobs that might just fill the bill, according to a recent analysis from Business Insider. One caveat: remote work may not be a possibility for all positions which follow.
In its analysis, Business Insider ranked occupations from most to least stressful using the U.S. Department of Labor's O*NET OnLine occupational database, which includes measurements of how important certain skills, activities and personal traits are for a particular job.
Make Your Money Work Better for You
Among those measurements is stress tolerance, which O*NET describes as jobs that require "accepting criticism and dealing calmly and effectively with high-stress situations." Job characteristics such as stress tolerance are graded on a scale of 0 to 100, with 0 meaning low stress and 100 very high stress.
Here's a look at five comparatively low-stress jobs that pay $80,000 or more a year.
1. Political scientist
Importance of stress tolerance: 68.
Average annual wage: $126,140.
2. Geoscientist (except hydrologists and geographers)
Importance of stress tolerance: 68.
Average annual wage: $104,560.
3. Ship engineer
Importance of stress tolerance: 68.
Average annual wage: $100,980.
4. Postsecondary mathematical science teacher
Importance of stress tolerance: 68.
Average annual wage: $90,110.
5. Postsecondary philosophy and religion teacher
Importance of stress tolerance: 68.
Average annual wage: $87,100.
High Stress Jobs Sometimes Offer Little Pay
If you're interested in which jobs land on the other end of the scale — those with high stress — there's a list for that, too. Salary.com ranked the 10 most stressful jobs, and you probably won't be surprised to learn that they include police officers, firefighters and military personnel.
Here's something else to ponder: Only two of the 10 most stressful jobs pay an average income of above $80,000 a year, while three of them pay less than $40,000 a year.
Here's a look at the 10 most stressful jobs and their average median salaries, according to Salary.com:
10. Teacher: $55,390.
9. Social worker: $48,6718.
8. Newspaper reporter: $37,942.
7. Emergency dispatcher: $34,262.
6. Registered Nurse — ER: $66,517.
5. Police officer: $51,063.
4. Commercial airline pilot: $119,958.
3. Firefighter: $42,631.
2. Surgeon: $342,520.
1. Enlisted military personnel: $18,127 (Army Private — E2).
Make Your Money Work Better for You
More From GOBankingRates