How To Make Money Off a Class-Action Lawsuit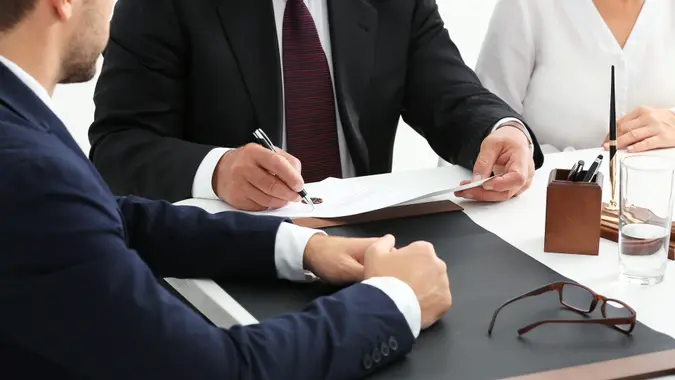 Africa Studio / Shutterstock.com
If a company doesn't deliver on its promises to you, it doesn't matter how unfair it is nor how angry you are — you aren't likely to file a lawsuit for $15, or $50 or even $500, Even for damages larger than small claims court allows, with lawyers' fees averaging nearly $400 an hour, it's often not worth your while.
That's where class-action lawsuits come in. If tens of thousands of people lost $50 each, an attorney might be able to file a class-action lawsuit for the entire class. Each person might only get a small amount of damages, but a class-action attorney could count on a fee large enough to cover their time.
Take a Look Back: 2022 Year in Review
Read: 5 Things You Must Do When Your Savings Reach $50,000
What exactly is a class action and how can you file one? Keep reading to find out how to make money from a class-action lawsuit.
What Is a Class-Action Lawsuit?
Cornell University's Legal Information Institute defines a class action suit as one where one or more individuals files a lawsuit on behalf of a larger group, called a class. As a representative action, a class action suit lets courts hear a single case even if hundreds or thousands of people suffered damages at the hands of the same defendant. When an attorney files a class action, they don't even know the names of more than a few of the plaintiffs.
Make Your Money Work Better for You
Class actions keep courts from getting bogged down with individuals cases, and they also benefit parties to the suit. Ligitation costs are shared among plaintiffs, and their representation is assured even if they're absent from proceedings. For defendants, a class action ensures consistency in the resolution of many similar cases at the same time.
Take Our Poll: Do You Think Student Loan Debt Should Be Forgiven?
Who Can File a Class-Action Lawsuit?
Class actions are complex to file and hard to manage. Under Federal Rules of Civil Procedure 23, the people who propose to represent a class in federal court must prove to a district court that:
The number of class members makes it impracticable to join them in the action.
The class members' claims have common questions of law or fact.
The claims or defenses of the proposed class representatives are typical of those for the rest of the class.
And that the proposed class representatives will adequately protect the interests of the entire class.
To file a class action suit as lead plaintiff — also called a named or representative plaintiff — you'll need an attorney with experience in class action litigation and considerable financial resources.
Types of Class Action Cases
Class action cases often involve fraud, a defective product, illegal conduct or a deceptive practice. Here are some examples of class actions:
Employees bringing a suit for racial or gender discrimination by their employer
Individuals or businesses damaged by a power outage or oil spill
Consumers who bought the same defective product
Individuals who were deceived by the same manipulative banking practices
Patients given a drug or type of insert with dangerous side effects that the manufacturer didn't disclose
Defrauded investors suing the company giving them false information
Make Your Money Work Better for You
How to Join a Class-Action Lawsuit
Once a class action has been filed, parties to the suit and the court identify everyone who might be included in the class, according to Nolo. So typically, you are automatically made part of the lawsuit and don't have to do anything. You only need to do something if you don't wish to participate — if you want to file your own suit, for example. In that case, you'll file a written statement opting out of the case and any awards or other resolutions resulting from the class action suit.
That said, a few cases are opt-in cases, such as those that sue over wage and hour violations. You join by filing a written election to participate in the lawsuit.
Information on how to opt in or opt out can be found in the class notice. If a class action has already been filed, you might get a class-action notice in the mail or via email. Read it carefully for instructions on what to do. Contact an attorney if you're unsure about how joining or opting out might affect you.
Make Your Money Work Better for You
How to Sign on If You Aren't Notified by Mail
You'll find websites that list open class actions and class actions that attorneys are in the process of pulling together. Once such website is ClassAction.org, which provides advertising services to class action attorneys and law firms.
Under the "Lawsuit List" tab, you can see the cases and determine if you belong in a particular class. If so, notify the attorneys handling the case.
For example, the site notes that attorneys are currently filing suits against hernia mesh product manufacturers on behalf of plaintiffs who allege they suffered serious complications as a result of products the manufacturers knew were dangerous or defective 
How Class-Action Lawsuit Payouts Work
Usually, if you are part of a class involved in a class-action lawsuit, you don't play any role in the suit until it is done. You just sit tight until the case goes to trial or settles.
Once that happens, each class member needs to submit a claim. Information on the exact procedure for submitting a claim might be in the class notice you receive in the mail. However, the sheer volume of plaintiffs might make it impossible for attorneys to notify you that a case has been resolved. Weisberg Commings, P.C., an employment law firm in Pennsylvania, advises plaintiffs to search the news or class action websites for updates on the case.
When to Expect Payment
If you're hoping for a nice windfall, don't hold your breath waiting for rapid payment. Class-action rebates and payments can take years to resolve, and even then the court must review and approve the settlement.
Expect a class action to take at least one to three years — and maybe much longer.
How to Sniff Out a Scam
Sometimes scammers — posing as class action attorneys — call or email individuals in an attempt to get their personal financial information. If someone contacts you in this way, the odds are good that they are not class action attorneys. Save yourself a world of grief and avoid identity theft by refusing to provide your personal information — including your Social Security number, driver's license number and bank accounts — to anyone you don't know.
It's also possible for people or companies who settle a class action case to be contacted by scam artists. The scammers might send wire transfer instructions that look like they are from class-action claims administrators. However, any wired money goes to the scammers instead.
Class Actions That Are Currently Open
Here are some class actions that are currently open, plus the claims deadlines. You can find out about these and other class-action lawsuits from Consumer-Action.org.
1. Philips CPAP Recall — Alleges that Philips knew well before it recalled its CPAP machines that the machines' foam component posed possible health risks. The class includes individuals who purchased a Philips CPAP, BiPAP or mechanical ventilator device subject to the June 2021 recall.
2. Camp Lejeune — Alleges that individuals exposed to contaminated water at Camp Lejeune have suffered from cancer, birth defects, Parkinson's disease, fatty liver disease, infertility, miscarriages and other health issues as a result. The class includes individuals who lived or worked at Camp Lejeune between Aug. 1, 1953 and Dec. 31, 1987.
3. Johnson & Johnson Talcum Powder — Alleges that Johnson & Johnson talcum powder can cause ovarian cancer. The class includes anyone diagnosed with ovarian cancer after having used Johnson & Johnson talcum powder products.
4. Bayer Roundup — Alleges consumers weren't properly warned that Roundup causes non-Hodgkins lymphoma. The class includes anyone who was diagnosed with non-Hodgkins lymphoma after having used Roundup
5. Baby Formula[x] — Alleges that the manufacturers failed to disclose that cow's milk-based formulas can cause premature babies to develop a potentially fatal gastrointestinal disease called necrotizing enterocolitis. The class includes consumers whose premature baby developed this disease after ingesting a cow's milk-based formula or fortifier from Similac or Enfamil
6. Poppy Seed Tea — Alleges companies sold washed poppy seeds, which can used to make tea, after becoming aware that the seeds contain dangerous levels of opium. The class includes consumers who suffered a stroke after drinking unwashed poppy seed tea or, in the event of those consumers' incapacitation or death, family members acting on their behalf.
More From GOBankingRates
Make Your Money Work Better for You