Remote Job Scams are on the Rise: How to Make Sure the Job You're Offered is Legit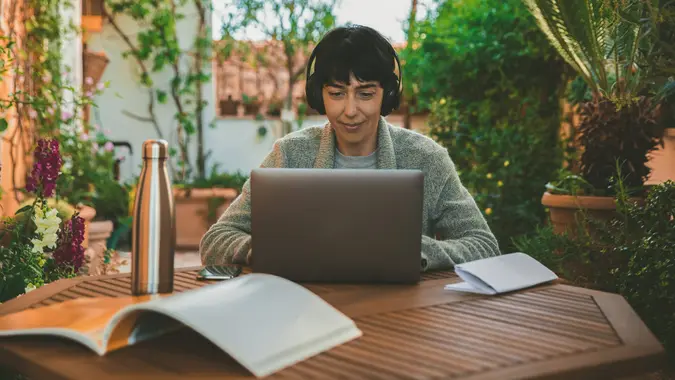 LeoPatrizi / Getty Images
Whenever there's a hot new trend involving money, you can be sure that scams are soon to follow. That's what's happening with the remote work trend, which has been building for many years but really kicked into higher gear during the COVID-19 pandemic.
A sudden spike in remote work during the pandemic also led to a rise in remote work scams, which typically involve fraudsters inventing fake jobs and companies to get personal and financial information from applicants.
The number of job and employment agency-related scams reported to the Federal Trade Commission nearly tripled from 7,324 during the third quarter of 2020 to 21,848 a year later, the Los Angeles Times recently reported. A September 2020 study from the Better Business Bureau found that 14 million people are exposed to employment scams every year, with $2 billion in direct losses annually.
Remote job seekers are especially vulnerable these days because of all the attention such jobs are getting.
"Scammers always follow the headlines and are looking to exploit the things that people need in any given moment," Kati Daffan, assistant director of the FTC's Division of Marketing Practices, told the L.A. Times. "So we saw a lot of offers — that people could work from home, that people could have flexible jobs, that people could make a lot of money without too much effort."
A recent blog on the FlexJobs website noted that scammers are "incredibly tuned into the fact that some job seekers are desperate to make money." Scammers will use this desperation to recruit people who might not be accustomed to looking for work-from-home jobs.
Make Your Money Work Better for You
FlexJobs lists 16 different scams involving remote workers. Here are a few of the most popular:
Using fake URLs, photos and company names. In many of these cases, scammers will try to recreate a legitimate company's website by slightly altering the web address, such as from companyname.com to company-name.com. Scammers will also steal photos and images from real companies to create social media accounts, emails and websites to try to make job seekers feel safer
Gaining access to personal financial information. This typically happens when you provide information to scammers such as your Social Security number and bank account number for direct deposit "paychecks."
Communicating through chat. Scammers often use instant messaging services such as Telegram or WhatsApp to communicate and conduct fake job interviewers with job seekers.
You should also be wary of remote jobs that seem to be too good to be true — because they usually are. If you see a job that offers pay well above the norm, or a way to make a lot of money quickly, that's a red flag that it might not be legitimate, said Doug Ebertowski, a career expert at FlexJobs.
He also recommends that you be on the lookout for glaring grammatical or spelling errors in job postings, recruiters who use personal rather than company email addresses, and job listings that require candidates to pay upfront expenses.
"As a job seeker, it's imperative to research the recruiter, job, and company in order to differentiate legitimate work opportunities from harmful ones," Ebertowski told GOBankingRates in an email. "Also, ensure you're using a reputable job search service like FlexJobs that pre-screens and vets each job and company before sharing opportunities on its site."
Make Your Money Work Better for You
Here are all the most common job scams according to Flex Jobs:
Using Fake URLs, Photos, and Company Names
Gaining Access to Personal Financial Information
Communicating Through Chat
Lacking Verifiable Information
Phishing
Google Doc: Inviting or Mentioning
Paying for Remote Work Equipment
Data Entry Scams
Pyramid Marketing
Stuffing Envelopes
Wire Transfers
Unsolicited Job Offers
Online Reshipping
Rebate Processor
Assembling Crafts/Products
Career Advancement Grants
More From GOBankingRates