10 Remote Jobs That Pay $100,000 Per Year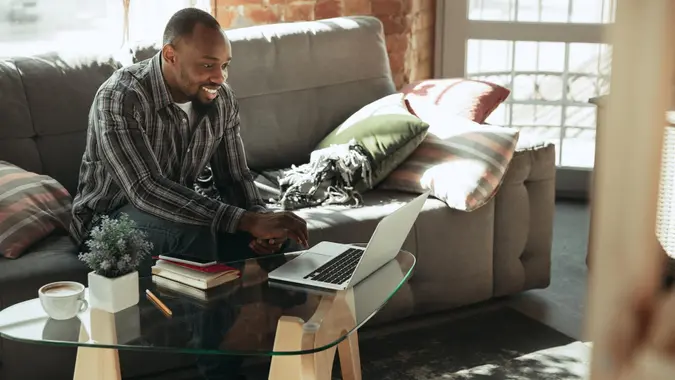 master1305 / Getty Images/iStockphoto
Thanks to the rise of remote work, a six-figure salary is no longer something high achievers have to go out and chase — they can bring one home with them to their houses. If you have the experience, skills and drive, you can make $100,000 or more from the comfort of your own home, your local cafe or even the beach.
Mortgage Interest Rate Forecast for 2023: When Will Rates Go Down?
See: With a Recession Looming, Make These 3 Retirement Moves To Stay On Track
The following job opportunities are currently open and being advertised on major platforms like ZipRecruiter and GlassDoor, and they're only a handful of examples. If none of them is an exact match, use this list as a starting point — there are plenty of similar opportunities out there for the taking.
Residential Sales Representative 
The Senate Termite Pest Control company is advertising a sales position that pays a 20% commission. That's enough for the average entry-level rep to earn between $75,000-$120,000 a year, with top reps pulling in more than $150,000 — and the company is hiring both. 
Make Your Money Work Better for You
Even though you'll be working remotely, you still get a company car plus gas.
Sr. Product Manager
Subsidy management and early childhood education SaaS provider KinderSystems has an open position that pays $100,000-$120,000 per year. The winning candidate will demonstrate an ability to work with a variety of stakeholders while guiding teams through the development of functional, yet easy-to-use software.
While California residents are preferred, the right applicant can do the job from anywhere.
Sr. Compliance Manager
The Symicor Group is currently listing this position, which requires at least 10 years of banking compliance or audit experience. It pays $100,000 plus full benefits, and while it's a remote position, applicants must live in North Carolina, South Carolina or Pennsylvania.
The details-oriented work involves ensuring that the client bank complies with regulations, interpretations, laws and rules that govern its operations.
Take Our Poll: As a Retired Person, Are You Comfortable With Your Monthly Income?
Remote CFO
If you have years of experience in finance, you could join Thompson & Thompson Consulting at the executive level. A group of companies that buy and sell family-owned businesses, the firm is looking for a CFO who can create a new post-acquisition finance transformation playbook.
Make Your Money Work Better for You
The remote job pays $100,000 a year and the company is looking for a long-term commitment from an executive who will report directly to the CEO. A CPA is not required, but it will certainly help your chances.
Amazon Marketing Manager
If you have what it takes to work as a marketing manager for one of the biggest businesses in the world, Amazon will pay $90,000-$100,000 a year for this full-time remote position. Your compensation package also comes with full benefits, including company equity and PTO.
Job responsibilities include optimizing listings, creating new listings, developing pricing strategies, forming revenue generation plans, managing and budgeting P&L and creating PPC campaigns.
Yelp Business Operations and Strategy Analyst
If you have a year or two of relevant business experience using quantitative approaches to solving analytical problems, the biggest name in service reviews wants to hear from you. The full-time remote position pays $90,000-$100,000 a year plus full benefits, including paid parental leave, PTO and an employee stock purchase plan.
Make Your Money Work Better for You
Your overall job description will be to identify areas of improvement and create strategies to increase traffic, revenue and user contributions.
Microsoft Dynamics 365 F&O / AX Business Analyst
Elsdon Consulting is advertising a position for a retail end user that needs an experienced professional to take the lead in implementing the Microsoft Dynamics 365 platform. The remote job pays $100,000-$120,000 a year and requires intimate knowledge of Microsoft Dynamics 365 F&O / AX.
The right business analyst will work with a variety of stakeholders to implement the end user's vision.
Business Development Representative
Lima One Capital is listing a position that pays $100,000-$200,000 annually, "with top performers earning far more than 200k" thanks to unlimited commissions. The position requires successful applicants to create and foster relationships with real estate investors and sell the Lima One Capital product suite.
You'll receive top-shelf training and enjoy the support of an experienced team, and the job includes full benefits.
Microsoft Power BI Developer
If you're an analytics solutions engineer capable of gathering requirements, building, implementing and supporting Microsoft BI for an end client, Recruiting For Good has a position that pays $100,000-$110,000 per year.
Applicants must have experience integrating data and building it into usable models and at least three years of developing Power BI models independently with minimal oversight.
Mental Health Counselor 
Telemynd is hiring mental health counselors on a full-time, part-time and contract basis for remote work that pays $100,000-$135,000 per year. The behavioral health company is seeking clinical care professionals to work 100% off-site with flexible hours providing clinical assessment, treatment and intervention.
Sessions are one-on-one, but you'll work collaboratively with the organization's support team and report directly to the clinical director.
More From GOBankingRates
Make Your Money Work Better for You