8 Skills You Should Highlight When Applying for Remote Jobs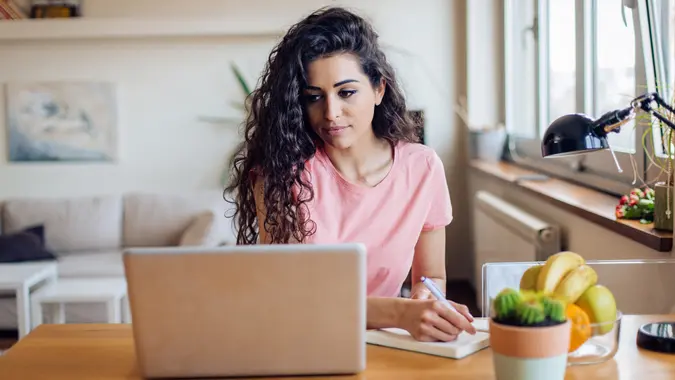 RgStudio / Getty Images
The workplace landscape has undergone a sea change since the pandemic, most notably with the emergence of remote work. And this phenomenon is not only here to stay but is also becoming increasingly competitive, as these positions are highly coveted.
According to Zippia, 27% of U.S. employees work remotely as of 2023, and by 2025, there will likely be around 36 million American employees working remotely. What's more, 16% of U.S. companies are fully remote, and remote jobs now make up 15% of work opportunities in the U.S., Zippia added.
While this is the new normal, knowing how to apply for a remote position and which skills to highlight might be hard to navigate for some workers.
"In remote work, skills surpass technical competencies; they encompass personal attributes that enable successful virtual collaboration and contribution," said Kraig Kleeman, CEO and founder of The New Workforce. "Tailor your application to emphasize these skills, backed by concrete examples from your professional experience. Doing so will increase your chances of standing out and securing that coveted remote position."
And according to Christina Gialleli, director of people operations at Epignosis, in the remote and hybrid workplace, a blend of digital and soft professional skills form the cornerstone of remote work excellence.
Here are some skills experts say you should highlight when applying for a remote job.
Tech Skills
As an aspiring remote worker, it's important to highlight your top remote skills on your application materials so you can be sure to stand out to an employer, and one easy way to do this is to create a technology skills section that highlights key technology tools right on your resume, said Toni Frana, lead career expert at FlexJobs.
Make Your Money Work Better for You
"Remote employers want to hire workers who have a good understanding of, and willingness to learn and embrace, digital tools," said Frana. "Showing an employer you have a solid understanding of specific tools like Zoom, Slack, Google Workspace and any others lets them know that you are up to date on some of the latest technology used in remote environments."
Digital Skills and Literacy
Effective communication and collaboration are integral to remote work, and interactions between team members are mediated by digital tools. In turn, mastery of digital skills and literacy is an imperative, since remote employees must be adept at navigating communication platforms, collaborating on virtual projects and troubleshooting basic technical issues independently, said Gialleli.
"Proficiency in using software for online meetings, file sharing and project management is essential for seamless teamwork across remote and in-house colleagues," she added.
Being Independent and Staying Self-Motivated
Frana explained that in a remote environment, it isn't possible for someone to walk by your office or cubicle to check in on how things are going with a specific project.
"Because of that, employers want to know that you are able to get things done without a lot of oversight," said Frana. "They are looking to see if you can set your own parameters around your workday, set goals and to-do lists for what needs to get done and ensure that you prioritize things effectively while doing so."
Make Your Money Work Better for You
Communication Skills
Effective communication is paramount in remote work settings — as teams are spread across different locations, conveying thoughts, ideas and feedback clearly is vital.
"This includes writing clear emails, engaging actively in virtual meetings and being responsive," said Ayanna E. Jackson, career and leadership coach at AEJ Consulting. 
In addition, being visible is key also, she said. "Be proactive in letting your manager and team know when you're in and out of the office," she added.
Communication skills are important, as they ensure that everyone is on the same page for tasks and priorities, reduce misunderstandings and can help foster a more cohesive team dynamic, she added.
Adaptability
Another skill that is important to highlight and is highly sought after is adaptability, according to some experts.
"Remote positions often require working across different time zones, adjusting to changing environments and situations, as well as navigating various technologies or platforms and work structures," said Jaime Nacach, founder and CEO of Virtual Latinos. "Therefore, adaptability stands as a key skill essential for successful remote work."
And while adaptability is critical when going for a remote job, rather than simply say you're adaptable on your resume or LinkedIn profile, share a specific example that illustrates how you adapted to a difficult situation, said career coach Dr. Kyle Elliott.
Time Management and Organizational Skills
Remote work demands excellent time management, and employers want to see that you can stay organized, meet deadlines and maintain productivity without constant supervision, said Scott Lieberman, founder of Touchdown Money.
Make Your Money Work Better for You
"Highlighting specific organization tools you use, like Asana or Notion, shows you know what you're talking about and are familiar with organizational and project management tools," he added.
Epignosis' Gialleli also noted that remote work offers flexibility, but this autonomy demands impeccable organizational skills.
Remote workers need to set clear boundaries between work and personal life, manage their tasks efficiently and adhere to deadlines, she said.
"The ability to prioritize and maintain focus amid potential distractions is key to sustaining high productivity levels," she added.
Collaboration Skills
While working remotely means that you will be physically alone, it does not mean working in isolation.
"Remote teams collaborate across distances and time zones," said Kleeman. 
Kleeman recommended providing examples of successful teamwork, virtual brainstorming sessions or instances where you've supported and collaborated with colleagues effectively, despite your physical location.
Cultural Sensitivity
Another skill to showcase is cultural sensitivity, said Kleeman, asremote teams can be diverse, with individuals from various cultural backgrounds.
"Highlight your ability to work respectfully and effectively with people from different cultures, showcasing your understanding of global perspectives and inclusivity," he added.
More From GOBankingRates
Make Your Money Work Better for You