4 Telltale Signs Your Career Could Be on the Wrong Path — and How To Find the Right Job Instead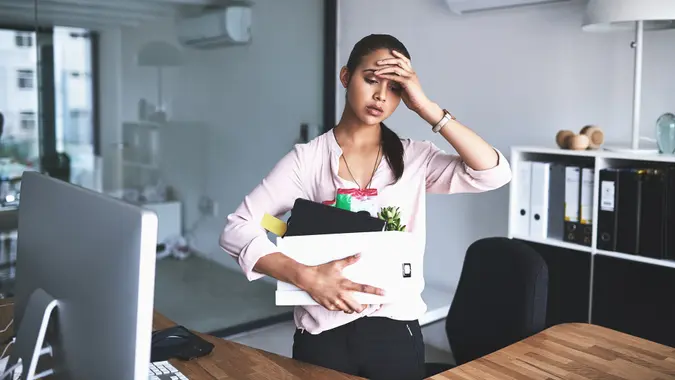 PeopleImages / Getty Images/iStockphoto
If you're wondering whether your current career is a bad fit, you're not alone. Gallop's 2023 State of the Global Workplace report showed that 51% of employees were considering changing jobs and around 60% were disengaged in their current work. Since an unsatisfying career can create stress that affects other areas of life, you'll want to assess your situation to decide if now is a good time for a change. 
Here are four signs to look out for as well as some tips on how you can find a job that better fits your needs.
1. Work Is Hurting Your Health
If your work is harming your body, it's worth reconsidering your career. For example, you might experience chronic pain, injuries and other physical issues related to a physically demanding job. However, the Centers for Disease Control and Prevention says that physical and mental health symptoms from work stress and burnout are very common too.
This could involve feeling so anxious about going to work that you have digestive issues, become depressed or call in sick often. You might also get frequent headaches, have trouble sleeping or feel irritated. If these symptoms have no other cause, a bad career fit could be to blame.
2. Your Career Leaves You Feeling Unfulfilled 
Your career may be on the wrong path if you don't get any fulfillment from what you're doing. Perhaps your job doesn't fit your current interests or allow you to contribute like you want. You might feel bored at work with limited opportunities to challenge yourself or use your creativity. Plus, you might not see options to grow within your current career path.
Make Your Money Work Better for You
Financial and workplace factors can leave you unfulfilled too. Perhaps your chosen career doesn't meet your financial needs and simply changing companies won't fix it. You might also realize a career path that allows for more autonomy and flexibility is a better fit.
3. You've Become Apathetic About Your Career
While many factors can lead to apathy about your job, regularly being disengaged and underperforming can point to a career fit issue. This could look like neglecting to do everyday tasks or meet deadlines. And even when your employer brings up the issue, you might not take any steps to improve.
Such apathy can lead you to stop caring about promotional opportunities and turn away any challenging opportunities as well. If you believe you likely wouldn't even be satisfied working in the same career at your dream company, it's worth reassessing your career choice.
4. You're Constantly Seeking an Escape
It's normal to look forward to your free time and sometimes wish you were at the beach instead of work. But it's a different picture if you frequently think about skipping work or actually do it for no reason. The same applies if you do show up, yet you spend most of your day thinking about being somewhere else.
Another example is if you regularly imagine yourself escaping your job for some other career field. You might even find yourself browsing job ads. If so, this might be a sign your career interests have changed.
Make Your Money Work Better for You
How to Find a Better Career Fit
If you recognize these signs, first consider whether some non-work issue is causing your career dissatisfaction and look for options to improve the situation. Otherwise, it's a good idea to reassess your interests and values as well as what like and dislike about your current career. Perhaps you want a path that lets you work in diverse industries, earn a higher salary, be creative or have a better work-life balance.
Along with researching career options, working with a career counselor is useful for exploring what could fit your needs. You can get guidance on what the career involves, which additional credentials it requires and how much you could earn. A career counselor can also help with refreshing your resume and honing your interviewing skills.
Before committing to a new career, find current professionals in that field. Consider requesting an informational interview where you ask them about their career paths, including their likes and dislikes. You can use sites like LinkedIn or attend online and local networking events.
Lastly, look into companies that interest you before you start applying for jobs. You can check a company's website to learn about its values and work culture to see if there's a possible match. Additionally, explore company review sites to better understand employees' job satisfaction.
More From GOBankingRates
Make Your Money Work Better for You