The Great Resignation Check-In: How Are Workers That Left Their Employers Doing Now?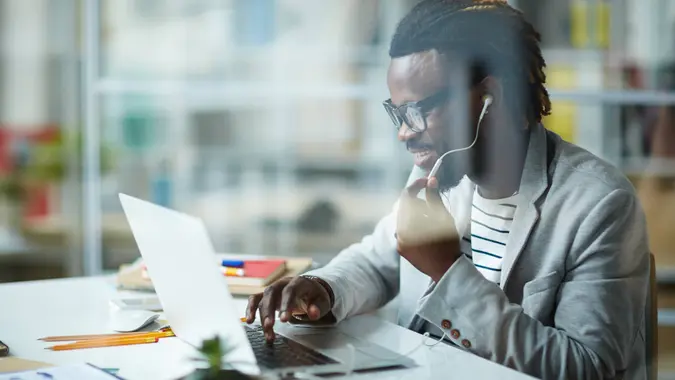 shironosov / Getty Images/iStockphoto
Do you ever wonder what happened to all the people that were part of the Great Resignation's first wave? 
See Our List: 100 Most Influential Money Experts
Looking To Diversify in a Bear Market? Consider These 6 Alternative Investments
GOBankingRates caught up with three workers that left their jobs to see what they're doing post-resignation and what life is like in their new careers. Funny enough, each person we spoke with decided to become an entrepreneur and is quite happy with where their path is taking them!
"I am a totally different person."
In August 2021, Chenadra Washington left her former career as a financial services leader in corporate America behind. This particular chapter ended on a toxic note. Washington said she had reached a plateau in her career and struggled with severe burnout. She wasn't sure what kind of business she wanted to start, but knew there had to be an exit strategy.
Make Your Money Work Better for You
Today, Washington is the CEO and founder of Black Orchids PR, which helps minority women publicize and grow their brands through high conversion storytelling. Washington describes life as good, yet busy — but it's the kind of busy she always dreamed of.
"My business has created a new life for me and allows me to create freely. I am more connected with my family and I have met some really amazing people and opportunities on this journey," said Washington.
Speaking of a new life, Washington is still settling into the fact that being a business owner is her life. Making the decision to leave her job was one that meant more than simply quitting. Washington knew she needed to make the choice to live a more purpose-driven life and determine what she could do to serve more people.
"It hasn't even been a full year since I left and I am a totally different person. My thoughts are different. My views of the world are different and most importantly I view myself differently," said Washington. "I am thankful to have taken the leap and hope that many other people figure out what they really want in life and take the steps to get there."
Take Our Poll: Do You Think You Will Be Able To Retire at Age 65?
Make Your Money Work Better for You
"Being an entrepreneur is easily the most intense, satisfying and fulfilling thing I've done."
Jeet Mehta is one of the founders and CEO of Swift, an early stage B2B SaaS company, building software for sports facilities. Prior to Swift, Mehta was a former data scientist and product manager at Shopify. In July 2021, Mehta left Shopify right in the middle of the Great Resignation.
Mehta said his time at Shopify was great and he has no complaints. However, he did start to feel the effects of it being such a large company. 
"I've always wanted to start my own company, so when we found a problem area worth diving into I jumped ship," said Mehta.
Jumping ship into entrepreneurship has been full of incredible changes. Mehta's responsibilities, as one of Swift's founders and CEO, varies drastically on a day-to-day basis. Any given day could include investor meetings, customer interviews, heads-down development, sales calls and much more. It's also a leap from being formerly in the e-commerce space since Swift is a business in the sports facility industry.
Make Your Money Work Better for You
"Being an entrepreneur is easily the most intense, satisfying and fulfilling thing I've done," said Mehta. "It's very difficult, but seeing real customers use and rely on something you've built is well worth it."
"The pandemic showed me that there was another way."
During the Great Resignation, Chelsea Kellogg left her job as a spokesperson for the mayor of Seattle. Kellogg started Pollination Communications and Public Affairs, where she is the owner of her own communications and public affairs consulting business. 
At nearly a year into owning a business, Kellogg has doubled her take-home pay and takes Fridays off to spend time with her son. 
The decision to leave her spokesperson job, Kellogg said, was not made because she hated her boss or the industry. She left because the COVID-19 pandemic showed her that there was another way she could be in the industry she loves and have more control over when and where she works. 
Leaving remains the best choice she has made in her career. "I would not go back or give up what I've built," said Kellogg.
More From GOBankingRates
Make Your Money Work Better for You