I'm a TikTok Career Coach With More Than 200K Followers: Here Are the 6 Interview Tips You Need To Know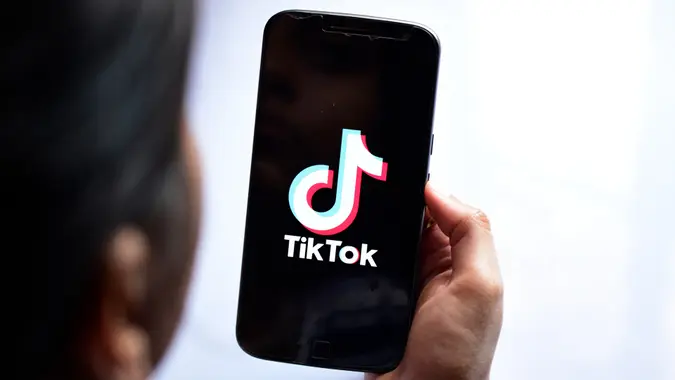 Funstock / Shutterstock.com
Things are tough in today's job market. With hiring freezes, layoffs and job insecurity, many are scrambling for a new position or hoping to hold onto their current job — and may be turning to TikTok for information on how to do that.
One creator offering trustworthy career advice is Jackie Cuevas, known as Jackie Caves on TikTok, who is a former recruiter and HR expert who uses TikTok as a platform to provide guidance and support to her job-seeking audience. Cuevas first began her TikTok journey in 2020 at the height of the pandemic. Originally making her start doing comedy skits, she received an email that inspired her to combine her career experience with creative projects.
"I got an email [notifying me that] someone applied to one of our positions. It was just super bare-boned — it said, 'I'm interested in your company. I attached my resume.' I'm like, 'I didn't know what job you're applying for.' And so, I dissected that email [on TikTok]," she said. "It was a rude awakening that some people don't have access to information that I thought was common knowledge."
Now, she uses her platform to help those who may need it navigate the job market.
GOBankingRates had the opportunity to chat with Cuevas, who shared her top tips for a successful job application and interview process.
Tailor Your Resume
Use your time effectively. Many people find less success when sending out the same resume to hundreds of job openings. Instead, Cuevas advises you to take the time to tailor your resume to the position — that way, recruiters easily recognize that you have done the research in connecting your experiences to what they are looking for in a candidate.
Make Your Money Work Better for You
"Sending out 30 to 40 well-thought-out, modified, tailored resumes and applications will definitely [help] — you'll have a bigger ROI," Cuevas said. "You have to be more thoughtful than just spewing out to the masses. [Sending out tailored resumes is a] better use of your time."
Research the Position
Before the interview, educate yourself on the company, focusing on both its culture and its products or services. Go into the interview knowing exactly what the company does and make sure you are able to connect it with your previous experiences.
"When someone comes in and really knows the product, knows the work, maybe acknowledges a recent event or accomplishment that happened in our industry or in our company [it shows the candidate is prepared]," Cuevas said. "There's more thought and intentionality."
Interest in the company is essential. If you bring knowledge of the company's background, it shows the interviewer that you have done your research and know exactly why you could potentially be a fit.
Assert Yourself
When you are caught off guard during an interview because the question is a technical question you are unprepared for or a personal question that takes you by surprise, take control of the situation.
"Shift the conversation back to what it needs to be focused on," Cuevas said. "As a job seeker, you don't have to disclose your whole personal life. [If you get asked] a question you're uncomfortable with you can just reign it in and say, 'I don't feel comfortable answering that question'. You can stop the question, but also [say it] in a way like, 'I am very interested in continuing talking with you, but I don't find this specific question relevant to the role and myself being a potential fit for the company.'"
Make Your Money Work Better for You
Coming into an interview with the mindset that you can adapt to any situation by being patient and compassionate with yourself and with the interviewer will make it clear to the interviewer that you possess good character.
Keep It Conversational
"I think an ideal interview feels more conversational," Cuevas said. "It ties into the elements I mentioned earlier. I can tell the candidate did their research when they're asking me questions, and I think that's huge. Of course, I also have questions to ask about their skills and about their personality, but you as a job seeker are getting to know me [too]. That shows they really care."
As for what questions to ask, Cuevas said you can keep it pretty straightforward by asking things such as, "What do you like about the company?" and "How long have you been there?" Asking questions like these can help you to click well with the interviewer and easily build rapport. Cuevas said simply taking the time to get to know the interviewer a bit makes the candidate stand out to her.
"I can just feel their energy, [that] they are genuinely excited," she said. "It just comes down to the types of questions [they ask] and the conversations we're having where I'm just like, 'I'm talking to a person and they seem like a really good fit because A, B, and C, and, bigger plus, they fit the requirements of the position they're applying for.'"
Practice Self-Acceptance
The emotional aspect of interviewing is the toughest part for many job seekers. A more introverted candidate may feel insecure compared to a more extroverted, enthusiastic candidate. Or an extroverted candidate may feel they are talking too much or coming off too strongly. Showing weakness gracefully is a huge part of the job-searching process — and Cuevas said that it is OK to make mistakes. We are human. We are bound to be caught off guard every once in a while. By asking your interviewer for clarification and not rushing to answer — and instead, taking the time to think about the question — it shows the interviewer that you are thoughtful and diligent.
Make Your Money Work Better for You
"In interviews, we want to be perfect and polished, but blanking out on a question or asking for an extra 30 seconds for an answer, those kinds of things help build character and show that we're all human at the end of the day," Cuevas said.
Follow Up After the Interview
A follow-up email is not essential, but it is recommended. This is dependent on the role, how interested you truly are in the role and what stage you are at in your career. Sometimes, that thank you email can give you the edge over a candidate who also interviewed with similar qualifications. If you are serious about the job and really want that edge over the other interviewees, send that follow-up email and send it with intention, highlighting unique topics covered in the interview and interesting information you remembered about the interviewer and their background.
"In my opinion, I appreciate [follow-up emails]," Cuevas said. "We in HR are in a lot of interviews and we're looking at a bunch of resumes. Sometimes that thank you note can really set you apart from another candidate we might be considering."
More From GOBankingRates