I've Been at My Job for Over 10 Years: 5 Ways To Get a Job You Won't Want To Leave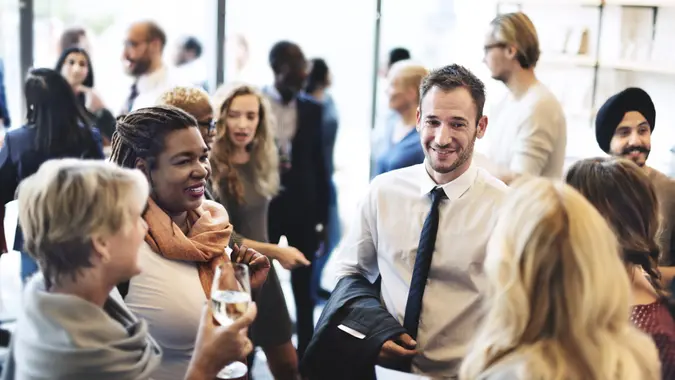 ©Shutterstock.com
Job hopping is becoming more and more common. According to the Employee Benefit Research Institute, 22.3% of workers ages 20 and older spent a year or less at their jobs in 2022 and approximately 33% spent two years or less at their jobs.
While hopping from job to job can lead to career advancement and a higher salary, there are some disadvantages. For starters, you may appear as a risky hire from holding so many jobs within a short period. Additionally, you can experience job dissatisfaction because you never allow yourself enough time to mature, handle challenges and achieve a sense of contentment in a specific role.
To find out how to get a job you won't want to leave, here's advice from two experts with proven longevity in their jobs.
What Is Your Job and Why Have You Stayed With It for 10+ Years?
"I lead Scholastic's publishing for teachers," said Tara Welty, SVP and general manager of teaching solutions at Scholastic. "My team develops professional books and classroom resources to support teachers as they do the critical work of helping children learn to read and love to read."
"I have had other opportunities over the years," Welty continued, "but none offered me what I have now: an amazing team, a great company and mission-driven work that fuels my passion for education and honoring the work of teachers."
Make Your Money Work Better for You
Damian Birkel, director and founder of Professionals In Transition Support Group, Inc., has maintained his current job for 30 years while also having full-time corporate and academic positions.
"Make no mistake," Birkel said, "I made my fair share of career-breaking mistakes. It was only after I learned that it was my job to make my boss's job easy that I learned how to score a career touchdown regularly. There is no such thing as a perfect job; but if you enjoy 80% of your job, you have scored a career touchdown; and should relish and enjoy your job for the length of your career."
Advice for Getting a Job You'll Stick With
Here are Welty's and Birkel's five main suggestions for getting a job you won't want to leave.
Consider What Matters
"Think about what matters to you and target companies that align with your values," Welty suggested. "I have a deep respect for teachers because I come from a family of educators. My mom is a teacher, my sister is a teacher and my aunt is a school librarian. It is one of the most difficult and important jobs in the world. I truly believe the best innovations in education come from teachers in the classroom. I am privileged to listen to teachers, visit their classrooms, and publish their great ideas. That keeps me engaged and excited to do this work."
Make Your Money Work Better for You
Look for Growth Opportunities
"If you're already at a company you love, look for growth opportunities internally before you look to leave," Welty said. "I started my career at Scholastic as an editorial temp. Each role I've had allowed me to try new things and expand my skills within my company. You don't always need to leave to grow."
Utilize Your Natural Skill Set
"People are generally the happiest when they can utilize their natural skill set," Birkel said. "These are your transferable skills that you've had since you were a child. Look for a job that enables you to align your natural abilities with the type of job that requires the maximization of your natural abilities. Maximizing your natural skills, leads to a position that brings about immense joy, and tremendous effectiveness on your part as a job holder."
Take a Personality Test
"I often recommend using the Myers-Briggs personality test [aka Myers-Briggs Type Indicator] to get a feel for your natural personality and strengths and weaknesses that go along with who you are," Birkel advised.
Read 'Do What You Are'
"Then, I recommend reading the book "Do What You Are," by the Tiegers because it expands on Myers-Briggs by discussing natural positions that utilize your strengths," said Birkel "It then goes further by talking about positions that do not align with your strengths and potential positions, where, not only would you be miserable, but would not be any good at because of a personality type mismatch and unsuitability for the job."
Make Your Money Work Better for You
More From GOBankingRates