What Are the Pros and Cons of Going on a Working Vacation?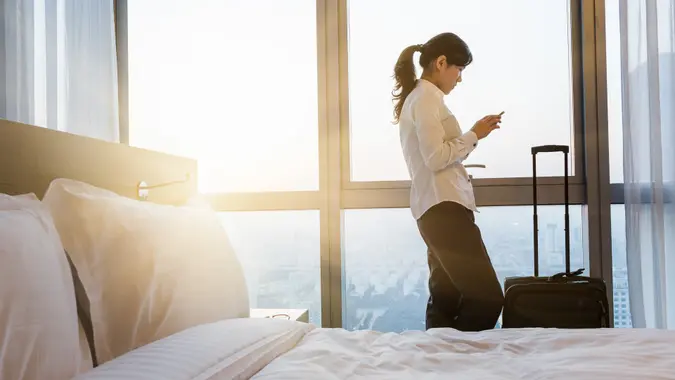 chinaface / Getty Images
The pandemic brought on a shift from in-person work to remote work, which blurred the lines between when, where and how work could take place. All of a sudden, work could happen at 2 a.m. in bed while wading through your inbox or 10 a.m. on your balcony while partially professionally dressed for your Zoom meeting. And for some, work could even happen in an entirely different place, like while sipping a Mai-Tai on the beach or taking in a mountain view — also known as the working vacation or workcation.
Support Small: Don't Miss Out on Nominating Your Favorite Small Business To Be Featured on GOBankingRates — Ends May 31
While taking calls, writing reports and answering emails on a tropical getaway or a mountain retreat may not sound very enticing to some, 74% of Americans working from home said they'd entertain the idea of taking a workcation, according to Harris Poll data. But is blurring the lines even further between work and personal time by taking a working vacation a good idea? Just like anything else, working vacations have their pros and cons. Here's what you need to know.
Make Your Money Work Better for You
Pro: Change of Scenery
A change of scenery doesn't only give you the opportunity to enjoy rare visual delights, it also has secondary benefits.
Find Out: 22 Side Gigs That Can Make You Richer Than a Full-Time Job
"Aside from the change of scenery, being in a different environment greatly improves my mood and sparks new ideas," said Alex Shute, editor-in-chief of FaithGiant. "My time is free and my mind has been liberated to be my most productive self and this has improved my focus, discipline and work output due to getting out of a traditional office."
Con: May Limit Your Vacation Options
A working vacation means that you have to prioritize work. So if an emergency comes up, you may very well find yourself on the way back to the real world before you're ready. In other words, that change of scenery may not last.
Read: How To Go Back To Work And Still Keep Unemployment Benefits
"There have been instances where employees are rushed back from a working vacation due to emergencies, and that's a very real possibility for any worker," said Kevin Mercier, founder of the travel blog kevmrc.com. "This means that you're not just risking spoiling your vacation but you also may waste a lot of money on short-notice flights."
Make Your Money Work Better for You
Pro: Motivation To Get Important Work or Projects Completed
Knowing what's waiting for you each day on a work vacation can give you the motivation to complete your tasks as soon as possible so you can relax and have fun.
Modern Money Etiquette: Who To Tip When You're Traveling
"When you excel in prioritization, you might focus on getting those important projects done," said Ben Reynolds, CEO and founder of Sure Dividend. "This can allow you time to enjoy sunbathing at the beach because vacationing can be your motivation to meet those deadlines early."
Con: Could Result in Lower-Quality Work
Picture it. You're in a beautiful, inviting  — and distracting — location, but you have to get your work done first, so you hurry.  Unfortunately, the motivation to finish quickly can backfire.
Did You Know: How Eco-Friendly Travel Can Save You Money in 2021
"Working on vacation can be both good and bad for you," said Wayne Connors, managing director of ACCL. "Good because you're at least getting some things done, and bad because you're just getting some things done. This means you're taking away the essence of your vacation for a mediocre output of your work."
Make Your Money Work Better for You
Pro: You Can Keep Your Inbox From Exploding
If you take a working vacay, you won't have to worry about a stuffed-full inbox upon your return.
Peak Season vs. Off-Season Travel: What Are the Differences in Costs?
"When I return from vacation, I do not spend an entire day digging out from a packed email inbox," said Jaclyn Strauss of My Macro Memoir. "When I have completely disconnected in the past when on vacation, I would come back to an email inbox alone that would set me back at least a day before I could get back into the swing of things. Now that I keep up with my inbox while on vacation, I do not receive this vacation-associated penalty."
Con: Lack of Resources Can Be an Issue
When you're on a working vacation, you not only have to have a place to set up that will allow you to work, but you also need your equipment to perform as expected so you can get your work done. Unfortunately, that's not always the case.
Americans Are Ready To Travel Again: Here's How Much They Plan To Spend on Vacations This Year
"When you're on a vacation, you have limited access to technical solutions," said Jon Buchanan, CEO of Charm Offensive. "All you have is a laptop, and if it runs into a problem, you'll be stuck. So, that's always a constant risk."
More From GOBankingRates
Last updated: May 19, 2021
Make Your Money Work Better for You