What Salary Does It Take To Be Financially Content in 2023?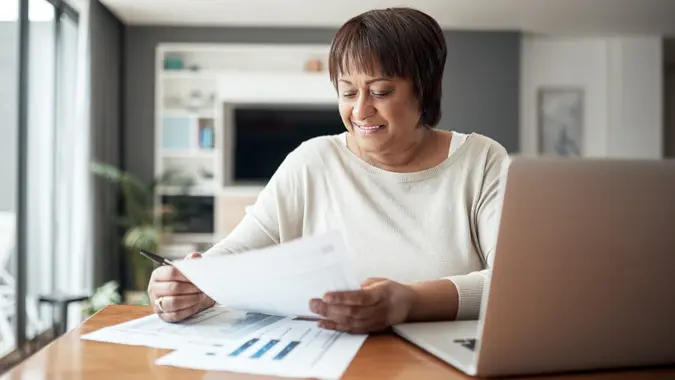 shapecharge / Getty Images
Just how much money do we need to earn to be happy nowadays? The answer is a bit more than the often cited $75,000 per year. According to a new paper published by the Proceedings of the National Academy of Sciences (PNAS) journal, earnings up to $500,000 can boost and buy overall happiness.
Do You Have a Money Question? Ask An Expert
With a Recession Looming: Make These 3 Retirement Moves To Stay On Track
With that in mind, let's look at the salary it takes to be financially content in 2023.
What Happened to the Previous Happiness Amount?
Good question. In 2015, CBS News reported that Dan Price, founder of credit card processor Gravity Payments, pledged to spend the next three years raising the salaries of all employees to $70,000 annually. This amount would be the minimum salary for every employee. Price said he was inspired to raise salaries after reading an academic article on happiness.
Make Your Money Work Better for You
The simple answer to the massive jump in happiness earnings is linked to inflation. According to the Morning Brew, the $70,000 to $75,000 figure so frequently cited in 2010 as the amount necessary to buy happiness would be $103,000 in today's figures.
Is Earning Six Figures the Key to Financial Health?
Possibly. In 2022, CNBC reported that Americans said they need to earn $122,000 to feel financially healthy. This amount is double the national average. 
The PNAS paper notes most people do experience happiness with higher financial earnings. However, there is a lack of comprehensive data available for the group of people who earn more than $500,000 a year with PNAS stating participants above this income are "quite rare."
Take Our Poll: How Much Salary Would Buy You Happiness?
In 2022, GOBankingRates spoke to David Frederick, former director of client success and advice at First Bank and now the senior manager of private client tax services at LBMC. Frederick said earning a six figure income is built by a combination of our need for a little bit more money and love of round numbers. Frederick cited the average U.S. household income in 2021 which was $79,900. 
"Everyone making around this income level would like just a little bit more money to feel safe, secure and happy. A little bit more money could be saved for the kids' education, a little bit more money could be put into a retirement fund, a little bit more money could fund those long put-off home repairs or a little bit more money could let us take a nice vacation," said Frederick.
Make Your Money Work Better for You
For those earning around $80,000 a year, the little bit more they would need to earn to be happy would be $100,000. This amount, with its extra zero at the end, does align with the data presented in the PNAS paper. 
Reaching Financial Happiness With a Financial Plan
However, Frederick said the true path to financial happiness is a well-constructed financial plan. This helps individuals identify any threats to their finances and take steps necessary to address them ahead of time. It's also a plan that individuals at all income levels, not just those earning upwards to $500,000, can construct and use.
"While a financial plan for a person with a six-figure salary may look different than a plan for someone with a lower income level, the financial plan can still help someone with a lower income achieve a sense of security, financial health and happiness."
More From GOBankingRates
Make Your Money Work Better for You