Are You Really Financially Happy If You Make Six Figures?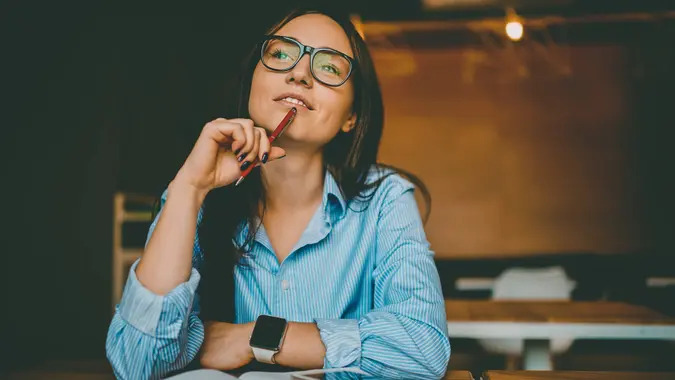 GaudiLab / Getty Images/iStockphoto
Is earning a six-figure salary the new benchmark for financial happiness? Surveyed Americans say, in a recent Harris Poll survey commissioned by Personal Capital and Empower, that a person needs to make $122,000 a year to feel financially healthy. 
Explore: The Minimum Salary You Need To Be Happy in Every State
Related: These Are the 15 Best Cities for Gen Z To Live Well on a Budget
A six-figure salary is nearly double the national average. It's an achievable goal to attain the skills and job that pays, but are we really financially happy, or healthy, when earning a six-figure income?
Six-Figure Incomes: Setting a High Bar for Financial Security
David Frederick, director of client success and advice at First Bank, said that the pedestal on which we place the six-figure salary is built by a combination of our need for a little more money and our love of round numbers. 
In 2021, the average U.S. household income was $79,900, per the U.S. Department of Housing and Urban Development. Frederick said everyone making around this income level would like just a little bit more money to feel safe, secure and happy. A little bit more money could be put towards the kids' education, building a retirement fund, paying for home repairs or taking a nice vacation.
If a little bit more money makes us happy, how much more do we need? Frederick said that without a precise dollar amount in mind, we are tempted to think of the next round dollar amount and the next zero on the end of our income.
"It's not a big leap for people making around $80,000 per year to want just a little bit more to be happy and set their sights on $100,000," said Frederick.
Ultimately, however, a six-figure income is an arbitrary number.
"A six-figure income is just an arbitrary number that does not offer substantially more security than a number just below it or less security than a number just above it," said Frederick.
What It Means To Earn Six Figures Today
While the six-figure income is an arbitrary number, it is often tied to the subject of financial security and plays a significant role in managing how we deal with inflation. 
Six Figures and Inflation
Inflation — and daily financial woes — are hitting Americans hard. A new report from the American Psychological Association shows 87% of U.S. adults cite rising costs of everyday items, like groceries and gas, as a significant source of stress. 
"Inflation is a hard game because it hits everyone in the same proportion. It's like an extra flat tax on everyone, at the current rate of 7.9%," said Frederick.
No one earning a six-figure salary is immune to inflation, but Frederick said people with higher income may be better able to weather the storm better than people with a lower income.
Six Figures and Financial Security
We live in a world where nobody is sure what tomorrow will bring and where there are so many events, like unexpected job loss or the death of a primary earner, that can threaten our financial security.
"There are some ways to mitigate these threats through tools like life insurance and emergency funds, but ultimately people want to feel secure in an inherently insecure world. And just maybe the goal of a six-figure income will help to feel that level of security," said Frederick. 
The Better Way to Financial Security
Rather than pin all of our financial happiness and health on a six-figure salary, Frederick recommends constructing and adhering to a financial plan as the better way to reach financial security, health and happiness. 
"Financial plans can help individuals identify threats to their finances and take steps to address them well ahead of time," said Frederick.
A financial plan may also be constructed for individuals at all income levels. Frederick recommends individuals work to create their financial plan with a professional financial advisor. An advisor will be able to take into account all sorts of economic events, including inflation, and help anyone of any income level plan for and overcome these events.
"While a financial plan for a person with a six-figure salary may look different than a plan for someone with a lower income level, the financial plan can still help someone with a lower income achieve a sense of security, financial health and happiness," said Frederick. 
Becoming Financially Confident With a Financial Plan
Sorry, six-figure daydream. Through Frederick's experience, there is no specific salary or income level that will make people feel financially healthy and happy. People will always want just a little bit more and will yearn for the next round number.
This is where it's key to work with a professional financial advisor. These advisors can help us draft a financial plan that helps take emotion — the place where we often view money and finance — out of the equation. A financial plan will show us our current level of wealth. From there, we can learn how to protect and invest in this wealth and how to use the wealth to meet our financial goals.
"With a plan in hand, we may still want just a little bit more, but we can feel much more confident in what we already have, no matter our income level," said Frederick.
More From GOBankingRates