9 Affordable Items To Buy Now That Could Be Worth Fortunes Later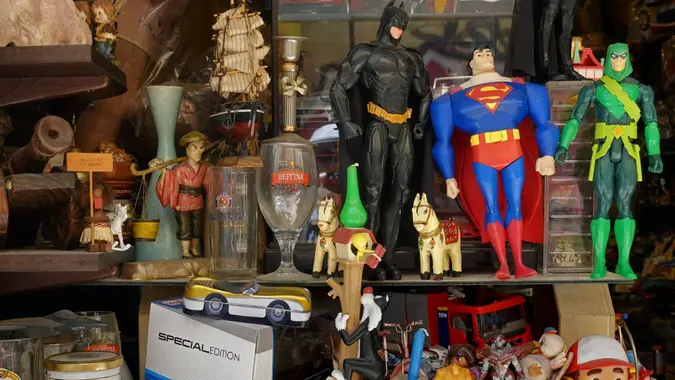 If you've ever watched any shows that feature collectors, like "American Pickers," "Pawn Stars" or "Antiques Roadshow," you know that older items such as toys, furniture, books and artwork often can become worth much more money than what someone originally paid for them. 
If you think about it, the vintage collectibles of today were often ordinary items some decades back. That means certain items you purchase now could be worth big money in the years to come.
Here are nine affordable items that could be worth a fortune later. Also check your $2 bills — they could be worth thousands.
Cereal Boxes
Jamie Penney, the CEO of Action Sporter, said most people don't realize the value of cereal boxes from a collector's perspective. 
"There's an element of pop culture in cereal boxes from the [1960s] to the '90s, which makes them potentially high-value investments," he said. "If you look at it this way, the limited-edition cereal boxes on the market today are history in the making. … Try to keep a lookout for the most interesting cereal boxes, especially the limited-edition ones."
Make Your Money Work Better for You
Take Our Poll: Are You Concerned About the Safety of Your Money in Your Bank Accounts?
Sneakers
Melissa Fiorentino, professional stylist and trends forecaster at Editors Faves, said sneakers — especially limited-edition Nike basketball shoes or those made in collaborations with celebrities, other brands and basketball players — could potentially be worth a fortune later.
"These are often a fairly affordable price when they first come out," she said, "but quickly become collector's items in the future as only a limited amount of shoes are made."
Vintage Clothing
Adam Garfield, marketing director at Hairbro, said that investing in vintage clothing can not only be a fun hobby but also a smart financial move. 
"Vintage clothing refers to clothing that is at least 20 years old and is often sought after by fashion enthusiasts and collectors," Garfield said. "Vintage clothing can range from everyday wear to high-end designer pieces, and its value can increase over time due to its rarity and historical significance.
"While not all vintage clothing will necessarily increase in value, there are certain styles, designers and eras that are particularly popular and sought after. Some examples include vintage Levi's denim, 1960s mod dresses and 1980s streetwear."
Make Your Money Work Better for You
Original Artwork
"Original artwork from emerging artists can be a smart investment, as their work can increase in value as their reputation grows," said Liam Davis, art historian at Art File Magazine. "Look for artists whose work shows potential and keep an eye on their career trajectory."
Collectible Figurines
"Collectible figurines from popular franchises such as Star Wars, Marvel or Pokemon can be highly sought after by collectors and fans alike and may increase in value over time," Davis said. "Limited-edition figurines from popular characters or special releases can be particularly valuable."
Concert Posters
"Posters are not the first thing which comes to your mind when thinking about expensive collectibles, but throughout their history, there have been sales reaching over $500,000," said Matt Diggity, founder of Diggity Marketing. "Nowadays, when bands play on a tour, they come up with one-time posters to promote their concert tours, and you can easily find such posters on eBay with highly affordable prices."
Diggity said original posters will never be recreated — only replicated. "For example, Red Hot Chili Peppers played in Poland in Chorzow in 2007," he said. "There would be nothing special about this concert if they didn't deliver one of the best Final Jams in history. To many people this concert is now a symbol, and the price of the posters are 15 times the amount of their 2007 posters from other cities from the same tour."
Make Your Money Work Better for You
Diggity also said it's important to safely store any posters you collect to prevent folds and rips that can decrease the value. 
LEGOs
Clayburn Griffin, a LEGO collector and owner of the YouTube channel Blockie Talkie, said some large LEGO collectible sets can sell for well over $100, but there are plenty of $10 to $25 sets that you can invest in. 
"Collectors should particularly look for in-store exclusives and seasonal offers because these will be far more limited and will fetch a higher markup down the road," Griffin said. "When there's one I like, I try to get two or three so I have one for myself and at least one to save for later."
McDonald's Happy Meals Toys
If you haven't ordered a Happy Meal lately, Griffin cautioned that the toys you often find in them these days are cheaper and less collectible than those of decades past. However, he said that every once in a while McDonald's features really popular toys that have lasting value. 
If you're not a fan of the Happy Meal, you can purchase the toy separately.
Pokemon Cards
Griffin said Pokemon cards are fun and easy to collect, but it's kind of a gamble if you invest in blind bags because you won't know which cards you'll receive.
Make Your Money Work Better for You
"Unless you're buying by the case," Griffin said, "you're just going to hope you get lucky with a few inexpensive booster packs."
More From GOBankingRates
Make Your Money Work Better for You