Americans Have $21B in Unspent Gift Cards — Here's How to Turn Yours Into Cash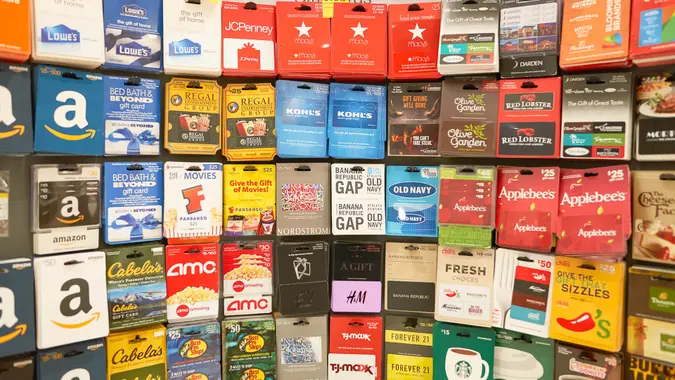 Sorbis / Shutterstock.com
It should go without saying that gift cards are not meant to languish in desk drawers or wallets until they're no longer worth anything, but a lot of them end up that way. About six in 10 Americans have at least one unredeemed gift card, according to a new survey from Credit Summit. An estimated $21 billion worth of gift cards goes unspent.
Refunds: The IRS Has Refunded $15.7B as of Feb. 3 — Here's How Much the Average Taxpayer Is Getting Back
See: 3 Signs You're Serious About Raising Your Credit Score
The survey of 1,200 consumers ages 16 and older found that roughly three-quarters of respondents (76%) have intentionally chosen not to spend a gift card. The reasons include saving them for a special occasion (36%), waiting until you need something specific from a retailer (23%), because it's from a place you don't usually shop (11%), redeeming them is a hassle (4%), or you simply forgot about them (2%).
The other main reason gift cards don't get spent is that they've been lost. In some cases, gift cards are only partially spent and then tossed out because they hold small balances.
Make Your Money Work Better for You
More than half of respondents have less than $200 on their unredeemed cards. Young people between the ages of 18 and 24 are most likely to have unredeemed gift cards, with 84% in that age group saying they have at least one card they haven't used.
A separate study on gift card usage found the average amount on unused gift cards in 2022 was $175 per person, CNN reported. That was up from $116 in 2021 — despite last year's soaring inflation rate.
Holding on to gift cards for too long can cost you beyond just letting them expire and go to waste. In some cases inactivity fees are charged after a certain amount of time, meaning you end up losing value. In other cases, card companies such as Visa, Mastercard and American Express might add penalties if gift cards are not used in a specific period of time.
"Gift cards are extremely popular and almost everyone enjoys getting them," Credit Summit editor Rebecca Stumpf told CNN. "But many people leave them sitting in a drawer to redeem on a special occasion. Use them, don't save them."
The best way to ensure you get the full value out of your gift cards is to spend them when they are still valid and before you might face fees or penalties. If you can't figure out what to spend them on, or just want to trade them in for cash, there are options for that as well.
Make Your Money Work Better for You
A number of third-party websites let you exchange gift cards for cash. One is Raise, which operates like a marketplace where you sell the card yourself for the price of your choosing, CNBC reported. You'll be charged a 15% fee for using the site. Raise offers two payout methods: ACH direct deposit and PayPal.
Take Our Poll: What Do You Plan To Use Your Tax Refund For?
$2,000 Quarter? Check Your Pockets Before You Use This 2004 Coin
If you'd rather someone else took on the job of selling the card, you can use sites like CardCash, which pays you directly for the card and which they then sell. CardCash offers up to 92% of the cash value of your cards, but not all cards are created equal. As CNBC noted, a $100 gift card to Walmart sold for $86 at CardCash in mid-January. A $100 Apple Store gift card sold for $80 on the site, while a $100 Microsoft card sold for $65.
CardCash also offers a trade option that lets you exchange your gift card for another one and get up to 11% more value than cashing out. Popular trade-in options are Amazon, Target and Wayfair.
More From GOBankingRates
Make Your Money Work Better for You
Make Your Money Work Better for You