Beyond ChatGPT: 8 Tech Skills You Can Learn Quickly To Earn More Money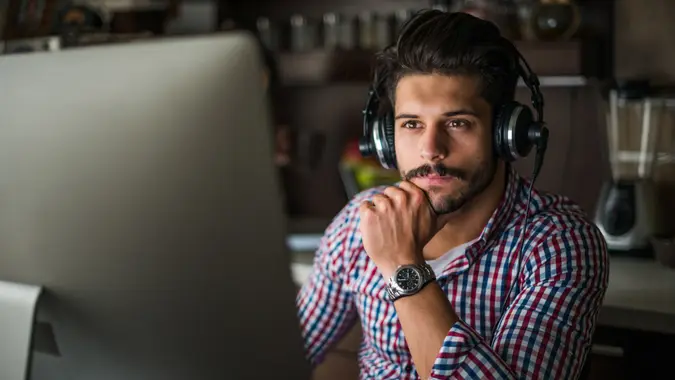 Georgijevic / iStock.com
Just because ChatGPT is one of the newest tech tools for people to leverage to make money doesn't mean it's for everyone. Instead, if you're tech-savvy and interested in picking up some marketable tech skills that don't have a huge learning curve, you're in the right place.
Here are eight tech skills you can quickly learn to earn more money.
SEO
"Search engine optimization is the art of making your product, service, ideas or concept findable online in a way that is so relevant that it appears in Google search results," said Roman Milyushkevich, CEO and co-founder of Scrape-it. "With the help of free courses online, e.g., Google search engine fundamentals, anybody can learn the basics of SEO and apply it to help clients improve their presence online while getting paid."
Website Development 
Milyushkevich said that if you have an eye for good design and structure, you can learn how to build websites.
"The basic steps of website design include learning easy HTML, CSS, UI and UX design — and how to create a basic layout," he said. "In recent years, pre-made templates have made website launching easy with core customizations. Interestingly, the rise of 'no code' website builders has meant that you don't need to know code to create a website. Instead, you can use a simple graphical user interface to create custom websites."
Visual Editing and Design 
"If you have ever edited and cropped images on your phone or online, then all you need is a professional micro-course to brush your image editing and document design skills that can help you make money," said Milyushkevich. "Whether creating images for social media campaigns, flyers, infographics, website designs, collaterals and ebook covers, all you need is an eye for design and knowledge of typography."
Make Your Money Work Better for You
Data Analysis
Max Shak of nerDigital said that data analysis is also in high demand. He said that learning tools, like Microsoft Excel or Google Sheets, can be a great starting point.
"By developing proficiency in data analysis and visualization, individuals can assist companies in making data-driven decisions and identifying trends or patterns," Shak said. 
Graphic Design Skills
"Graphic design skills can be valuable in creating visually appealing content for various purposes," said Shak. "Learning design software like Adobe Photoshop or Illustrator can be done through tutorials and practice, enabling individuals to offer their services for logo design, social media graphics or website visuals."
Video Editing
Joshua Wood, CEO and founder of Bloc, said his company spends thousands of dollars a month on video editors for its YouTube videos and TikToks.
"With the emergence of social media platforms like TikTok and Reels, short-form videos have become the norm," he said. "And with that, comes a growing demand for video editors who can work their magic on these short, snappy videos. Luckily, the tools required to edit videos are readily available, and with some focus and dedication, anyone can learn to use CapCut or Final Cut Pro within two weeks. Once you have mastered the art of video editing, you can start charging for your services on popular freelance platforms like Fiverr or Upwork. The best part is that these skills are highly sought after and can help you earn a decent income relatively quickly."
E-Commerce Management
"E-commerce has witnessed significant growth, presenting opportunities for individuals to offer their expertise in managing online stores," said Sufyan Mughal from Gaming Tech Review. "Understanding platforms like Shopify, WooCommerce or Magento and learning about product listing optimization, inventory management and customer experience can help individuals assist businesses in maximizing their online sales."
Make Your Money Work Better for You
Social Media Management
Prabhsharan Singh, technical head and software developer with Clinicspots, said if you're a tech-savvy person, you can learn how to grow and manage social media accounts for businesses or individuals. "This is a great way to make money quickly as the demand for social media managers is always high," he said.
More From GOBankingRates