Boost Your Monthly Earnings With These 9 Apps for Freelancers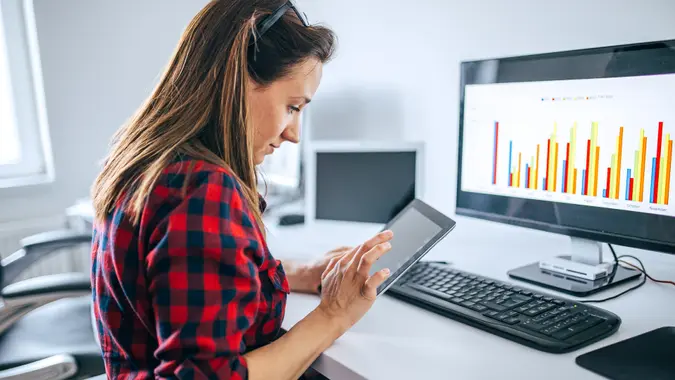 South_agency / iStock.com
Being a freelancer has several advantages, such as choosing your own hours and deciding where and when you want to work. Yet, these benefits can be a double-edged sword. Indeed, the minutiae of organizing everything, multitasking and keeping track of finances can rapidly become too burdensome and overwhelming to manage, ending up eating up too much of your time to be able to do much else. 
Thankfully, there are numerous apps for freelancers that can help you get organized and more efficient, which in turn, will make you more money. 
Here are some of them that can boost your earnings.
Trello
Lauren Barette, a social media intern at Allio Finance, said she uses Trello for organization and time management.
"I use a free Trello board to keep my to-do list current and see exactly what I'm working on, who it's for, and if there's a due date. I also like that I can drop in notes and attachments and can do everything from my phone. Without organization, all the different projects I'm trying to keep up with can become overwhelming," Barette said.
According to its website, the app is "simple, flexible, and powerful. All it takes are boards, lists, and cards to get a clear view of who's doing what and what needs to get done."
Make Your Money Work Better for You
Clockify
Maximizing productivity and managing finances are essential to successful freelancing, and the right apps can make all the difference, said Andrew Latham CFP and director of content at SuperMoney. 
"For instance, by using a time-tracking app like Clockify, freelancers can eliminate the guesswork in their billing, possibly uncovering 5-7 hidden billable hours each week," he said.
ChatGPT
Barette said she also uses ChatGPT extensively in her own work, to look up suggestions for captions and content.
"I've used ChatGPT to build social calendars when I have worked with different clients. It provides content suggestions as well as tips for the best times to post and methods to make content more engaging. It can also help with writing scripts as well as captions," she said.
As for Latham, he said that ChatGPT not only speeds up the writing process but also improves the quality of content, potentially increasing client satisfaction and retention.
"These optimizations could lead to a 20%-30% increase in net annual earnings for freelancers, translating into thousands of dollars depending on their hourly rate," he added.
Todoist
Latham said that in terms of task management, Todoist's advanced features could save up to two to three hours weekly by prioritizing and managing tasks more efficiently.
The app has 30 million users and will help you "become focused, organized, and calm," according to the website.
Day Optimizer
This app helps create daily schedules that optimize how freelancers execute their day, which in turn can help freelancers boost earnings in several ways, said Trevor Lohrbeer, co-founder at Day Optimizer.
Make Your Money Work Better for You
First, it uses time blocking to increase focus. "Scheduling work in multiple time blocks throughout the day creates an artificial time scarcity within each block that shifts our brains into a focused state," he said.
Second, it optimizes what work gets done when, as people with different chronotypes are more effective at certain types of work at specific times of the day.
Last but not least, it helps ensure that non-billable work gets done.
"Sometimes freelancers get so focused on billable work, they forget about important non-billable work such as sending invoices or prospecting for new business, two key activities that boost income," he added.
Moves
As James Allen, founder of Billpin, explained, this app is an all-in-one account for gig workers. It allows users to track their earnings and expenses from various gig platforms in one place. It also offers interest-free cash advances of up to $1,500 to cover business expenses, with no credit check required.
EarnIn
This app provides cash advances for gig workers, allowing them to access up to $100 per day of their earned wages in advance. This can be particularly useful for managing expenses during long gaps between gig paychecks, Allen said.
According to the company, 49% of gig workers who have been using this app can now cover an emergency of $400, 73% say they can budget better and more effectively, and 66% say they can now pay bills on time.
Fiverr and Midjourney
Midjourney — a generative AI tool that can convert natural language prompts into images — has been a game changer for many of the freelancers on Fiverr, said Yoav Hornung, head of verticals and innovation at Fiverr.
"Not only does it allow the creative process to happen faster, it also adds a lot more flexibility to the process which is a win for both sides," Hornung said.
Make Your Money Work Better for You
He explained that by using a variety of prompts, AI artists can quickly generate hundreds of concept images to send to their clients for review.
"Before the advent of Midjourney, each of those concept images would have had to be designed independently. In other words, Midjourney is helping cut down countless hours of busywork," Hornung said. "While AI is booming, it's important to remember that the human touch is still essential. Freelancers turn what Midjourney generates into something special."
Genius Scan
Genius Scan is a scanner app that lets you quickly scan your paper documents on the go and export them as multiple scan PDF files.
Dr. Marcia Layton Turner, a freelance writer and executive director and founder at Association of Ghostwriters, said she uses it regularly to scan signed contracts or writing samples to send prospects.
"It's so convenient because I can just open it on my iPhone and start scanning pages. I don't need a separate piece of equipment on my desk. Once I've scanned the documents I can convert them to pdfs or simply email them to myself or a client," she said.
More From GOBankingRates