Check Your Comic Books — They Could Be Worth Millions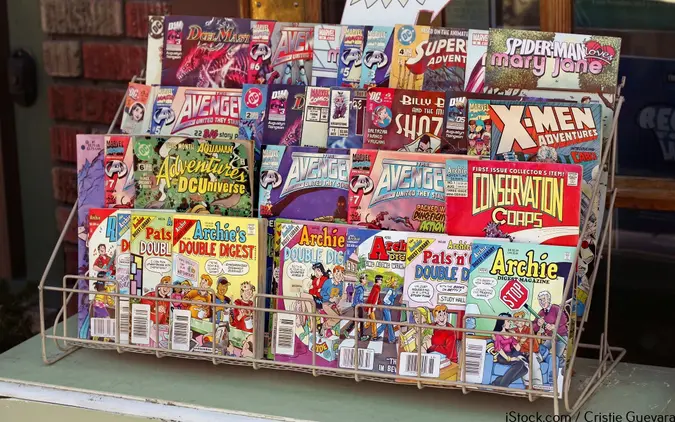 Comic books have been around since the 1930s and have remained popular throughout their nearly 100-year history. Even in the digital era, when we can view millions of videos on our smartphones or play games, comic books haven't gone away.
There are many reasons people still enjoy comic books. One is their collectibility — comic books are tangible items you can add to your collection. While you can collect digital items, some people feel it isn't quite the same.
Plus, comic books have become a part of history. Some of the characters we know and love first appeared in comic books decades ago. It's interesting to look back and see how they got their start.
It's no surprise that comic books are extremely valuable to this day. Some have even sold for millions. So check your stash because if you have any of these comics, you could suddenly find yourself a whole lot richer.
Make Your Money Work Better for You
Action Comics #1
Action Comics #1 was released in 1938 and is one of the most valuable comics in the world. Copies of this comic sold for $3.2 million in 2014 and $2.16 million in 2011. This comic is so valuable because it features the very first appearance of Superman, and it's credited for launching the entire superhero genre.
Quality Comix estimates this comic could sell for $8 million to $10 million if it were in good enough condition. However, they also note that you should look for a 10-cent price tag on the cover, which indicates an original copy. If you don't see the 10-cent price, you likely have a reprint, which is not nearly as valuable.
Take Our Poll: Do You Think AI Will Replace Your Job?
Amazing Fantasy #15
Amazing Fantasy #15 was released in 1962 and featured the first appearance of Spider-Man. Incredibly, Amazing Fantasy #15 broke Action Comic #1's record when it sold for $3.6 million at auction in 2021.
According to The Hollywood Reporter, the record-breaking comic is rated CGC 9.6 and is one of only four known copies in that condition. The interesting thing about this record is that some price guides place their value below that of Action Comics #1. For instance, Quality Comix estimates the value of a CGC 9.4 Action Comics #1 at $8 million, while it values Amazing Fantasy #15 in the same condition at $705,000.
Make Your Money Work Better for You
Detective Comics #27
This comic, released in 1939, is the most notable in the series. That's because it features the first appearance of Batman in a story called "The Case of the Chemical Syndicate." Like Action Comics #1, it originally sold for 10 cents.
But you won't find a copy nearly that cheap these days: The comic fetched $1.74 million at auction on March 30, 2023. That is impressive, especially since the comic's condition was only rated Fine (6.0). According to Quality Comix, there is a known copy rated CGC 9.2, which it estimates could sell for $3 million.
Batman #1
Not long after Detective Comics introduced Batman, the Gotham City hero would have his own comic. The first issue of the Batman comic was released in 1940 and introduced Cat, who would later be renamed Catwoman. The Joker also made his first appearance in this issue, so it's easy to see its value.
There are no known mint copies today, but a CGC 9.4 copy sold for $2.2 million in 2021 at a Heritage Auction event. Like other comics on this list, it originally sold for 10 cents.
Make Your Money Work Better for You
X-Men #1
While not quite as valuable as the other comics on this list, X-Men #1 can still be quite valuable if it's in respectable condition. Released in 1963, no known mint-condition copies still exist today. However, a CGC NM+ 9.6 copy sold for just under $872,000 on a ComicConnection auction.
Of course, this is the first comic dedicated to the X-Men. But according to Quality Comix, it's also the first appearance of the X-Men. That differs from Batman and Spider-Man, both of whom first appeared in other titles.
Bottom Line
Comics are highly desired among collectors, which has led some copies to sell for millions of dollars. However, these comics are extremely rare, especially those in pristine condition. While it's unlikely you will have one of these comics lying around without realizing it, you might have one that could be worth something. So check your stash as you never know what you might find.
More From GOBankingRates
Make Your Money Work Better for You
Make Your Money Work Better for You