Target and 5 Other Companies That Will Pay You To Promote Their Products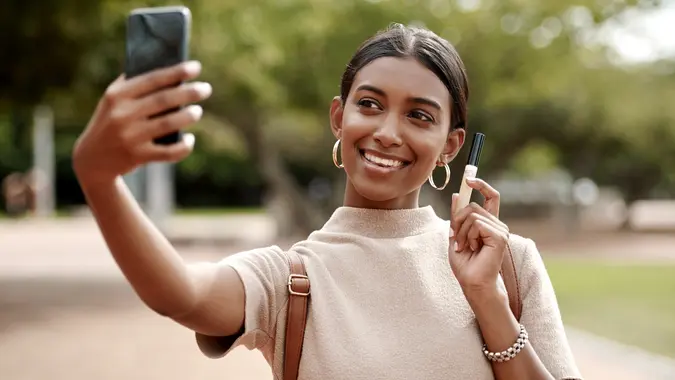 PeopleImages / iStock.com
When you think of "influencers," maybe you think of the Kardashian/Jenner sisters, who can convert one tweet or Instagram mention of a product or company into thousands and thousands of dollars. For instance, The Richest reports that Kourtney Kardashian brings in about $785,000 per post, while her four younger sisters make even more, ranging as high as $1.4 million for Kim Kardashian.
While you won't earn Kardashian/Jenner money, you can earn some serious extra money by putting the power of your social media accounts to good use.
It's called affiliate marketing, and a number of U.S. companies will offer you money to review products and share your thoughts on social media. You don't get paid for your reviews, but rather you earn every time someone clicks your link and winds up buying the product from the retailer.
How Lucrative Is Affiliate Marketing?
For many affiliate marketers, it's more than a side hustle and can turn into a full-time job. Statista estimated affiliate marketing earnings at $8.2 billion in 2022, an increase from $5.4 billion just five years earlier. E-commerce platform Shopify said marketers generally make about 5% commission per sale on the low side of the spectrum but can make as much as 50% if they're promoting something like an event or a course. Other programs pay a flat rate, per Shopify.
If you're looking to make money in this role, it isn't hard to get started. Various companies offer affiliate marketing opportunities on their websites, and you can apply there at no charge. Some are well-known retailers, with others less obvious. Those include the niche categories where you can leverage your expertise into money when it comes to things such as online courses, travel, website building, web hosting and personal finance.
Make Your Money Work Better for You
But if you want to get your feet wet and learn the ropes of affiliate marketing, here are six companies that have made it easy to apply and get started.
Target
The program at the retail giant is called Target Partners, and participating websites — such as your TikTok site — earn commission on sales of about 1 million products linked to Target.com.
If one of your site visitors converts a click of that link into a sale within seven days, you'll get paid a commission. You can dress up your links with widgets and banners to draw attention — and help you to earn up to 8% of the sale price.
According to Target Partners, any website owner, influencer or blogger with a "family-friendly website" and a majority of users in the U.S. is eligible to apply.
Amazon
Similar to Target Partners is the Amazon Associates Program, which allows bloggers, publishers and content creators to turn their recommendations of "millions of products and programs" into cash, according to the program website. Amazon pays up to 10% commission on participating products.
Those who apply must have a qualifying website or mobile app, and applying is free. Brands that want to send traffic to Amazon are ideal participants in the Amazon Associates Program.
If you're a content creator with a wide social reach, the Amazon Influencer Program is tailored to you. You must have a YouTube, Instagram, TikTok or Facebook account, and Amazon will look at your number of followers, as well as "other engagement metrics," when reviewing your application. Commission rates vary from 1% to 20%, depending on the product category, and special bonus events also are offered.
Make Your Money Work Better for You
Shopify estimates Amazon affiliates can make "as much as six figures per year."
Walmart.com
Not to be outdone, Walmart chimes in with the Walmart.com Affiliate Program, and you can earn a commission when you put text links or banner ads on your website. There's no charge to apply, and you can get started as soon as your application is approved.
Through the program, you'll earn up to 4% commission each time a customer makes a Walmart.com purchase by following your link.
Forever 21
Forever 21 is a favorite of Gen Zers who want the newest styles at an affordable price and is an ideal affiliate program for the TikTok set.
Forever 21 says its affiliates earn 3% commission on every sale and boasts "high conversion rates" and average sales of $63.
Sephora
The popular beauty company offers the opportunity for affiliate marketing of more than 13,000 products from luxury brands to the Sephora Collection.
Sephora doesn't publicize its commission rate, but it does share its attractive affiliate-only specials and promotions. Benefits include everyday free shipping on orders over $50, plus free samples.
HelloFresh
Even the home-delivery meal companies have entered the affiliate marketing sphere, including HelloFresh. If you're accepted as a HelloFresh Partner, you'll earn a commission starting at $10 for each new customer who registers off of your link.
More From GOBankingRates
Make Your Money Work Better for You