Don't Hold a Garage Sale on This Day of the Week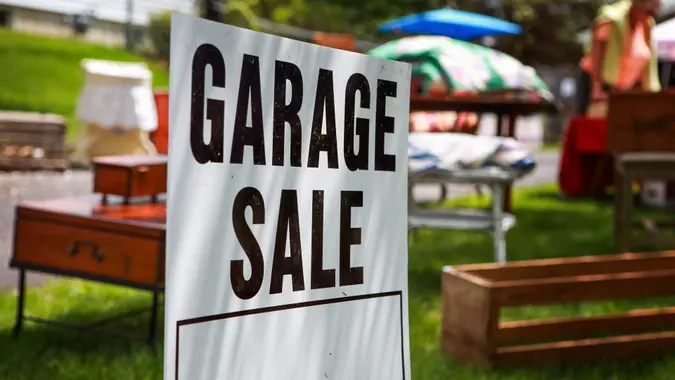 ©Shutterstock.com
If you have a lot of unwanted items or are trying to downsize or declutter your home, having a garage sale could be a great avenue for getting rid of some things while making some quick cash. Plus, depending on where you live and how you go about it, it could also be a cool opportunity to get to know some of your neighbors.
No matter how excited you are about the garage sale, it's important to be prepared before you actually plan and set it up. In particular, you'll want to make sure you're holding the event on a day when people are likely to show up and make a purchase.
Here are some of the best — and worst — days to have a garage sale, as well as some strategies to make the most out of your time and items.
Worst Days To Hold a Garage Sale: Monday Through Friday
Unless you have no other choice, or you don't mind sitting and waiting for a long while, you're probably better off avoiding holding a garage sale during the week.
"The worst days to have a garage sale is any of the weekdays as most people will be at work," said Sebastian Jania, owner of Ontario Property Buyers. "Further, many people may have other commitments during the week — like taking kids to sports. And after work when it is already late, it will be dark and people will not necessarily be able to test or see clearly any of the items for sale."
Make Your Money Work Better for You
If it's dark out by the time people get off work, as is often the case, people might also have a harder time seeing signs for your garage sale. This could result in them simply missing the fact that you're having one at all.
Scott Lieberman, founder of www.TouchdownMoney.com, added, "Even if people do drive by your garage sale, in most cases, they'll be busy getting to work, dropping kids off, running errands — and not usually the fun 'bargain hunting' errands."
You might have a little better luck holding a garage sale on a Friday as people are often finished with their workweek and may be more likely to stop by. But even then, your odds of getting a decent turnout might not be the greatest.
Best Days To Hold a Garage Sale: Saturdays and Sundays
Conversely, the weekends are typically the best time to have a garage sale. This is largely because there are usually more people out and about enjoying their time off. These same people are also more likely to become potential customers at your sale.
"The best days of the week to have a garage sale are by far the weekends," said Lieberman. "You can get started on a Friday, but the real money-making days are Saturday and Sunday mornings. Mornings are clutch, because that's when a lot of people are out — either bargain hunting, or driving kids to and from games, religious services, etc."
Tips and Tricks for Having a Successful Garage Sale
Now that you know when to have a garage sale, the next step is to make sure you've planned it properly to get the most out of your time. Here are just a few strategies to attract customers, make some extra cash, and ensure your sale goes as smoothly as possible:
Be prepared to invest some time. Having a garage sale isn't a guarantee that you're going to make a lot of money. They can also require hours of sitting and waiting around for someone to show up and make a purchase. Be patient and don't be disappointed if you don't make quite as much money as you'd hoped.
Make sure you can legally have the sale. Some cities and neighborhoods might not allow garage sales, so check the regulations in your area to make sure you can have one in the first place. If you can't, consider other options, such as selling your things online.
Estimate your potential profit. Before setting up the garage sale, try to get an idea of how much you can make. You can do this in several ways. Try visiting other local garage sales to see what items are selling for, or browse sites like Craigslist to compare list prices for similar items.
Be sure to market it. Effective marketing can make a huge difference in whether you attract customers and make a sale. This is especially true if you live on a quieter street. "If you don't live on a busy street already, make sure to put out a box or a sign on a light pole with your address, the dates of your sale, and an arrow pointing in the direction to your house," said Lieberman.
Promote the garage sale online. Physical signs that are clear and visible are important, but online marketing can also be an effective way to attract people. "To earn more money, definitely make the signage clear, big and visible to a large group of people," said Lieberman. "Boxes and signs are popular (just clean them up when your sale is over!) but if you are part of local Facebook groups or Nextdoor, that's another way to promote your sale to people in your area."
Have a raffle or games at your garage sale. By making the event more fun for kids and families, you can also increase the odds of selling your items.
Be ready to negotiate. "In most cases, you do truly want to get rid of your stuff, so instead of being firm on prices, be willing to give someone a 'buy one get one' deal or give a discount to children on games and toys," said Lieberman. "You'll get some money for your stuff, you'll have less to bring back inside when your sale is over, and someone will be happy with your items."
Make Your Money Work Better for You
More From GOBankingRates