5 Items To Sell at Garage Sales and 5 That Aren't Worth It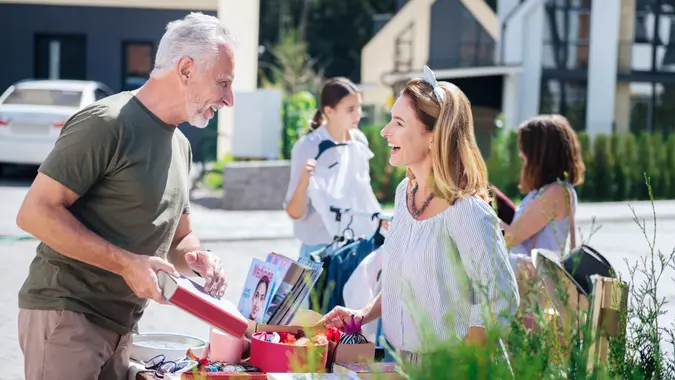 Zinkevych / Getty Images/iStockphoto
After going through old clothes and decluttering your house, it might be tempting to put everything you don't want in your upcoming garage sale. However, that's probably not a good idea. Although some items will be a hit with garage sale enthusiasts, others will fall flat — leaving you to deal with them a second time during the cleanup.
To help, here are five items to sell at garage sales — and five that aren't worth it.
Items To Sell at Garage Sales
From vintage items to tools, here are the items that are worth putting in your garage sale. 
Antique Type Items
"Anything that is antique or vintage should do very well at your garage sale," said David Bakke at DollarSanity. "Just make sure you research it well so you're not selling something for a few dollars that is worth big bucks."
Boys Clothing
"I've had plenty of garage sales over the years, and when it comes to clothing, it seems that the boys' stuff sells good, the girls not so much," said Bakke. "I wish I could tell you why, but I cannot."
Consider pricing clothing items all the same, such as $1 each. You could also have disposable bags available with a sign that says, "Fill a bag for $5."
Make Your Money Work Better for You
Costume Jewelry
If you have pieces of costume jewelry you're no longer interested in wearing, put them in your garage sale. Make sure to clean dusty pieces and display them in a way that will catch the eye of potential buyers. 
Fishing Gear
Liz Sweeney, owner at Dogwood Solutions, said that she's usually the person who makes the most money at community or group garage sales, and fishing stuff is one of the things people are always looking for. According to her, people are interested in anything from fishing rods and reels to lures to tackle boxes.
Tools
"Tools almost always do well at garage sales," said Bakke. "And really tools of any kind — power tools, yard tools, you name it. Just make sure you have an outlet available for testing, and if selling cordless tools, make sure the batteries are charged."
Items That Aren't Worth Selling at Garage Sales
You likely know that stained clothing, broken electronics and worn-out shoes are all items to leave out of a garage sale. Here are some other items that aren't worth it. 
Homemade Craft Items
If you're looking to offload your collection of homemade craft items you've collected over the years — or even worse, you are looking to use your garage sale as a way to sell your own crafts — think again. People more than likely won't be interested unless your stuff is unique or exceptionally awesome.
Toys and Games With Missing Pieces
Most people don't have a use for toys or games with missing pieces unless they are looking for replacement pieces. Even so, they probably won't want to pay much for something that's incomplete.
Make Your Money Work Better for You
Scratched Nonstick Pots and Pans
A scratched nonstick pot or pan needs to go the way of the dumpster because it's outlived its usefulness. Not only are scratched-up pots and pans unsightly, but also, who wants flakes of nonstick coating in their food?
Tupperware That's Stained or Has Missing Lids
Sure, Tupperware is a well-known, well-made brand, but when spaghetti sauce or chili stains are forever ingrained in the plastic, no one wants it — Tupperware or not. Even if the Tupperware is in good condition, but you don't have the matching lids for it, people will likely take a hard pass. After all, that's a big part of what Tupperware is all about — keeping things fresh with a well-sealing lid.
Ordinary Glassware
Unless you have a boxed set of decent-looking glassware that you were given as a gift or bought on sale and never used, don't bother putting it out. It's unlikely that anyone will want to buy generic-looking, used glassware that they can buy new at the local dollar store.
Tips for a Successful Garage Sale
Here are some tips to help you move your merchandise at a garage sale.
Clean It Up
"It's important that anything you're selling be in decent, clean condition," advised Sweeney. "A quick wash or wipe down can make the difference on something selling for $40 or $5."
Price Items To Sell
"The secret to making a decent amount from your efforts — and not having to haul it all back inside — is to price to sell," said Sweeney. "Sure, your collection of specialty pottery might be worth a mint on eBay, but you'll have to factor in the time to photograph, list, package and ship it. If you want it to sell at a garage sale, you often will have to price it under its real value."
Make Your Money Work Better for You
Group Items Together
Grouping like items together can help people more easily see what you have to offer. If everything is an unorganized jumble, it can be confusing and off-putting to potential buyers. 
Be Ready To Negotiate
Don't make the mistake of thinking that a better offer will come along later if someone offers you a little less than you're asking for. The end of the day will come more quickly than you might think, and it's better to have a little less money in hand than to be left with an item you don't want.
Have Plenty of Change on Hand
You'll need to be able to give change to those people who want to buy a $1 item with a $10. Go to the bank the day before and get plenty of bills in different denominations, such as $1s, $5s and $10s. You might also want to pick up a few rolls of pennies, nickels, dimes and quarters.
More From GOBankingRates