I'm a Millennial and I Make $2,000 a Month in Passive Income — Here's How I Do It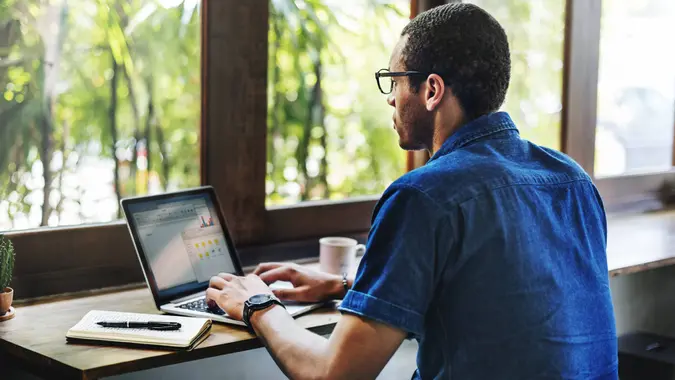 ©Shutterstock.com
If you want to build true wealth, it's vital that you make money in your sleep. The best way to do this is to find passive income streams that will pay you even when you're not working.
Since there's a finite amount of hours during any given day that you can devote to working, you have to ensure that you have money coming in from various sources. Even though the idea of making money when you're not working seems too good to be true, there are realistic ways for regular people to make this possible.
We spoke with Cody Berman, who teaches people how to make money on Etsy by selling digital printables for passive income.
How Is the Passive Income Earned?
Berman earns passive income from selling digital printables on Etsy. There are items that users will purchase and then print off at home. 
What are examples of digital printables?
Weekly planners
Printable wall art
Monthly budgets
Wedding checklists
To-do lists
Meal planners
The type of digital printables that someone sells will depend on the niche that they want to enter and the market research that they perform. If you browse through the website, you'll notice that there's a marketplace for every type of niche. 
How Can You Make Money on Etsy?
There are different types of products that you can sell on Etsy. If you have to make a physical product like a bracelet or something handmade for home decor, then the income won't be passive since you have to focus on creating this. The key is to find a product or a variety of products that you can sell on the platform by finding your unique niche. The good news is that this niche can be anything from bachelorette party ideas to baby decor.
Make Your Money Work Better for You
We recently looked at Esty as one of the side gigs where you can earn some extra cash with limited spare time. When we covered the Taylor Swift friendship bracelets, we discovered that shop owners were bringing in $16,000 from one item.
How Much Passive Income Can You Earn On Etsy? 
"The amount that you earn will totally depend on the month, especially since I sell seasonal products," Berman said.
He shared that his record week was $720 in passive income and that his shop can do around $2,000 per month. The amount that he earns depends on the season and the type of printables he's selling. For example, there are peak seasons for bachelor party game ideas and Christmas shopping checklists.
"You're going to have to try out many different designs before you find a product that takes off," Berman stressed. "Once you find that one product, you can start bringing in passive income without any extra work on your end."
Once your Etsy shop is set up, you can work on testing out different products to see how the market reacts. It's difficult to determine how much money someone can bring in from their shop because it depends on the design and how the market reacts. This is one of those business ideas where you will have to test and experiment until you find something that works.
Is Etsy Truly Passive Income?
While there are many passive income sources out there, some of them require a bit of maintenance and effort. You may sometimes have to hire a property management firm to help manage your units or hire a store manager if you purchase a franchise. When it comes to Etsy, you can focus on collecting money once your products become a hit on the marketplace. 
Make Your Money Work Better for You
"Most of the time is spent on product creation," Berman commented. "Once the product is created, it's 95% passive except for answering the occasional customer question."
Once a product takes off on the Etsy platform, you can collect passive income without much additional work. The toughest part is finding the time to devote to creating products that may not be a success.
Berman noted that it could become frustrating to work on products that may not be a hit on Etsy. There are no shortcuts to this, and you will have to experiment.
Berman also stressed the importance of learning the SEO behind pushing products on Etsy and picking up some decent graphic design Canva skills. The good news is that once you get better at creating designs and publishing products, you can increase the volume to start listing more often to increase your chances of making more money.
What Are Other Similar Passive Income Streams?
It's worth noting that multiple options exist for creating passive income streams with your own digital products. The goal is to start saving money first so that you have the funds required to devote to various passive income-generating ideas. You'll then need some time to research different passive income options and product ideas.
You have a few other options if you want to create passive income with something artistic and digital:
Try print-on-demand. There are shop owners profiting from selling custom pet products and other unique items. They use suppliers like Printful or Printify to outsource the entire process, from creating the product to shipping it. You can also connect suppliers like Printify directly to your Etsy shop.
Sell your products across different platforms. You can list these same products on other platforms like Facebook Marketplace, Shopify or your own website. 
Make Your Money Work Better for You
If you find that a product becomes a hit on Etsy, you can try selling it on other platforms to increase your income. You can also outsource the entire process from design to shipping if you want to invest the funds upfront into this passive income stream.
Closing Thoughts
If you're artistic and want extra money, you could benefit from opening an Etsy shop. The most challenging part of making passive income from Etsy is figuring out which products will sell. If you can make this work, then you'll have a passive income stream that brings in money when you're sleeping.
More From GOBankingRates