How To Flip Your Money: 6 Ways To Make Supplemental Income This Way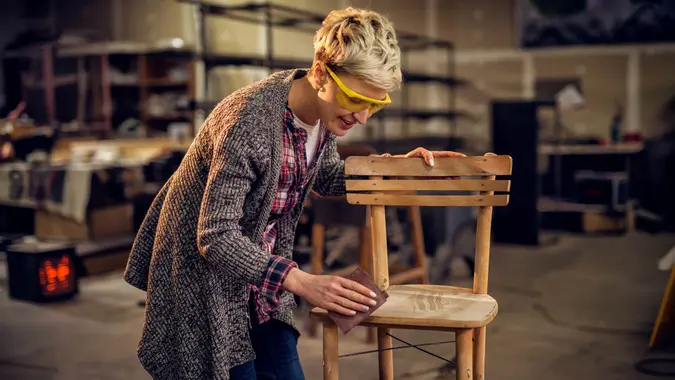 dusanpetkovic / Getty Images/iStockphoto
Financial independence is a dream for most of us — something we will likely spend most of our working lives trying to achieve. The best way to get there is to make your money work for you, by getting a return on it or by turning it into a income stream on the side.
One way to do this is by "flipping" your money.
Now, money flipping may sound questionable, but there's nothing illegal or shady involved. It really just means investing in an asset with the intent of holding it for a fairly short time before selling it or cashing out for a return. There are a lot of ways to do it, too. Here are five below.
Real Estate Wholesaling
Investing in real estate can be very lucrative, but it typically requires significant upfront money. For those who don't have that kind of cash on hand, wholesaling can be a great entry point.
"[Wholesalers] can use some money to get leads that are looking to sell their properties for cash, put those properties under contract, and then sell those contracts to [investors like a] landlord or house flipper. Using that small amount of initial money they can have it flipped into a much larger assignment fee that they can have cashed out in as little as a few days," said Sebastian Jania, director at Ontario Property Buyers.
It's important to do some networking and research beforehand, so you have an idea of where to look for leads as well as where you can sell your contracts.
Make Your Money Work Better for You
Website Flipping
Flipping a website is essentially the same as flipping a house — you purchase it, make improvements, and sell it for a profit. As with real estate, flipping a website requires some specific knowledge so you can identify sites with the most potential for improvement.
"A key aspect of website flipping is adding value through strategic optimization. This can include improving the website's user experience, implementing effective SEO (search engine optimization) strategies, enhancing content quality, and optimizing monetization channels. These enhancements increase the website's appeal to potential buyers and contribute to a higher selling price," said Dominik Maka, head of SEO at LVBET.
Maka also noted that building a network with other website flippers can be a valuable way to gain insight and experience, and to discover new opportunities.
Furniture Flipping
For the crafty types out there, furniture flipping can be a fantastic way to unleash your creativity while flipping your money. Well-made furniture can be shockingly expensive when you buy it new, but used furniture can present an opportunity. Give it a facelift and make it look new again, and you can pocket the profits.
"By rescuing worn-out furniture pieces and giving them a new lease on life, you can create beautiful, one-of-a-kind pieces that appeal to buyers. Platforms like online marketplaces and social media provide a vast audience to showcase your refurbished furniture and make profitable sales," said Mariusz Baran, owner of We Clear Everything. 
Make Your Money Work Better for You
Credit Card Churning
There are a lot of credit cards out there, all competing for customers, and many offer a variety of sign-up and balance transfer incentives to entice prospective cardholders. The process of "churning" refers to opening new cards, qualifying for whatever bonus is offered, and then closing them. Repeat this process over and over and you can get some serious cash with no initial investment.
"By applying for credit cards and canceling them after claiming the sign-up bonus…you will receive a reward at the end of the month in the form of points, cash, or other bonuses without changing your lifestyle. The best part is that you can do it whenever you want and in your own time, as everything can be completed online or over the phone," said Andre Disselkamp, co-founder of Insurancy.
Successfully churning does require attention to detail, though. You need to make sure you are reading all the fine print so that you don't miss out on your bonus or get caught off guard by fees.
Domain Name Flipping
These days, almost every business needs to have at least some presence online. Having your own website requires a domain name, but if the domain name you like is already taken, you're out of luck — unless the current owner of the domain is willing to sell. That's where you can come in. Domain name flipping is the process of identifying overlooked or expired domain names with the intent of selling them in the future for a profit.
Make Your Money Work Better for You
You don't want to just buy any domain name though; it takes a discerning eye to find ones that will actually attract a buyer. "I leverage the value of clever domain names with wordplay potential. By identifying expired or overlooked domains with pun possibilities, I acquire them at reasonable prices," said Milosz Krazinski, managing director of Chilli Fruit Web Consulting. "The key to success lies in patience and timing. As the internet evolves, the demand for catchy and memorable URLs increases. By allowing these punny domain names to appreciate in value naturally, one creates an opportunity for profitable sales."
Don't Forget About Traditional Investing
If you don't have much capital to begin with, flipping your money can be a great way to start building your nest egg. But for truly passive wealth building, you'll want to build a diversified portfolio of assets like stocks and bonds.
Once your money-flipping efforts build momentum, be sure to take some of those profits and re-invest them in more traditional financial assets. You can always reach out to a financial professional if you're not sure where to start.
More From GOBankingRates