I Flip Thrift Store Finds: Here Are the 14 Things I Always Make a Profit On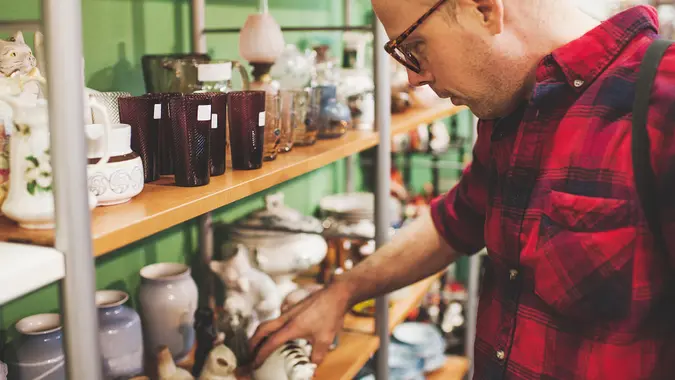 knape / iStock.com
With life getting more expensive by the day, many people are looking for new ways to make more money. A popular side hustle lately has been flipping, which ranges from trying to sell your old stuff from around the house to searching for items at thrift stores that can be flipped online. The good news is that flipping is a side hustle anyone can get started with, since there's no real barrier to entry and you can learn the skills on the job.
GOBankingRates spoke with a thrift store flipping expert who was generous enough to share their best advice on what it takes to make money through this side hustle. 
How Can You Make Money From Thrift Store Flipping?
In the simplest terms, the strategy behind thrift store flipping is to find items you know you can resell for a higher price. The goal is to find an item at a thrift store and then sell it on an online platform like eBay or Facebook Marketplace at a decent markup that makes this a worthwhile side hustle venture.
"The key is to find a few profitable niches to get started with thrift store flipping," said Rob Stephenson, the thrift store flipping expert behind Flea Market Flipper. "It can be overwhelming to walk into a thrift store and not know what to look for. One trip around most stores can make you frazzled if you don't know what to look for."
Make Your Money Work Better for You
This leads to the next logical question: How do you find a niche?
"First, start with things you already know. Do you have a hobby you like? What are the most expensive items in your hobby? Are you in a phase of life with babies or kids? What are some baby or kid items that are higher-end? Do you know what kitchen gadgets hold their value or are trending lately?"
You want to have a game plan before you enter the thrift store so that you don't get discombobulated. Stephenson concludes with, "You can't spend two hours looking up every single item and what it's selling for, but you can learn a few niches and learn how to spot them quickly."
How Do You Avoid Wasting Your Time?
One fundamental aspect that must be mentioned is that it's easy to waste your time and money on this space if you don't know what you're looking for. You have to know your market so that you don't end up with a home filled with junk.
This also means that you must know when to walk away from a purchase, since the whole point is to make money. "Your profit is made in the purchase of the item, so you have to know when to walk away," Stephenson said. He goes on to mention that we luckily have the internet at our fingertips, so we don't have to take that big of a risk.
Make Your Money Work Better for You
What Skills Do You Need?
Stephenson believes that anyone can get into this business, because it doesn't matter how old you are or how educated you are — you can learn the skills by just getting started. This is good news for anyone reading this article because it means that this is an accessible side hustle that doesn't require you to spend money or time upgrading your skills.
Here are the skills that you should work on if you want to get into thrift store flipping:
How to spot items at a reasonable price. You want to study prices so that you know what a good deal looks like.
Measuring comparables on eBay and Google. You want to find similar items sold in the last 90 days on eBay or Facebook Marketplace to ensure that there's demand for this.
Proper packaging of your items. You can save money by printing your label through eBay. The goal is to package your items correctly so that there are no issues in transit.
How to negotiate. As a thrift store flipper, you have to negotiate with both buyers and sellers.
"Negotiating doesn't have to feel icky. If you do it right, it should be a win for everyone," according to Stephenson.
What Thrift Store Purchases Can Always Be Flipped for Profit?
Are there thrift store purchases that can always be flipped for profit? According to Stephenson, "It's hard to say what always sells because items go out of style and get upgraded, but if you have solid brands in your niche, they will most likely sell."
It's also not worth looking for the ultra-rare beanie baby, as they're not worth it. You can also save time and hassle by limiting the number of items you seek.
As far as thrift store finds, here is a list of different categories of items that you should be looking to flip from thrift stores:
Vintage items: Video game consoles, video games, old vintage tube TVs for the retro games, record players, phonographs and typewriters
Kitchen gadgets: Crockpots, coffeepots, toaster ovens, bread makers, toaster ovens, microwaves, cooktops and pressure cookers
Electronics: Old phones, laptops and tablets
Furniture: Coffee tables, bar stools, chairs, patio furniture, desks and dining tables
Sports equipment: Skates, roller blades, baseball gloves, bats, golf clubs, tennis rackets, cleats, dumbbells, treadmills and ellipticals
Outdoor equipment: Camping gear, road bikes, tents, hiking backpacks, scooters and mountain bikes
Brand name clothes: Dress shirts, suits, ties, dresses, jeans and vintage shirts
Shoes: Men's dress shoes, women's heels, boots, running shoes and golfing shoes
Kids' toys: Legos, American Girl dolls and accessories, Matchbox cars, Pottery Barn and Barbie Dreamhouses
Collectibles: Trading cards, Pokemon and sports memorabilia
Tools/indoor equipment: Lamps, paintings, vacuum cleaners, rugs, air purifiers, holiday decorations, digital picture frames, clocks and craft supplies
Jewelry: Costume jewelry, sterling silver and gold jewelry
Instruments: Trumpets, flutes, saxophones and guitars
Outdoor tools: Lawnmowers and power, hand and mechanic tools.
Make Your Money Work Better for You
Anyone who has ever stepped foot into a thrift store can confirm that you don't know what you're going to find on any particular day. This is why it helps to have a checklist with you so that you know what to look out for. 
Closing Thoughts
There's money to be made from thrift store shopping if you take the time to do some research so that you know what you're looking for. Stephenson urges that you start off by learning about a few niches and then branching out as you get more comfortable with flipping.
More From GOBankingRates