9 Things You Should Never Buy at Thrift Stores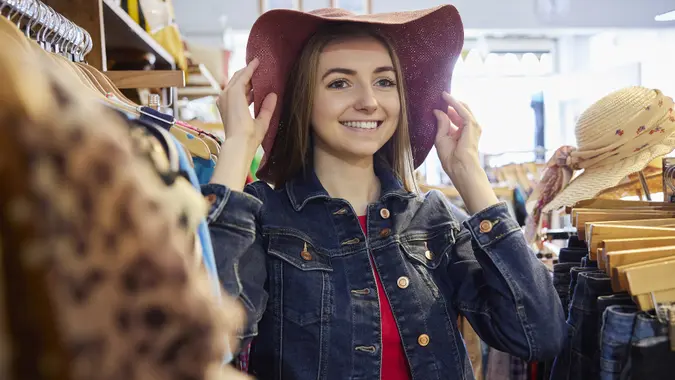 Daisy-Daisy / iStock.com
Thrift stores are an important part of the retail industry, providing a unique shopping experience for customers and a great way to recycle and reuse items. As consumers continue to stretch their dollars and change their spending patterns, the "recommerce" market is booming and expected to grow progressively over the next few years.
You can call them resale, consignment or not-for-profit shops, but there are currently more than 25,000 "thrift" stores in the United States, according to the Association of Resale Professionals. Thrift shops help save millions of pounds of clothing from landfill dumping annually, operate in aid of community development and are often associated with local charities.
There are big savings to be had at second hand stores, but they may come with unexpected costs. Bargain buyers need to beware of these nine things you should never buy at the thrift shop.
1. Stuffed Animals
Once-loved stuffed toys are a popular seller at thrift stores. However, these items may not be in the best condition and could potentially be hosts for different pests, such as fleas and bed bugs, drool and snot (which kids supply an extraordinary amount of) and odors, mold and other allergens. Washing these li'l plushies sometimes takes a lot out of them as well, causing them to get disfigured or destroyed.
Make Your Money Work for You
2. Bike Helmets and Hats
Hats and helmets are not ideal buys at thrift stores unless they are like-new. A used hat could potentially carry lice or other harmful infections and allergens. Same with helmets, which have the extra caution of not meeting safety standards. According to WebMD, "From bikes to horse riding, most helmets are made to hold up through only one crash. Or one drop on a hard surface. Once that happens, the foam inside squeezes and won't protect you the same way, even if it looks fine."
3. Skincare Products and Makeup
Used on hands and near your mouth, nose and eyes, makeup containers, brushes and skincare products are breeding places for all sorts of other people's germs. If labels have fallen off makeup packaging, unknown ingredients and warnings may result in skin rashes and serious infections.
4. Mattresses and Pillows
Bedbugs can crawl into the tiniest seam or fabric crack and go a year without eating, per Terminix. Once you have them in your mattresses or bed and sofa pillows, they're difficult to get out. New mattresses are extremely expensive, so if you're trying to find a secondhand deal, check them out very closely and look for bugs, eggs and tiny black dots.
Make Your Money Work for You
5. Pet Furniture
You'll never know what previous pets were up to on second hand pet beds, houses, crates, blankets and toys. Used pet beds and furniture can harbor bacteria such as parasites, fleas and other allergens that can be harmful to your pet's health. To prevent stinky smells from overrunning your living space, treat them to something new and clean.
6. Vacuums
Vacuum cleaners get used often and don't get cleaned properly by most owners. They tend to lose their suction quickly, too, which is probably the reason you are seeing it for sale in a thrift store. If you can't take it for a test drive, this is one item that is probably better bought new.
7. Undergarments
Unless a thrift store has received a donation of new, unused underwear or swimsuits in sealed packages, it's best to stay far away from buying these items for obvious reasons.
8. Opened Puzzles
There are few things as frustrating as finding out you're short a puzzle piece when you're nearing the end. According to Cheapism, buying second hand puzzles is a risky purchase for that very reason — you never know if a puzzle has missing pieces. Additionally, they are a surprisingly rich hotbed for bacteria and germs.
Make Your Money Work for You
9. Infant Car Seats, Strollers and Baby Cribs
Everyone know babies are wonderful — and wonderfully expensive! Parents should take advantage of baby essentials at a thrift or consignment stores as kids grow out of things every couple of months. However, while gently worn clothes and furniture are reasonable secondhand purchases, stay away from well-used cribs, strollers and car seats that have outdated warranties, may not meet up-to-date safety standards or have been previously recalled.
Whether you are a proponent of reducing waste, a trendy shopper looking for unique items or simply looking for value in these uncertain times, thrift store shoppers can save an average of $1,760 per year by buying second-hand items, per CouponFollow's "Top Cities to Thrift in 2022" report.
More From GOBankingRates