I'm a Gen Z Entrepreneur Who Makes $10K a Month — Here's How I Do It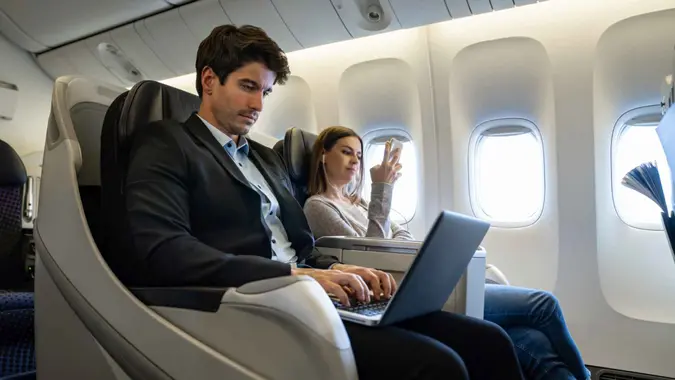 andresr / Getty Images
Farhan Zafar Khan, founder of the travel site Book on Board, has been able to turn his passion for travel and the outdoors into a thriving business that brings in over $10,000 per month in revenue. As a member of Gen Z, Khan has leveraged his skills and interests to create diverse income streams that allow him to make a great living doing what he loves.
"Born into a middle-class family, I was never spoon-fed," said Khan. "I've always loved the outdoors and travel, and I decided to pursue my passion. With a degree in journalism, I set out to combine my love for writing and adventure."
At a young age, Khan has already built a business he loves that allows him to live life on his own terms. "Making a living from my passion has always been the dream, and I'm happy to say that I've achieved it," he said. His story shows that with strategic savvy and the willingness to work hard, Gen Z entrepreneurs can absolutely achieve their dreams.
How He Makes His Money
For many high-income individuals, the key to earning more is having multiple streams of income. Here are the different ways Khan makes his money.
Travel Blogging
Khan's popular travel blog is the core of his income, bringing in around $5,000 per month. He shares in-depth travel tips, reviews of destinations and accommodations, as well as inspiring stories and photos from his adventures across the globe. Khan works hard to keep creating fresh, high-quality content so readers keep coming back.
Make Your Money Work Better for You
Affiliate Marketing
Another significant income stream for Khan is affiliate marketing, which earns him approximately $2,000 per month. As an affiliate, he strategically recommends useful outdoor gear, travel products and booking services that would benefit his audience. He only endorses brands and items he genuinely uses and trusts during his own travels. When readers purchase through his affiliate links, he earns a commission. This provides his audience with helpful recommendations while diversifying his income.
Brand Partnerships
By partnering with relevant travel and outdoor brands, Khan is able to earn an extra $1,500 per month through strategic sponsorships and collaborations. As an influencer with a large, engaged audience, brands will sponsor travel, gear or experiences in exchange for sponsored content, social media promotion, etc. Khan carefully vets potential partners, only working with brands he authentically represents. This boosts his income while allowing brands to tap into his audience and credibility.
Online Courses
Selling online courses has proven to be a lucrative move, adding approximately $1,000 per month to Khan's income. He offers comprehensive courses teaching others how to start their own successful travel blog or how to master skills like travel blogging and wilderness survival. Khan's years of experience make him the perfect instructor. The courses provide immense value while earning Khan passive income each month.
Freelance Writing
To supplement his diverse income streams, Khan earns around $500 per month by freelance writing for major travel magazines. Publications value his expertise, perspective and ability to create compelling stories and guides. Thanks to his writing degree and years running his blog, Khan can easily adapt his writing for different outlets. Freelancing allows him to earn extra income doing what he loves.
Make Your Money Work Better for You
Tips for Gen Z Entrepreneurs
Based on his own experience as a young entrepreneur, here's the advice Khan has for others looking to get a leg up in their industries.
Start Early
"The earlier you start, the more time you have to grow," said Khan.
When you begin building your business and brand while young, you have much more time to learn critical skills, understand your audience and grow your platform. Starting early in your passion gives years ahead to establish authority and capture emerging opportunities.
Diversify Income 
Relying solely on one revenue stream leaves you vulnerable. Having multiple income streams through avenues like affiliate marketing, brand partnerships, products and freelancing provides stability and flexibility. If one area sees a downturn, you have others to rely on. Different income sources can also complement each other, boosting your overall earnings.
Learn SEO
"Understanding SEO can be a game-changer for any online venture," emphasized Khan. Unlike traditional marketing, SEO allows you to get your content and offerings in front of interested audiences organically. Optimizing your sites and content for relevant search terms and ranking algorithms on platforms like Google, YouTube and Amazon is crucial for visibility and traffic. 
Invest  
The final tip from Khan is to make sure you invest part of your income back into your future. As your earnings grow, put funds aside for investing — whether in retirement accounts, real estate or further education. Smart investments allow you to pursue long-term wealth in addition to monthly income. And investments like courses can enhance your skills and opportunities. Thinking beyond just immediate income is key to lasting financial health and freedom.
Make Your Money Work Better for You
More From GOBankingRates