7 Low-Risk Passive Income Streams That Can Still Build Wealth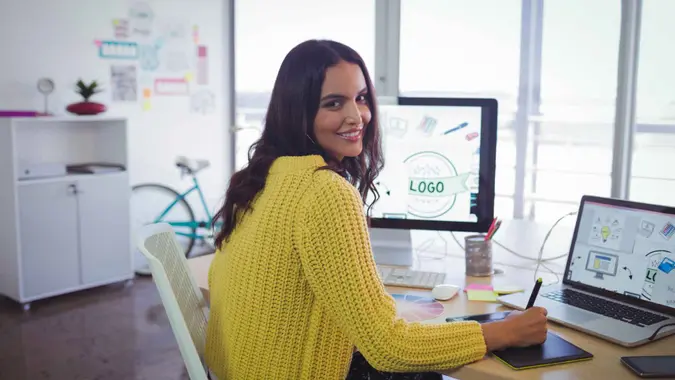 Wavebreakmedia / Getty Images/iStockphoto
To generate a steady stream of money with little effort, passive income is the way to go. Yet, while getting started with passive income — money not derived from active involvement such as a salary — there can be pitfalls and risks, such as losing an initial investment.
But experts say there are low-risk passive income streams, which, once in place, can allow you to simply sit back and relax.
Rent Out Your Vehicles
As host and financial guru Dave Ramsey noted, if you have a boat, you can rent it on Boatsetter to make some extra passive income.
You can also generate cash by renting out your car on several platforms. For instance, HyreCar says on its website that owners can become "autopreneurs" by turning their car into a passive income stream.
"List your car within minutes. Set your own rates. Keep your cars safe with our protection plans," HyreCar advertises.
Real Estate Crowdfunding
Another way to generate passive income is by participating in real estate investments through crowdfunding platforms. These platforms pool funds from multiple investors to finance real estate projects, such as rental properties or commercial buildings. Investors earn passive income from rental income or property appreciation without direct management responsibilities, said Blake Whitten, financial advisor at Whitten Retirement Solutions.
"Choose reputable crowdfunding platforms with a track record of successful projects and conduct thorough research on the properties you're investing in," added Whitten.
Make Your Money Work Better for You
Direct Investment in Rental Property
This is a great way to generate a steady stream of income. Of course, this requires a fairly large initial investment and may take some time for you to generate a profit. However, as Ramsey noted, don't ever go into debt to buy rental property.
Buy and Sell Domain Names
This is not only low-risk but fairly effortless, too. As SoFi noted, "Purchase low for around $10 to $100 and then sell them for a much higher price later on."
Take Stock Pictures To Sell Online
If photography is your hobby, you might want to turn it into passive income.
"If you like going out on the weekends to take photos and videos, consider posting them for sale online. That way people on the hunt for new stock images and videos may find and use your images. Plus, you're able to sell these images for as long as you have them posted online," Credit Karma detailed.
Sell Prints on Etsy
Chelsea Clarke, founder of Her Paper Route, suggested selling printables such as planners and checklists.
"To save time and make it as effortless as possible, you can buy PLR (private label rights) printables from other online shops, which are digital products you can customize and sell as your own," said Clarke, adding that before you start, be sure to use a keyword research tool made for Etsy so you know what's in demand.
Make Your Money Work Better for You
Rent Out a Bedroom
This is not only another fairly easy way to generate money, but also doesn't require a lot of effort.
More From GOBankingRates