Make $6,000 in a Week With ChatGPT? Here's One Way To Try It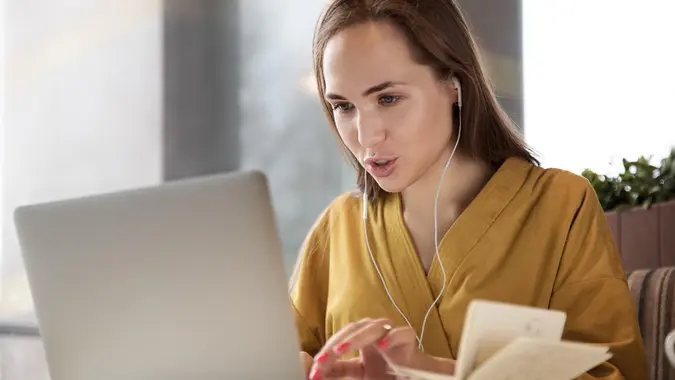 Maksim Kamyshanskii / Getty Images/iStockphoto
ChatGPT is all the rage, and while much of the conversation around it has been focused on ways it could cost us as a society — specifically in terms of our jobs — there are also rampant discussions happening on YouTube centered on how the AI technology service can actually make you money. And a lot of it, too.
Consider this tutorial published on YouTube by EducateStream. In it, the creator — who seems to be using an AI-generated voice — walks viewers through how to make money (as much as over $6,000 a week, they say) by using ChatGPT to craft blogs that are then pushed out online, with SEO-heavy language.
Let's go through how this creator pulls this off, step by step, and touch briefly on a few dos and don'ts of the process, as offered by experts. 
Create an Account 
First things first. ChatGPT is free (though you can pay $20 a month for access to more features via ChatGPT Plus), but just like with pretty much any other service on the internet, you need to create an account. 
Find Blog Topics in Your Niche 
The video says to do "some keyword research to find low competition keywords to rank on Google." EducateStream recommends visiting H-supertools.com, declaring it the best free SEO tool to find low competition keywords.
You'll need to create an account on that site, too. After doing that, check out the site's SEO section and click on the Keyword Research Tool. Next, type in your niche keyword.
Make Your Money Work Better for You
"For example, I enter the 'affiliate marketing' keyword, solve [the] Google captcha, and click on the keywords," the YouTube poster said. "In a few seconds, this free tool provides you with a list of keywords with providing search volume, competition and CPC information."
Related: 5 Ways To Use AI To Generate Passive Income
Choose High Search/Low Competition Keywords 
Pick the keywords that have a high search volume performance but rank low in competition.
"For example, this 'affiliate marketing Amazon' keyword has low competition," says EducateStream.
Generate Ideas Around the Keyword(s)
In this particular case, you'd select "affiliate marketing" and create an article around it with ChatGPT. You can do that by going to the ChatGPT website and searching the query. 
Enter the blog topic titles, add your niche keyword (that would be "affiliate marketing Amazon," in this example). Almost instantly, this tool will present you with 10 different topic ideas pertaining to your niche word or phrase. Click the "regenerate" button to get even more ideas. Yes, ChatGPT just seems to never run out of them!
Get Blog Outlines 
Your next step is to get blog outlines. You can do this by selecting any one of the ChatGPT blog ideas and searching that term. Enter the blog outline idea you've chosen and then add the title. In a matter of mere seconds, this function automatically generates an outline of the idea.
Get Outline Content 
Next, you'll need to get outline content. To get started, copy the first blog outline, search that term, and provide the blog section of this outline. Then paste the first outline in a box further down the page. ChatGPT then immediately writes the intro of the article. It then copies this content from ChatGPT, churns out a new Word file and pastes the content there. 
Make Your Money Work Better for You
Eventually, through a number of easy and often intuitive steps, you'll be able generate an entire article. 
Convert the Article Into a Human-Generated Blog 
Your next step is to convert the article into a human-generated blog. This way, you can rank the blog on Google. Copy the content and go to Google and search Duplichecker Article Rewriter. Go to the first website listed (it should be "Paraphrasing Tool") and paste the content in the box. 
During this phase, you'll turn your AI creation into something just a little more human. 
Use Medium and Quora 
You'll need to create an account with the online publishing platform Medium to finalize the process. Quora will also be needed in this process of getting your ChatGPT-made blog out into the world. 
Add Affiliate Links
Add affiliate links in your blog — this is what will enable you to start making commissions.
Make Money 
The ways you make money using this admittedly complex method of publishing a blog with the heavy help of ChatGPT are by partnering with sites like Medium and successfully using affiliate links. 
And so, this is how you could potentially make over $6,000 a week using GhatGPT. But as you can see, it takes a lot of tech-savviness and instinct for what makes sellable content. That's why you should really weigh your time and skills when considering this endeavor. 
Don't Expect To Automatically Make Big Bucks 
Though EducateStream's YouTube tutorial is helpful and smart, making $6,000 a week isn't necessarily going to happen for you. 
Make Your Money Work Better for You
"ChatGPT can help with content production and customer service, but it's unlikely to generate such a large income," said John Chandler, SEO consultant at Fluent Slang. "Understanding that results may vary and being aware of potential problems are vital." 
Promote Your Services
Yes, you can potentially make a mean profit by using ChatGPT entirely on your own. But it's still a good idea to promote your availability and ChatGPT expertise to prospective customers. 
"Determine which websites, online groups, and social media channels are frequented by the people that make up your ideal customer base," said Vikas Kaushik, CEO at TechAhead. "Participate in topics that are relevant to your specialty, offer insightful contributions and quietly advertise your services when the context calls for them."
Don't Make False Claims or Guarantees
Just because you're using AI to make money, doesn't mean you should be overconfident or, frankly, inhuman about it if you're selling your services to clients. 
"Make it crystal clear that the scope of your expertise is limited, and that the solutions you provide are the result of an artificial intelligence language model," Kaushik said. "Maintain control over the user's expectations while providing information with honesty."
No Spam 
Though it's wise to promote your services, don't inundate people with spam.
"This will only turn people off and make them less likely to read your content," said Shawn Davies, founder and financial advisor at Digital Connect Mag.
Make Your Money Work Better for You
More From GOBankingRates