Millionaire YouTuber Offers Tips for Making $200K Seem Like 'Chump Change'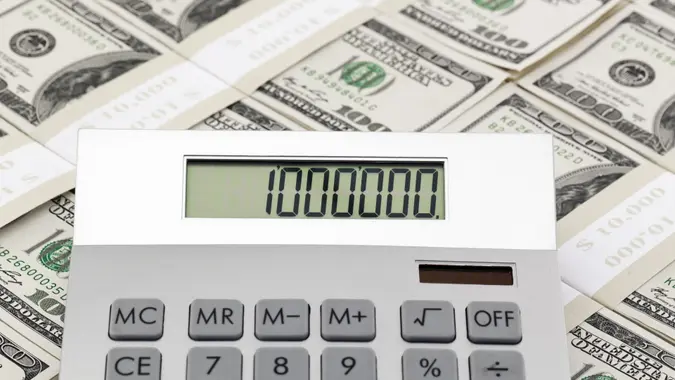 aluxum / Getty Images
YouTuber Sebastian Ghiorghiu is a millionaire at just 24 years old. This is no small feat for someone his age — but how did he get to this point? He claims it begins with a proper mindset.
"I realize now that it is so incredibly easy," Ghiorghiu said in a podcast interview that went viral on Twitter. "There's so much money out there. … Especially now, with AI tools that you can leverage like never before, $200,000 is chump change."
To most, $200,000 is not chump change — in fact, due to the controversial nature of Ghiorghiu's statement, this viral clip gathered a significant amount of negative press. But there may be some truth to his statement. Though only about 2% of Americans are millionaires, adopting Ghiorghiu's millionaire mindset might be a good place to start.
With these three ways to begin building your income, maybe one day $200,000 will feel like chump change to you, too.
Money Expert Jaspreet Singh: Get Rich Through These 3 Investments
Seek Out Money-Making Opportunities
"I saw everything as an opportunity, and that's really the most important thing to success," Ghiorghiu said in one of his YouTube videos.
Ghiorghiu first got his start with side hustles selling muffins to his peers when he was in elementary school. He saw an opportunity — buying muffins in bulk at Costco and selling them more cheaply than what was offered in the cafeteria could net him a profit. Since then, he has moved on to dropshipping and other income avenues.
Make Your Money Work Better for You
Side hustles help create additional income that can quickly add up to lots of money.
'Isolate All of the Variables'
Ghiorghiu's first experimentations with using Shopify to create an e-commerce platform were not without error. On some days, he found himself making only $10.
By trying new methods, Ghiorghiu finally found something that worked for him: By having influencers promote him, he could break even in one day. Soon, he was not just breaking even but making a significant profit.
"Isolate all of the variables that are bad and good," Ghiorghiu said in one of his YouTube videos. "Then take the good ones and make them work."
One of the good variables was choosing the correct influencers to promote his business. Knowing when and how often to send out targeted ads is a good variable as well. All of these things Ghiorghiu had to learn by making mistakes and being unprofitable in his early attempts.
Through trial and error, as he showed, it is possible to make a Shopify business a success.
Use AI To Help Make More Money
"AI is definitely starting to break into the mainstream," Ghiorghiu said in a YouTube video.
One of the ways to utilize ChatGPT, Ghiorghiu said, is to have the AI help create a landing page for your dropshipped products. When Ghiorghiu was dropshipping, he made all of these landing pages manually.
Now, there is no excuse. AI can do the work for you by lending you the framework of a landing page. It is up to you to tweak the page to your liking.
Using AI also can be a useful tool to help invest in the stock market. By asking ChatGPT specific questions about what to invest in, ChatGPT can direct you to the best resources and help you educate yourself.
Make Your Money Work Better for You
Building a stock portfolio is one way to start earning a passive income. Ghiorghiu sees the value in using ChatGPT to make earning money a much easier process — by having AI find the best stocks for you to invest in, it is doing much of the work for you.
More From GOBankingRates