5 Signs You're Not Making Enough Money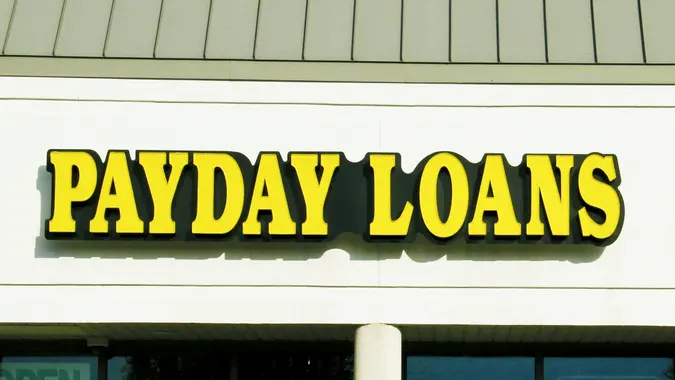 dcwcreations / Shutterstock.com
There are many shades of "enough" in the world of personal finance. There's "enough to scrape by," "enough for stability" and "enough for prosperity," for starters.
Check Out: Pros and Cons of Living in a State With No Income Tax
Advice: With a Recession Looming, Make These 3 Retirement Moves To Stay on Track
Living in the "enough to scrape by" version (or worse) comes with numerous pitfalls. Here are five signs that you just aren't bringing in enough money and that it's time to right-size your income, your lifestyle or both.
You Consistently Struggle To Pay Your Bills
This one may seem obvious. It's worth noting though. Too many of us settle into precarious financial routines like the proverbial frog in the slowly-but-steadily warming pot, failing to note the danger until it's too late.
Lots of people have tough months now and then, but living on a check-to-check edge month after month is risky at best and usually not sustainable. Coming up short each month and slipping deeper into debt is even more dangerous. It can translate into overdraft fees, bounced payments and collection agencies.
Make Your Money Work Better for You
At worst, it can lead to financial catastrophe. Do what you can to make more and/or spend less.
Take Our Poll: Do You Have a Second Job or Backup Plan in Case You Are Laid Off?
You're Paying Only the Minimum
If the minimum is the best you can manage due to budget constraints, you may not be bringing in enough. A budget should include resources for tackling debt in a meaningful way. Paying the minimum means paying more — for longer — than you would otherwise.
The average interest rates for credit cards in the US hit 20.4 percent in November, according to the latest data from the Federal Reserve. The average American carries $5,805 in credit card debt, according to a recent report from TransUnion.
Using those numbers, if you stick to minimum monthly payments of $209, it will take you three years to pay off that debt, and you'll pay an additional $2,117. That's if you don't add anything else on the card.
Those numbers also just reflect an average level of debt. If your credit card debt has swelled to $20,000 and you're making payments of $500 a month, you're looking at more than 5½ years and nearly $14,000 in additional interest to pay up.
Make Your Money Work Better for You
You're Using Credit Cards for Basic Expenses but Not Paying Them Off
There are certainly good reasons to use credit cards. Convenience, rewards and building a strong credit score come to mind.
Credit cards are notoriously easy to overspend on, however. If you're sliding or inserting plastic for basics like groceries, then failing to pay up at the end of the month, watch out. Needing to use credit cards to cover the basics is a big red flag that you aren't making enough.
"If you're using credit cards and paying them off monthly, there's no issue there," said CJ Rose, an associate wealth manager with San Francisco-based Waypoint Wealth Partners. "If you struggle to do so, you need to right-size."
You've Cut Your Expenses, and There's Nothing Left To Have Any Fun
Maybe you've already sacrificed things you would really like to have. It's difficult to fund family activities. The gym membership and the premium channels are gone. Dining out is rare or not happening at all. Your next vacation is nowhere in sight.
Make Your Money Work Better for You
Sure, paying for the basics and surviving is the first priority. Enjoying life also should rank highly, though. If you've cut so deeply that you can't do much more than sit around at home, budgeting hasn't been enough. You may want to consider bigger changes.
You Don't Have Any Savings for Emergencies
This is a big one. Emergencies happen, and having at least something set aside for them is crucial. Financial advisors generally like to see several months' worth of living expenses tucked away, if you can manage it.
Possible consequences of not preparing for emergencies include hits to your credit score, high-interest payday loans, asking loved ones for financial help, losing possessions and bankruptcy. Yet in a recent GOBankingRates survey of 1,000 people, about half had no emergency savings at all.
"If you're not getting that 3-6 months' worth of expenses," Rose said, "that's another good sign you need to be right-sizing."
If You Aren't Making Enough, How Do You Turn Things Around?
It may be time to ask for a raise, pursue a different full-time job or pick up a side hustle. You also can try looking around your house for little-used items that aren't bringing you any joy and consider selling them.
Passing on buying those items in the first place is also important.
"We want to make sure that our clients' spending is in line with their values," Rose said, also emphasizing the importance of just knowing where your money is going.
"Most people don't really know their expenses," Rose said. "They know their salary. But most people who don't work with a financial planner don't take the time to sit down and figure out their expenses.
"You can't fix a problem until you understand it."
More From GOBankingRates
Make Your Money Work Better for You