9 Ways Boomers Can Build Wealth in 5 Years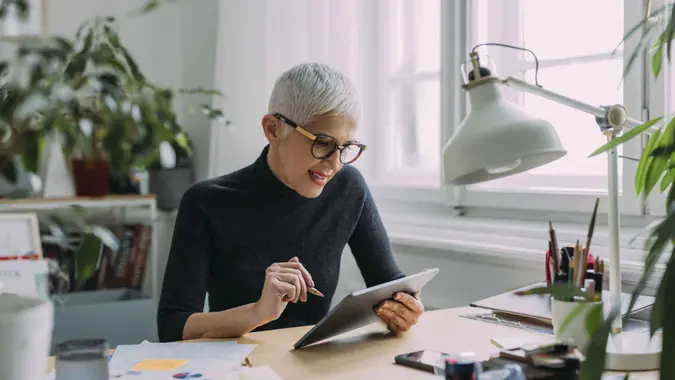 FreshSplash / iStock.com
Many boomers — anyone born between 1946 and 1964 — are either on the verge of retirement or have already retired. For those who haven't built a significant amount of wealth, now might seem like the right time to really buckle down so they can retire comfortably or have something to leave behind for their descendants.
But building true wealth in just five years might seem like an impossible goal, especially if you're starting later in life. That doesn't mean it can't be done, though.
The ability to build wealth in such a short period of time is dependent on several factors, such as your starting point, investment knowledge, risk tolerance and the current economic climate.
Here are the top ways boomers can build wealth over the next several years, according to financial experts.
Invest in Real Estate
One of the top ways to build wealth is to invest in real estate.
"Diving into real estate could be a smart play, because it's a two-pronged approach: you get the potential for the property to increase in value over time, and if you're renting it out, you've got a stream of income that can help cover the mortgage and then some," said Jeff Rose, CFP and founder of Good Financial Cents. "It's also a physical asset, something you can improve or change to potentially boost its value."
Make Your Money Work Better for You
Maximize Retirement Contributions
By maximizing your annual retirement contributions, you'll have more money for when you retire. You can also take advantage of catch-up contributions to boost your retirement funds even more.
"Taking advantage of tax-deferred retirement accounts like 401(k)s and IRAs to the maximum extent can help build wealth while reducing tax liability," said Andrew Latham, certified financial planner and managing editor at SuperMoney. "Maximizing contributions to tax-advantaged retirement accounts can provide tax benefits, making the most of one's income and investments."
Invest in Stocks
The stock market has its ups and downs, but it's also a solid investment opportunity if you know what you're doing. And even though it's often recommended as a long-term strategy, you could still see some decent returns with a shorter investment period.
"Historically, the stock market has provided higher average returns than most other investments over the long term. With a five-year outlook, you've got some time to ride out the dips and benefit from the upswings," said Rose. "You don't need to be a day trader; sticking with solid dividend-paying stocks or broad market index funds can offer a good balance of growth and income."
Diversify Your Portfolio
Portfolio diversification is key when it comes to mitigating risk and maximizing returns on your investments.
"Maintaining broad diversification and allocating your investments among asset classes that correspond to your age and risk tolerance is a key for boomers," said Brittany Pederson, director of deposit and payment operations at Georgia's Own Credit Union. "Investing in a mutual fund or exchange traded fund (ETF) gives investors immediate diversification without requiring a large outlay of capital."
Make Your Money Work Better for You
Consider your risk tolerance, goals and timeframe when choosing and allocating your investments. And be prepared to make changes as you go.
"Diversifying investments in a mix of assets such as stocks, bonds and real estate can help boomers generate returns," added Latham. "It's important to have a balanced portfolio to manage risks, and consulting with a financial advisor is advisable."
But what might an ideal investment portfolio look like? According to Sundip Patel, co-founder and chief executive officer at AVANA Companies, this depends on several factors, including your current age.
For early boomers — those in their 50s to early 60s — Patel suggested diversifying your assets with growth in mind. Here's the example Patel gave:
"Equities: 50%-60% of the portfolio could be in a mix of individual stocks and diversified equity funds, leaning towards high-quality, blue chip and dividend-paying stocks.
Fixed Income: 30%-40% in bonds, with a focus on intermediate-term bonds that provide a balance between risk and return.
Real Estate/Cash/Alternatives: 10%-20% could be in real estate (if appropriate), cash or other investments, like commodities or hedge funds, for further diversification and protection against inflation."
As for boomers who are in their late 60s and beyond, Patel suggested focusing on preserving wealth. Here's Patel's example:
"Equities: 20%-40% could still be in equities, focusing on value and dividend yield, to provide growth potential and income.
Fixed Income: 40%-60% in fixed-income securities like bonds, with a preference for shorter-term and high-quality issues to reduce interest rate risk.
Cash and Equivalents: 10%-20% in cash or cash equivalents like money market funds to provide liquidity and safeguard against market dips.
Real Estate/Other Income-Generating Assets: 10%-30%, focusing on assets that provide steady, reliable income streams, such as REITs or annuities, depending on the individual's liquidity needs and risk tolerance."
The goal of diversifying your portfolio in this way is to balance growth with either income or capital preservation, said Patel. It's also meant to combat inflation and maximize or preserve your purchasing power over time.
Make Your Money Work Better for You
Get Into Coaching
Coaching is another key way for boomers to build wealth — and fairly quickly. This option could be especially lucrative for those who have specialized knowledge or experience in areas such as finance, business or investing.
According to Sebastin Jania, owner of Ontario Property Buyers, boomers can leverage their knowledge and experience "through providing coaching programs through one-on-one coaching or group coaching." They can also make good money and have a positive influence on the younger generations.
Invest in Crypto
Cryptocurrency and other alternative investments can be a high-risk, high-reward opportunity. For some, the risk isn't worth it. But for those with a higher risk tolerance or some financial backing elsewhere, it could be worth considering.
According to Jania, "the cryptocurrency space [is] where we have seen incredible growth over the past couple years — growth that boomers never saw in investments that were [traditionally] available to them, such as stocks."
Lower Expenses and Downsize
Reducing your expenses through downsizing and other means won't necessarily make you rich, but it can free up some money for other investing or savings opportunities.
"Cutting down on unnecessary expenses and living below [your] means can free up money for savings and investments," said Latham. Along with this, "selling a larger home and moving into a smaller, more affordable one can free up a significant amount of equity."
Build Passive Income
Creating passive income can give you more financial stability and freedom. And the good news is that it doesn't have to take decades. In fact, you could do it in just a few years with some careful planning and dedication.
Make Your Money Work Better for You
"Engaging in passive income-generating opportunities such as rental properties or dividend-paying stocks can provide additional income streams," said Latham.
Plus, having multiple income streams or passive income gives you the added benefit of flexibility.
"Having multiple income streams, whether from part-time work, investments or passive income, offers financial flexibility, allowing individuals to adapt to changing circumstances or unexpected expenses," added Latham.
Protect Your Current Finances
Building wealth is only part of the bigger picture. It's also important to protect the assets you do have. One way to do this is to start preparing for the cost of long-term care — before you actually need it. That way, you won't have to dip into your savings to be able to afford these costs later in life.
"The best move right now might be to figure out a plan for long-term care," said Jay Zigmont, PhD, CFP, founder of Childfree Wealth. "On average, it costs $108k per year to stay in a skilled nursing facility… Putting aside money for long-term care or buying a long-term care insurance policy may be the best way to protect your wealth over the rest of your life and should be done now."
More From GOBankingRates
Make Your Money Work Better for You