7 Ways To Turn Your Home Into a Vacation Rental Property and Earn More Money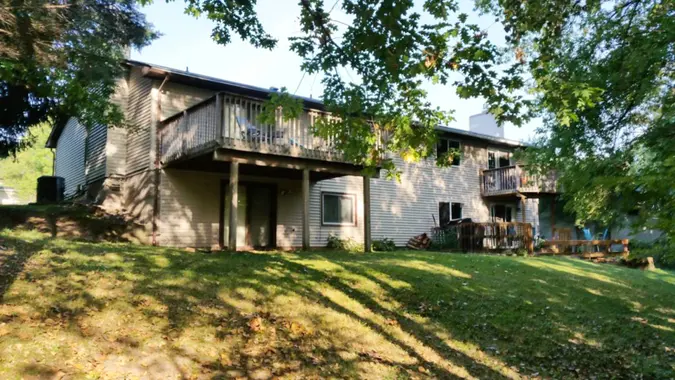 ©Wealth Well Done
Stephen Hu had been working as a theater actor in Los Angeles for about 15 years when the pandemic hit and dealt a significant blow to his livelihood. "It was my bread and butter until the pandemic forced a lot of things to shut down," he said. So, Hu had to make moves to make ends meet.
Many people in recent uncertain economic times have found various ways to earn extra income, from dog-walking to teaching online courses. Hu and his wife turned to a potential source of income sitting right under their feet: the extra guest room on the ground floor of their tri-level single family home. They've been renting it out as an Airbnb for the last year now.
"It was really a blessing that we were able to do it at the time that we did so that I can really bring in some extra income. It has been totally worth it," Hu said.
According to Airbnb's recent hosting report, a typical host in the U.S. earned approximately $14,000 in supplemental income in 2022. Sixty-two percent of hosts said they intend to use their extra income to cover increased costs of living. Forty-two percent said their hosting income helped them stay in their homes, while more than 10% said it helped them avoid eviction or foreclosure.
Make Your Money Work Better for You
How much an individual host earns, whether through Airbnb, Vrbo or other vacation rental platforms, depends on a variety of factors including how often you host, your local market rates, and how much of the maintenance and management you decide to take on yourself.
But whether you have an extra room, a second home, or a backyard with tiny home potential, thanks to recent national trends relaxing single-family zoning laws in favor of more density, Airbnb assures homeowners that "there's a perfect guest for every space."
"Remote and hybrid work continue to provide people with the flexibility to blend work with leisure travel, resulting in more booking opportunities for hosts year-round," said Marcela Aguilar, Vice President of Community at Airbnb. "With so many livelihoods impacted by the continued economic uncertainty, hosting has helped many people stay afloat."
If you're considering taking the leap into the vacation rental economy, read on for tips from expert hosts and property managers on how to get started.
Check Local Laws and Regulations
Before you go down the hosting rabbit hole, Greg Davis, SVP of owner growth at Evolve Vacation Rentals, says you need to make sure it's legal. "Your property has to check all the boxes as a legal vacation rental," he said. "Contact your city and county to check the current laws for short-term rentals in your area. Most resort towns allow daily or weekly rentals to encourage tourism, but may require a permit."
Make Your Money Work Better for You
It's also important to be clear on the specific terms and types of rentals that are permitted, Davis said. Some areas prohibit rentals for periods of less than 30 days. If your home is part of an HOA, you may be subject to additional limitations and rules.
Make Sure Your Home Is a Good Fit
To determine whether your home would be a good fit as a rental property, you can get started by researching your market. Davis suggests checking out the size and types of properties in your area, how often they're booked based on their calendars, as well as the types of amenities they offer. Then compare your home to see if it fits within these guidelines. 
To get more sophisticated with your research, Davis recommends Evolve's Vacation Rental Market Analysis and its Rental Income Calculator to see what kind of return you might expect. 
Choose Your Platform 
While Airbnb and Vrbo are the most well-known players in the business, there are plenty of alternatives catering to different types of properties and hosts, and you're not limited to just one. 
Airbnb and Vrbo: One of the most important differences between the two market leaders is that Vrbo only lists entire homes, while Airbnb features shared spaces like private rooms in a house or even a shared sleeping space. Other differences lie in many of the details, including their service fee models, cancellation policies, reviews and more. Make sure you research the details of each to avoid surprises.
Make Your Money Work Better for You
Sabbatical Homes: Caters to academics, writers and artists, offering short and medium-term rentals and housing exchanges near colleges and universities in more than 50 countries. The platform charges lower fees to property owners while leaving the rental terms and fees up to the owners and renters to handle directly. 
Kid and Coe: Offers curated vacation rentals to families with children, with amenities like books, toys and baby equipment and child-friendly itineraries. Hosts can also exchange properties with other families on the platform and get discounted rates.
Hipcamp: Do you have a plot of land, a farm, yurt, vintage trailer, rustic cabin, or a pretty spot someone might like to pitch a tent? This offbeat platform allows you to share your space with outdoorsy travelers who embrace the unconventional. 
Make It Welcoming  
Presenting a clean space free of clutter and stocked with basic amenities like towels, soap and coffee is generally table stakes for creating an appealing space. Airbnb also advises hosts to add personal touches like a welcome note, a local box of chocolates or fresh flowers.
Make Your Money Work Better for You
Hu makes a point to put himself in his guests' shoes to make sure their experience runs smoothly. He says welcoming them with clear and easy check-in instructions is the first part of starting their stay on the right foot. "Going to a new place, there are always a lot of logistics to figure out," he said. "It's important to make your instructions as succinct, easy, and informative as possible." 
According to Davis, a welcome book with a how-to guide for the home, along with tips on local restaurants, shops, and activities, is one of the top touches guests surveyed by Evolve appreciate.
Create Your Listing 
Whether you hire a professional photographer or use your smartphone camera, many platforms stress the importance of good quality photos that accurately represent your property. You can find a wealth of instructions and tips on their websites, from staging your space to editing and ordering your photos.
In writing your listing description, Airbnb also suggests tips like giving it a catchy title, focusing on any special distinguishing features, and above all, being honest and accurate so guests aren't misled. 
Make Your Money Work Better for You
It's also important to be strategic about your pricing. "A common pitfall we see is pricing homes too high from the beginning," Davis said. "When your listing is new, you won't have many reviews to build your home's reputation — but you still have to compete with established, well-reviewed listings." Competitive pricing, he said, will help elevate your listing in the algorithm until you've accumulated a robust set of reviews that can later help justify raising your rates. 
Consider Hiring a Property Manager 
Property management companies can help take a lot of the hassle out of running your vacation rental. They'll manage your listing, communicate with your guests, handle check-ins and check-outs, cleaning and maintenance, and even offer design tips and professional photography. 
Whether it's worth it to you to hire a manager depends on a lot of factors like how often you plan to rent and how much personal time you can devote to your rental. According to Awning, Airbnb management fees typically run anywhere from 10% to 35% of your monthly revenue, depending on your level of service, and are expected to boost the performance of your rental by 20%, offsetting some or all of the costs. 
Make Your Money Work Better for You
"The amount of homes in the market has increased significantly and owners need to work harder to make sure they stand out from the competition," said Davis. "Working with a property manager can give your home an unrivaled sense of professionalism right out of the gate. It can also help you avoid setbacks related to pricing and marketing that often accompany inexperience, resulting in a bigger return on investment while doing a lot less work."
Protect Yourself and Your Space 
To help protect and reassure hosts, vacation rental sites typically offer various damage protection options. Airbnb screens guests through its guest verification program and covers up to $3 million in damages, while Vrbo suggests that owners require guests to purchase Property Damage Protection as part of their booking. Both platforms include $1 million in liability coverage.
Hu suggests installing an exterior security camera for peace of mind. Because he rents out a room that connects to the rest of the house, he reversed the lock on the door so that guests can't access the rest of the house. And he requires them to include a short personal message about themselves when they request to book, he said, "to get a sense of who they are and why they're coming."
"It was definitely a bit scary at first, inviting strangers into our home," Hu said. "But after a couple of guests we started really getting the hang of it, and we've just been having a great time meeting new people ever since."
More From GOBankingRates