Amazon Dropshipping Side Hustle 2022 Guide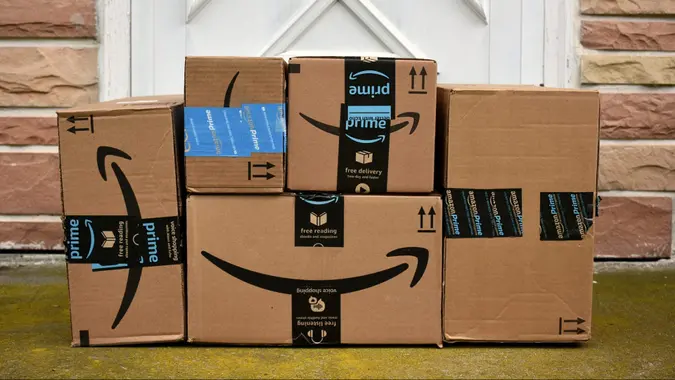 Julie Clopper / Getty Images
Even though Amazon is one of the world's largest retailers, more than half of its products are sold by third-party sellers.
Amazon offers several ways to sell goods on the platform, one of which is dropshipping. Amazon dropshipping can be an excellent way to earn money by selling without having to keep inventory on hand or fill orders. For those wondering how to do dropshipping, this guide will explore what it is, how it works and how to get started with this potentially lucrative side hustle.
What Is Dropshipping?
With dropshipping, a seller sets up an online storefront — or uses a selling platform such as Amazon — to take product orders, but does not directly participate in the procurement, storage and shipment of the products. Instead, the seller outsources these responsibilities to a third party.
Dropshipping has little overhead and is ideal for entrepreneurs who do not have the financial means or storage space to handle physical inventory.
How Amazon Dropshipping Works
Dropshipping agreements vary depending on the supplier, but typically the seller handles all customer service and the supplier only handles product fulfillment. Here is how Amazon dropshipping works:
An individual sets up an Amazon seller account and creates listings to promote and sell products.
When a customer orders a dropship product on Amazon, the seller sends the order to the supplier.
The seller is also responsible for notifying the customer that the order is being processed.
The supplier processes and ships the order. 
Amazon's Dropshipping Policy
Amazon dropship sellers must follow Amazon's Dropshipping Policy to avoid violations that can restrict the seller's ability to sell on the platform. The policy can be found on Amazon's website, but there are a few essential things to know before finding product suppliers or setting up an Amazon selling account.
Make Your Money Work Better for You
The seller with the Amazon account is considered the seller of record. All shipped products must include the information for the seller of record on all invoices, packing slips and external packaging. The seller of record must ensure that any supplier used for product procurement agrees to Amazon's Dropshipping Policy.
The seller of record is also responsible for receiving and processing customer product returns in accordance with Amazon's policy.
Amazon Seller Fees
Amazon has a fee structure listed on its site that varies based on a seller's:
Chosen selling plan — Individual or Professional
Product type
Fulfillment strategy
Listing volume, optional advertising and other factors
Sellers must incorporate fees in their product pricing to ensure a profit.
How To Start Earning With Amazon Dropshipping
Amazon provides plenty of help for new sellers learning how to use the platform. Here is how to start dropshipping on Amazon in five steps. 
1. Sign Agreements With One or More Suppliers
Finding a legitimate wholesaler or supplier who will ship products per Amazon's Dropshipping Policy is essential.
Suppliers may be more willing to sign an agreement with a business than individuals. Sellers who have formed an LLC or other business entity may appear more legitimate. Forming a business can also reduce the seller's liability in the event of a lawsuit.
Different suppliers will have different requirements. Some suppliers may charge a monthly fee or have minimum monthly order requirements that could be expensive for new sellers.
Make Your Money Work Better for You
2. Register for an Amazon Seller's Account
Amazon offers two selling plans: Individual and Professional. New sellers will need to choose a plan when registering for a seller account. Sellers have the ability to upgrade or downgrade their selling plan at any time. 
Those who sell more than 40 items a month might benefit more from Amazon's Professional plan. However, new sellers may wish to start with the Individual plan until they determine their monthly sales.
To complete registration for an Amazon seller account, sellers may need to provide the following information:
A bank account number and bank routing number for receiving payments from Amazon
Credit card information for paying Amazon seller fees
A government-issued national ID
Tax information
A phone number
3. Set Up Amazon Products Listings
The way sellers upload and list their products will vary depending on their selling plan.
Sellers with a Professional account can list their products by bulk uploading listings or using a third-party inventory management system. Those on an Individual plan must list products one at a time. All sellers can match another seller's existing listing for a specific product or create a new listing if the product is not yet available on Amazon.
It is important to note that when multiple sellers offer the same product, Amazon combines information from all the uploaded product pages from all sellers into one product detail page.
Once a product is listed, it is available to all Amazon consumers, including business customers. Sellers can then fill orders and start earning.
Make Your Money Work Better for You
4. Address Customer Issues
Amazon requires the seller of record to address customer issues and process product returns. Since Amazon's platform encourages buyers to leave seller feedback, prompt customer service can often mean the difference between positive and negative reviews.
Sellers should answer customer questions about products, and ensure quick responses to any issues.
5. Track Sales in Amazon's Seller Central
When logged into Seller Central, sellers can perform the following tasks to monitor and track sales:
Track inventory and daily sales
Update product listings
Download custom sales reports
Contact support and open help tickets
Takeaway
Amazon dropshipping can be a lucrative side hustle for an entrepreneur looking to make money selling on Amazon without having to purchase and store inventory. The key is finding products with a low enough wholesale price that will allow an acceptable mark-up to cover any fees and still provide a profit. 
Before listing any products, new sellers on Amazon should carefully read Amazon's Dropshipping Policy and determine any requirements for product listings, such as photo sizes, product title and description guidelines.
FAQ
Here are answers to some popular questions about dropshipping.
How can I make money fast dropshipping?

The fastest way to start making money dropshipping is to sell through a site such as Amazon, Shopify or WooCommerce rather than setting up a custom website. Selling print-on-demand products, such as t-shirts and coffee mugs, is one of the quickest ways to start earning.

Can I make money with dropshipping?

The key to making money dropshipping is finding a high-demand product that can be bought at a low wholesale cost and then sold for a reasonable price. Any profit must cover fees associated with the selling platform and the supplier.
Make Your Money Work Better for You
Information is accurate as of July 20, 2022.
Editorial Note: This content is not provided by Amazon. Any opinions, analyses, reviews, ratings or recommendations expressed in this article are those of the author alone and have not been reviewed, approved or otherwise endorsed by Amazon.