Side Hustle Stack: What Is It and How Does It Work?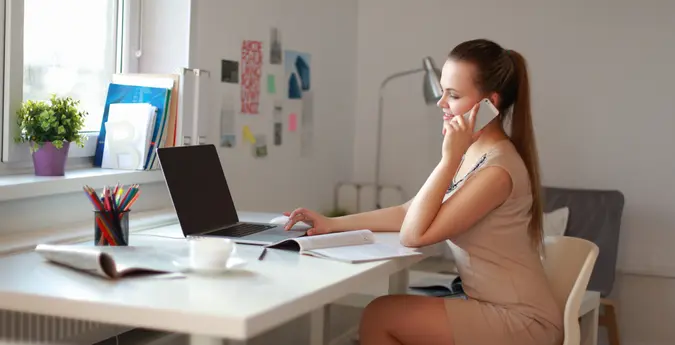 S_L / Shutterstock.com
Today, many people don't depend on regular jobs to amass more income. Instead, they have side hustles that earn them extra cash every month. More than 44 million Americans have a side hustle. You probably have a side hustle or looking for one, which is a smart move. If you want to make extra money on the side or are planning to quit your current job, there's something for you.
Most successful people inside hustling have a couple of other enterprises — the main gig and other passive income-generating activities. Once you're successful in one side hustle, that one income-generating activity could potentially lead to more income streams. That's where a side hustle stack comes in!
What Is A Side Hustle Stack?
A side hustle stack is combining or stacking different side hustles to boost your earnings potential. For instance, you can combine several passive income streams, eventually building a standalone business.
The rise, use and popularity of online platforms like YouTube and TikTok have made side hustle stack known to many. However, "side hustle stack" is a relatively new term to some people. If you're a content creator, for example, and often earn income in several different ways from one gig, that's a side hustle stack.
Make Your Money Work Better for You
Examples of Side Hustle Stack
Here are some of the most common side hustle stack examples.
Content Creator
The creator economy has grown immensely over the past decade. If you're a content creator, you could stack side hustles in various ways. First, you'll need to develop a primary platform, and from it, you can create additional income streams in the form of commercial ads, sponsored partnerships, affiliate links and more.
Content creators can also create links for their products and share them on various platforms. Many established content creators also offer additional services such as coaching and consulting. Some even go the extra mile of starting a YouTube channel to increase their income potential.
For example, a YouTube content creator who creates travel content may initially have made money only from ads. After some time, the creator may have decided to promote their products in their videos. The main hustle for such a creator is their brand, and the rest are income streams from the brand.
Service Stacker
If you are offering a service as a side hustle, like a freelance writer, you naturally want to maximize your opportunities by trying out different sites. You'll need to be creative in your money-making strategies as a writer.
Make Your Money Work Better for You
A writer can offer their services on Upwork, Fiverr, Freelancer.com and other writing job boards. If you are an aggressive service provider, you won't stop until you sign up and pitch regularly on different sites. While doing this, you need to know how you'll balance your workload to keep stacking your opportunities effectively.
Gig Juggler
A gig juggler is doing the same thing but across several similar gig apps. For instance, a gig juggler can start working at Instacart and later sign up at DoorDash or Postmates. Such jugglers begin their side hustle combing all the apps looking for work and handling multiple orders.
Many people working on gig apps operate this way so that every time they're handling a task, they pile up opportunities by stacking the sites and apps they are working from. By doing this, they maximize their earnings potential.
How To Build a Side Hustle Stack
Building a side hustle stack can be easy when you research and get creative with your skills and products. By knowing what works for you, you can build numerous stacking opportunities and reliable income streams. Here are four steps to help you get started.
Make Your Money Work Better for You
1. Find Your First Side Hustle
A stack starts from one side hustle. Your priority is to find your first side hustle based on your skills and what you like to do. Many factors influence the choice of your side hustle, but the main ones are your:
Skills
Education
Availability
Passion
2. Decide What You Want To Do
Commit and take action in the direction you want to take your side hustle. After that, set realistic goals and give yourself a specific period to reach your goals. The first action could be:
Getting your domain name
Creating your YouTube account
Signing up on a freelancing site
3. Take Deliberate Action
Be consistent in your efforts until you build a habit around the pursuit of your hustle. When your first side hustle is thriving, you can find ideas to make your side hustle stack from your main gig.
4. Borrow Inspiration From Successful Side Hustlers and Online Creators
You can model them and create something unique and similar. If you can find a mentor doing what you want to achieve one day, follow them and learn as much as you can from them. Most importantly, be keen to know how they have built their stacks of side hustles and see if you can apply them in your situation. Look at your mentor's:
Promotional strategies
Partners
Products they are promoting
Their new freelancing sites
How To Make Money From a Side Hustle Stack
A well-developed side hustle stack is powerful for generating multiple income avenues. However, managing them requires conscious, deliberate efforts. Naturally, you're not supposed to be constantly working. If you have a full-time job, adding a side hustle can be quite overwhelming. You also have your day-to-day life to live.
It's advisable to take one idea at a time and refrain from starting everything at once. Progress once you have grounded one side hustle. You would be more effective if you approached your side hustle-stacking journey with an open mind. Consider it an opportunity to creatively explore and see what you can do to earn more money while living healthily.
You can start and be successful in as many side hustles as you want but not at the same time. No one wants to work full time as this can be counterproductive in the long run.
Takeaway

Building a side hustle stack is a great way to amass income that could potentially lead to a standalone business. With more and more side hustles created every day, stacking side hustles will likely be embraced by many people.
Our in-house research team and on-site financial experts work together to create content that's accurate, impartial, and up to date. We fact-check every single statistic, quote and fact using trusted primary resources to make sure the information we provide is correct. You can learn more about GOBankingRates' processes and standards in our editorial policy.
Make Your Money Work Better for You