9 Side Hustle Websites To Explore if You're Seeking Supplemental Income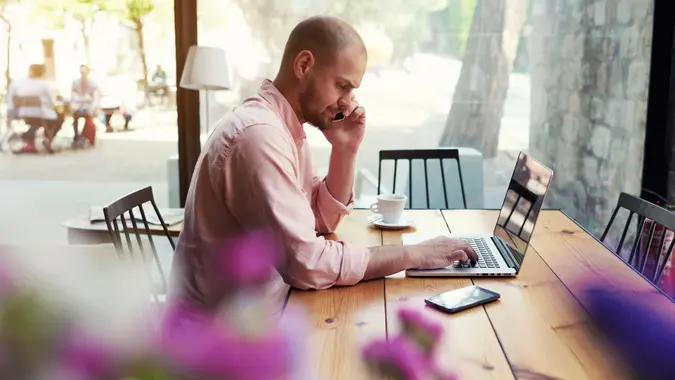 ©Shutterstock.com
Many people don't have raises forthcoming at their jobs, and they can't just quit and find a new one either. So how do you go about fortifying your bank account with extra cash? Through side gigs!
Cut Costs: Unplug These Appliances That Hike Up Your Electricity Bill
With a Recession Looming: Make These 3 Retirement Moves To Stay On Track
However, finding a side hustle can also feel overwhelming when you haven't done much of it before. These nine side hustle websites make it much simpler, though. Whether you have generalized or specialized skills, there's a site here that can help you earn more money quickly.
Care.com
Are you a naturally nurturing person with the ability to provide care for one or more types of people, including seniors and children, or pets? Or, can you provide housekeeping, daycare or tutoring services?
Then Care.com is the place for you to seek side hustles that align with your skills and interests. You must be 18 years old or older and will have to undergo a background check.
Make Your Money Work Better for You
Fiverr
If your side hustle skills include the ability to whip up cool images in Photoshop, put together a website like a pro, or utilize social media in your sleep, these graphic design and other skills can get you work at Fiverr, which is considered one of the largest such marketplaces for work of this kind.
Live Richer Podcast: Scamdemic – Don't Fall Victim to These Money Scams
FreeUp
FreeUp may take a little hoop-jumping to get into, but once you do, you can potentially make better rates than many other similar side hustle websites, because FreeUp vets each freelancer that comes on board.
This is a great place to sell your skills if you can support small businesses around such areas as e-commerce, digital marketing, web development and virtual assistance. You'll receive payment weekly (minus a 15% cut from the company).
Hired.Com
Hired.com caters to the tech field, particularly to help designers, engineers, data scientists and managers find prospective clients using artificial intelligence. Here, you're more likely to get a gig that is aligned with your talents versus wading through a ton of low paying gigs.
Make Your Money Work Better for You
While many of the jobs offered through Hired.com are full-time, there are part-time, remote and freelance gigs, as well. They primarily connect people in the following specialty areas:
Software Engineering
Engineering Management
Developer Operations (DevOps)
Design
Product Management
Data Analytics
Quality Assurance (QA)
Sales
Skillshare
If you have enough knowledge of a craft where you can teach others, you might want to check out Skillshare, an online learning community where literally anyone can take and teach a class. These classes can be in any subject, from how-to/DIY projects to educational subjects.
The classes are "project-based" so you'll need to have the skills to break down a task, an idea or a project step by step, but you can make a good side income helping others learn something new.
SolidGigs
Unlike Fiverr and Upwork, SolidGigs actually does the work of finding digital marketing, web design and graphic design jobs for you. This lead generation tool can, essentially, be plugged into your existing freelance business. You do have to pay a monthly subscription fee to use this platform, however, but it might save you a lot of time on getting gigs.
Make Your Money Work Better for You
Steady
Steady is a slightly different kind of side hustle site, in that you can earn cash incentives for doing a variety of tasks, from banking with a certain company to delivering a DoorDash meal, or using a specific credit card. While some of the incentives are jobs or gigs, not all of them are. Many of their offerings are remote, however, allowing for flexibility.
Taskrabbit
TaskRabbit is the site where people can hire someone to help them out with just about any task you can think of. If you can fix sinks, move furniture, put IKEA products together, gift wrap, or just about anything else you can imagine, someone on Taskrabbit needs your services.
Each task will come with a price range and you can select from those that fit your side hustle needs. You'll get paid the same day you provide the service, as well.
Upwork
Another of the bigger side hustle marketplaces is Upwork, where you can hawk your skills in such categories as development and IT, sales and marketing, design and creative, finances and accounting, and customer service to name a few.
Bigger marketplaces can sometimes mean that rates are driven down, but with over 8,000 daily jobs posted, you can surely find something in your wheelhouse.
More From GOBankingRates
Make Your Money Work Better for You