How To Become a Copywriter and Earn Money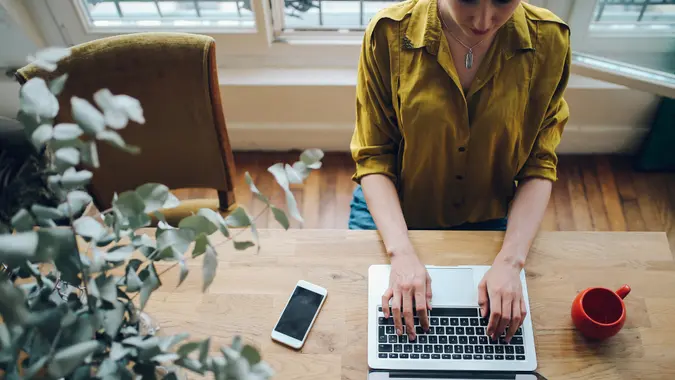 lechatnoir / Getty Images
Copywriting is a form of writing that aims to persuade or convince a reader that a particular product or service is worth their money. In other words, it's a call to action. With the shift of business more and more online, there's a need for marketing strategies that can accommodate the digital world.
Companies invest in search engine optimization and other online marketing strategies — this is where copywriting comes in. A copywriter needs an eye for detail, research skills and creativity to earn money. But how does one become a copywriter in 2022? Find out how to become a copywriter, the average salary and tips to get started.
What Is a Copywriter?
A copywriter is anyone who gets paid for writing "copy," or text that persuades readers to take action, often used in marketing and advertising. If you love writing and have a talent for composing concise, effective text, you may want to consider being a copywriter, since it can earn you a decent income.
How To Become a Copywriter in Five Steps
You can become a first-class copywriter even with no experience. Here are five steps to get started.
1. Learn the Art of Persuasive Writing
One of the major selling points of copywriting is that you don't need a formal education to make good money. Some of the highest-paid copywriters in the world don't have a degree in writing. However, you do still need to learn some skills to be successful.
Persuasive writing is a skill that will take time to develop. Luckily, there are more than enough resources available for you to learn how to write compelling copy. Read as much material as you can to learn the ropes and prepare yourself to become a copywriter.
Make Your Money Work Better for You
2. Develop and Refine Your Writing Skills
In most cases, a copywriter is a lot more than just a writer. Copywriting calls for a lot of flexibility and adaptability. A copywriter is also a salesperson and behavioral psychologist. Being a talented writer doesn't necessarily mean you'll be a great copywriter.
You'll have to develop various skills that go into writing content for different media. For example, you'll want to learn how to write catchy headlines, landing pages, sales emails, video scripts and more.
Good To Know

A big component of online copywriting is search engine optimization — a tactic that aims to make a web page rank highly on a search engine for specific search queries. Learning about SEO best practices will make you much more desirable if you're just starting out.
3. Practice Writing as You Build Your Portfolio
The next step is to practice the art of persuasive writing as you create your portfolio. Practicing is the only way to get better. All the copywriters making six figures now were once beginners. Write as much as you can, even if you think it's terrible 一 this is the only way to get good.
You can start by offering to write for friends who have small businesses. You can also write copy and have an established copywriter look it over and give you feedback. There might be a lot of setbacks when building your portfolio but remember, getting started as a copywriter is just like building a business from scratch.
Make Your Money Work Better for You
4. Land Your First Paying Client
There are many ways you can go about this. Many job boards hire beginning copywriters, so these are a great place to start. While you won't make big money working on these sites, the goal is to gain experience and keep building your portfolio.
Once you have a decent portfolio and enough experience, you can write an elevator pitch to your dream client. Another way to land clients is cold pitches and networking both online and offline.
5. Choose a Niche To Land High-paying Gigs
High-paying clients typically hire experts in their field of interest. As a beginner, you might find yourself writing all manner of content for different clients. In the process, you'll find yourself gravitating toward a certain style or topic.
There are many areas to choose from, including:
Television plugs
Social media advertisements
Emails
Media campaigns
Press releases
Billboards
Becoming a specialized copywriter opens you to more work in your desired field, and you get paid more.
What Exactly Does a Copywriter Do?
A copywriter writes content that triggers an action from the audience, either immediately or later. Usually, clients give the copywriter a plan or brief and the writer generates creative ideas that will engage and educate the audience, often convincing them to purchase products or services.
The Average Salary of a Copywriter
The average base salary of a copywriter in the U.S. is $54,205 per year. However, there's no limit to how much a copywriter can make. If you hone your skills and commit to writing better copy each day, you can earn a six figure salary.
Make Your Money Work Better for You
The amount you'll earn depends on your experience, the time you spend writing and the availability of jobs.
How Do I Find Clients as a Copywriter?
There are several ways to find clients as a copywriter. For beginners, the best way to start would be through job boards like Upwork and Fiverr. Freelance writing job boards usually have quite a few posts from clients looking to hire copywriters.
Other ways to get clients include:
Social media platforms like Facebook and Instagram
Sending cold pitches
Through referrals
Running ads that target potential clients
Is it hard to become a copywriter? The short answer is no. To be a successful freelance copywriter, you just need to put in the hours and work on your skills.
Tips for a Beginning Copywriter
Even with a plan in place, getting started can be overwhelming. Here are a few tips to help you write great copy.
Keep it Brief: Your goal is to engage, inform and persuade the reader. You should make sure you don't exhaust them with irrelevant information. Cover all the necessary material clearly and concisely. Setting a word limit helps you achieve this goal.
Make the Copy Visually Appealing: Remember, many other copywriters are looking to engage your reader as well. Make your work stand out by making it visually appealing with subheadings, short paragraphs, bullets, numbered lists, tables and even pictures to keep your reader engaged.
Use Everyday Language: You want the reader to relate to the content. Copywriting is basically marketing, so you usually need to reach a broad audience. Avoid complex sentences or technical jargon in your writing. Ensure the copy is fun and easy for the reader.
Use Factual Information: Adding facts and statistics from trusted sources increases your credibility. This way, the reader is more likely to trust you and will probably take action.
Make Your Money Work Better for You
Takeaway
Copywriting is a potentially high-paying job that takes little experience to start. However, you shouldn't expect to get rich overnight. This is a skill that takes time to master. You might not make big bucks starting out, but as you build your experience and find a niche, you will find clients who pay more.
Our in-house research team and on-site financial experts work together to create content that's accurate, impartial, and up to date. We fact-check every single statistic, quote and fact using trusted primary resources to make sure the information we provide is correct. You can learn more about GOBankingRates' processes and standards in our editorial policy.