How Does Fetch Rewards Work? 14 Things You Need To Know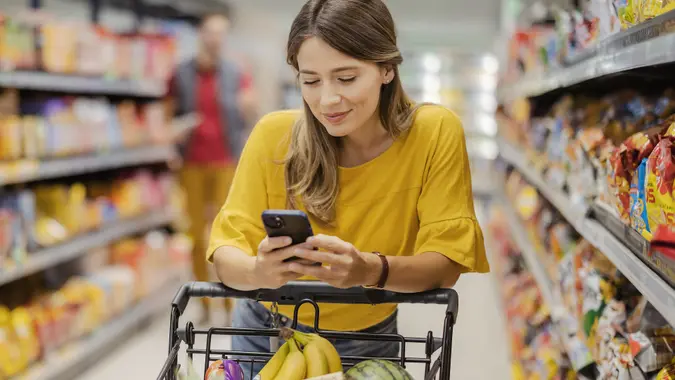 PixelsEffect / iStock.com
If you've ever wished you could earn rewards from shopping, you're in luck. The Fetch Rewards app lets you earn points from everyday purchases and turn them into free gift cards to major retailers. All you need is a smartphone for the mobile app, your receipts and order confirmations.
See: 3 Ways To Recession-Proof Your Retirement
But with so many similar shopping apps and rewards programs out there, it can be hard to tell if Fetch Rewards is the right app for you. To help you decide, here's everything you need to know about how Fetch Rewards works and whether it lives up to the hype.
1. How Does Fetch Rewards Work?
Founded in 2013, Fetch Rewards is a mobile shopping app that rewards users for shopping either online or in person. With the app, you can either submit digital receipts or scan printed receipts for points. Once you have enough points, you can redeem them for free gift cards or earn other prizes or rewards.
Make Your Money Work Better for You
In order to use Fetch Rewards, you'll need to download the app to your Android or iOS device and create a free account. You can use your Facebook or Google account to do this, or you can sign up with an email address and password.
After creating your account, you can use the app to scan your receipts. Fetch Rewards accepts receipts from many types of stores, including:
Convenience stores
Supermarkets or grocery stores
Drugstores
Restaurants
Other retailers
Whenever you upload or scan a receipt, you'll automatically earn points. Typically, you'll earn at least 25 points, no matter where the receipt is from.
Fetch Rewards also occasionally has promotional periods that let you gain more points from shopping at certain types of stores, such as grocery stores. All you have to do is shop at those places and you'll be rewarded with extra points.
2. Value of Fetch Rewards Points
You might be asking yourself, "How many Fetch points is $1?" In most cases, 1,000 points is the equivalent of $1.
3. Fetch Has Special Offers
Once you've signed up, the next thing you should do is look at Fetch's special offers, which can be found in the app. These special offers come with between 250 and 5,000 bonus points, but they do have specific limitations and parameters.
Make Your Money Work Better for You
For example, you might need to buy a particular item by a specific date. Or you might need to purchase a certain quantity, type, size or flavor of item to qualify. You might also be eligible for these special offers if you shop at participating brands.
4. Fetch Points Cannot Be Used as Real Money
While some shopping apps offer cash-back rewards, Fetch does not. Once you earn enough Fetch Rewards points, you can exchange them for gift cards and other rewards.
You can also combine using Fetch with a cash-back app like Ibotta to maximize earnings. For example, you could scan a receipt to both apps and potentially earn rewards from both.
5. Fetch Referrals Earn Points
You can earn points through more than just submitting digital or printed receipts. In fact, you could earn 2,000 points — or $2 — by referring a friend. Each time someone uses your referral code, you'll earn an additional 2,000 points. You can send a referral link via text, email or social media.
Make Your Money Work Better for You
Fetch sometimes has promotions for referrals. Depending on when your friend signs up, you could earn even more points.
6. Participate in Fetch Sweepstakes for a Visa Gift Card
You can earn more by entering into one of Fetch's sweepstakes. Fetch often has biweekly giveaways for Visa gift cards worth up to $1,000. Right now, the app also has a giveaway for prizes ranging from 100,000 to 500,000 points (available through the end of February). You'll need to redeem 100 points for one entry into the giveaway.
7. Use GoodRx To Earn More Points
When you download the Fetch app, you get a free GoodRx card that you can use to save money on prescription medications. Not only that, but you can earn 10,000 extra points the first time you use the GoodRx card and app for your prescription refill. After that, you can earn up to 1,500 for any future refills. You will need to input your GoodRx member ID number to receive points.
8. Fetch Rewards Points Eventually Expire
Your Fetch points will only expire if your account remains inactive for 90 days or more. An account is inactive when you have not scanned any receipts, used your GoodRx card or redeemed points. Fetch will notify you when your account is nearing the point of inactivity so you do not lose points.
9. Fetch Lets You Monitor Your Points and Spending
The Fetch app lets you track your points and spending. Simply go to the Activity page and you'll see graphs (based on your receipts) that show you how much money you spent and where. You can use this information to track your spending habits. You can also use it to adjust your budget if you find yourself spending more than you should.
10. There's a Minimum Amount of Points To Redeem
You'll typically need at least 3,000 points before you can redeem them for a gift card. If you've never redeemed your points before, you will only be able to get gift cards for $10, $25 or $50. After that, you can also redeem points for $3 or $5 gift cards. Gift cards are available through many retailers, including Amazon, Starbucks, Airbnb, Walmart, Uber and more.
11. Fetch Rewards Is a Legitimate App
Fetch is a legitimate mobile shopping app. It has over 13 million active users and is highly rated on Trustpilot with 4.7 out of 5 stars and over 500 customer reviews.
12. Fetch Uses the Information on Your Receipts
When you scan a receipt, Fetch Rewards uses that information to identify which products are eligible for points or special offers. Fetch also uses aggregated information from users' receipts to look at shopping trends.
Fetch does not typically collect credit card information since most receipts do not include this data. You also have the right to not scan any receipts with sensitive information.
13. Fetch Values Customer Privacy
Fetch Rewards may collect certain data when you use the app, contact Fetch or visit its website. In some cases, Fetch will share this data with its partners to improve or promote its services. However, it primarily collects personal information that you'll voluntarily provide, like your email address or name.
Fetch will not ask for your Social Security number, banking information or credit card information.
14. Receipts Can Expire (but Processing Times Are Short)
Fetch Rewards can process your receipts within seconds, so you don't need to worry about any delays. This also makes the app more convenient than clipping coupons or other shopping apps. If a receipt needs to be reprocessed so a correction can be made, it can take up to 24 hours.
There is also a receipt scanning limit. During any seven-day period, you can only submit up to 35 receipts. Fetch also does not accept receipts that are older than 14 days.
Is Fetch Rewards Worth it?
Now that you know how Fetch Rewards works, it's time to ask yourself: Is it worth it for you?
Ultimately, Fetch makes it easy to earn points for everyday purchases that you can later redeem for gift cards. Depending on what promotions are currently available, you could also earn more points than usual by shopping at certain locations. You could also combine Fetch with a cash-back app for additional rewards.
If you enjoy shopping online or in-store and don't mind snapping your receipts to the app, sign up for a free account and start earning points.
Information is accurate as of Feb. 27, 2023.
Editorial Note: This content is not provided by any entity covered in this article. Any opinions, analyses, reviews, ratings or recommendations expressed in this article are those of the author alone and have not been reviewed, approved or otherwise endorsed by any entity named in this article.
Make Your Money Work Better for You