I'm Working Multiple Side Gigs: Here's Why I Need the Extra Income Just To Get By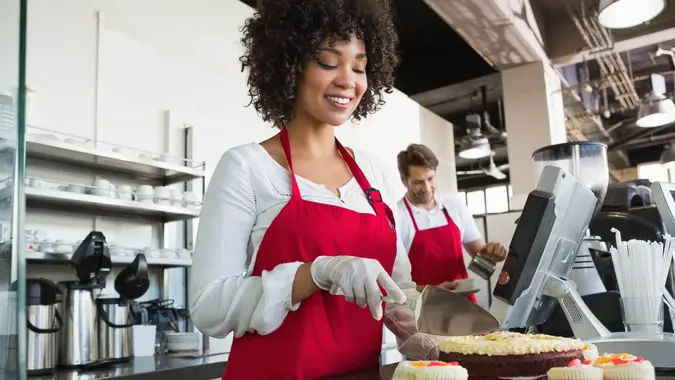 ©Shutterstock.com
Working a side gig is often positioned as an opportunity. It provides a boost to income streams and gives people the chance to focus on areas where they're most passionate, like photography or writing. However, for an increasing number of Americans, side gigs have become necessary financial lifelines. 
In 2023, statistics from Side Hustle Nation revealed 45% of overall working Americans have a side gig. This amounts to roughly 70 million people in the United States. The percentage also rose across certain generations with 50% of millennials and 46% of Gen Z surveyed stating they have a side hustle.
A separate poll conducted by the Side Hustle Nation community revealed that while 38% of side hustlers start working a side gig for personal freedom, 27% said they needed extra income to spend and save. Eleven percent surveyed said they put the extra earnings toward making ends meet. By the year 2027, projections from the Statista research department show that 86.5 million people in the United States will be actively freelancing.
GOBankingRates spoke with two women working multiple side gigs to hear their stories about why they need to work side gigs. Here's why those working multiple side gigs need the extra income just to get by. 
Make Your Money Work Better for You
"I want to finish paying off my credit card debt and rebuild my emergency fund."
A few months ago, freelance copywriter Delia Pena-Gay was laid off from her job. She started working side gigs including driving for DoorDash, acting as a user tester for UserTesting and Intelli Panel testing out apps and websites and providing blogging and copywriting services. 
On average, Pena-Gay said she makes $60 to $65 in about three hours of active Dash time on DoorDash totaling $125 per week. In the user testing role, depending on how many user tests she qualifies for, she makes about $60 to $120 per week. Per blog post and depending on word count, she makes about $50 to $75 with her copywriting skills. If she's working on a website copy project, Pena-Gay said she could make $350 depending on the number of pages. Because DoorDash allows her to schedule the times she does deliveries, she balances working these side gigs through careful scheduling. 
Pena-Gay, who is married, said she works these side hustles to reach her short- and long-term financial goals. In the short term, she plans to finish paying off her credit card debt and rebuild her emergency fund. In GOBankingRates' 2023 women and finances survey polling 1,016 American women, 19% surveyed said their primary financial goal is to pay off credit card debt. Fifteen percent of women said they had under $500 in credit card debt while 16% carry between $501 to $2,000.
"My long-term goals are to turn my blog into a business and have it fund my lifestyle," Pena-Gay said. "My blog will land me sponsorships and partnerships with other brands." Right now, Pena-Gay said she is able to fund some of the fees to maintain her website through earnings from her side hustles. 
Make Your Money Work Better for You
Take Our Poll: Do You Think AI Will Replace Your Job?
"I'm basically paying for day care."
Taylor Beal describes herself as working "a thousand" side gigs. Or at least it feels like it. 
Beal works full-time as a teacher and reading specialist. She also runs a property management company, is a travel blogger and writer for her website Traverse With Taylor, reviews ELA curriculums on a contract basis and writes freelance. She typically spends at least 15 to 20 hours weekly on her side gigs and said she brings in about $2,000 monthly. This amount is higher when she's on a curriculum contract. 
Beal is a mom to two sons who are both in day care. Day care, Beal said, drains a significant amount of household income. 
"It's literally double our mortgage and more than 60% of my take-home pay each week. I basically work side jobs to afford day care — or afford working my regular job," Beal said. 
Her long-term goal is to grow her travel blogging business to be a consistent source of income so she can stay home with her children. Right now, Beal describes her blog as growing but also a "whatever I put in, I get out" situation. 
Make Your Money Work Better for You
In the short term, Beal works several side gigs to create enough income to provide for her family and save up for a larger home. "I try to balance it as best I can. I prioritize what needs to get done."
More From GOBankingRates