10 Part-Time, Extra-Money Gigs You Can Get With No Experience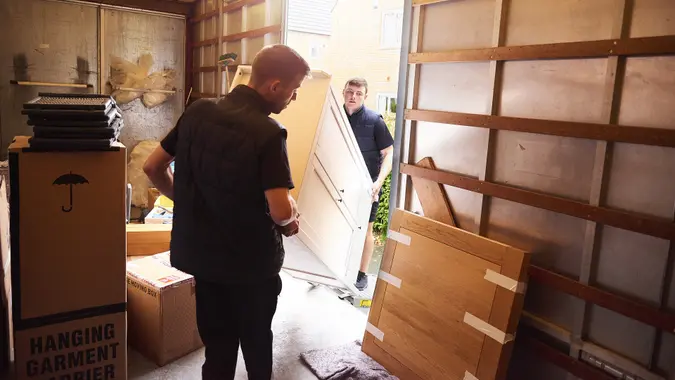 MartinPrescott / iStock.com
There are numerous money-making part-time careers that require no prior experience, such as dog walking or retail jobs, that can provide you with immediate income opportunities. Additionally, online translating or virtual assistant roles offer flexible part-time options for individuals looking to earn money without a formal background in the field.
Whether you've been in a career and want to switch things up or you're looking for a side hustle to supplement income, the following jobs are for people at various life stages with varied interests and require no experience.
Dog Walker/Pet Sitter
If you love animals and are active, caring for a cherished fur buddy is a fun and fulfilling job. You can set your own hours and find work through word of mouth and through platforms like Rover or Wag!
Prerequisites: Being trustworthy, empathetic and patient
Average Wage: $16/hour
Babysitter
If you love kids, but want to be able to give them back at the end of the day, babysitting is a great way to make money while also helping working parents. Happy parents will refer you, and there are also agencies like Urban Sitter to help connect caregivers and guardians.
Prerequisites: According to Care.com, babysitters need to be high energy, dependable and creative, among other things. Bonus points if you are CPR-certified (you can probably charge more, too). 
Average Wage: $15/hour
Delivery Driver
Fueled by the pandemic and thanks to food delivery services like Uber Eats and DoorDash, there is an increased demand for delivery drivers.
Prerequisites: A reliable vehicle (car or bike) and a valid driver's license.
Average Wage: $20-$40/hour after expenses, with tips
Make Your Money Work Better for You
Retail Sales Associate
Retail stores hire workers with no prior experience and provide on-the-job training. Responsibilities involve assisting customers, processing payments and stocking merchandise.
Prerequisites: A good retail sales associate is friendly, informed about the store's merchandise, and makes recommendations based on customer needs.
Average Wage: $15/hour
Barista
Do you love coffee and love people who love coffee? Becoming a barista is a great way to get to know members of your community while getting on-the-job training on how to make concoctions the way customers want them.
Prerequisites: Most coffee shops will train you. It helps to be safety-minded, since you will be working with kitchen equipment, and to have a high school diploma (GED equivalent).
Median Wage: $13.52/hour, without tips
Mover
Whether it's helping someone move from their apartment, a family from their starter home to their dream home, or a business to a new location, movers will always be in demand. You can team up with a friend who has a truck or work for a large moving company like U-Haul or United Van Lines.
Prerequisites: No formal education requirement. A mover should have an appetite for hard work, hand-eye coordination, and good customer service skills. 
Salary: $34,960/year (median)
Translator
If you are from another country or are simply bilingual and can speak, read and write in another language, you have a much-needed skill. Translators can work in fields such as law, healthcare or marketing. Plus, this is a job you can do remotely or in person, depending on the field you choose to work in.
Prerequisites: None, but it helps to have a high school or bachelor's degree. It's also helpful to be well-versed in the cultural and societal norms of the regions you are working with so you can be accurate in your translations and build good business relationships.
Average Salary: $55,000/year (per Glassdoor)
Make Your Money Work Better for You
Customer Service Representative
Here is another opportunity to work from home with flexible hours. Most employers will provide you with the computer equipment you'll need to work from home, along with a script to use for the most common questions. You might even be able to find a job in a field that interests you, such as fashion, IT or healthcare.
Prerequisites: If you like speaking with people and helping them find solutions for their problems, you have all the experience needed to start working as a customer service representative. An even temper is key, though — when you first connect with a customer, they may be upset or confused.
Average Salary: $17.75/hour
Proofreader
Working as an online proofreader is a popular way to earn a living. According to Forbes, a new website is built every three seconds! Proofreaders work in fields like pharmaceuticals, law, web content creation, brands and small businesses. A proofreader gets a document after it has been edited. The job is not to change anything but to spot spelling, grammar or syntax issues.
Prerequisites: If you love to read and have an eye for detail, like a missing comma and the correct usage of an apostrophe, you're a good candidate.
Salary: $19.54/hour (median).
Social Media Specialist
Chances are you're a natural at this if you are active on TikTok, Facebook or any other social media platforms. Depending on the size of the company you work for, responsibilities include managing photos and videos, creating and publishing content, and interacting with consumers. For more flexible hours, look for local businesses that use social media to attract customers.
Prerequisites: Being enthusiastic, collaborative and up-to-date on social media best practices are among the qualities companies or brands will want.
Median Salary: $27.29/hour
While these jobs may not require experience, it's crucial to emphasize your soft skills, such as communication, punctuality, teamwork and eagerness to learn in order to improve your chances of getting hired. These jobs can also provide opportunities for advancement if you decide you enjoy the work and want to pursue it further.
Make Your Money Work Better for You
More From GOBankingRates