10 Best Ways To Get Paid To Test Products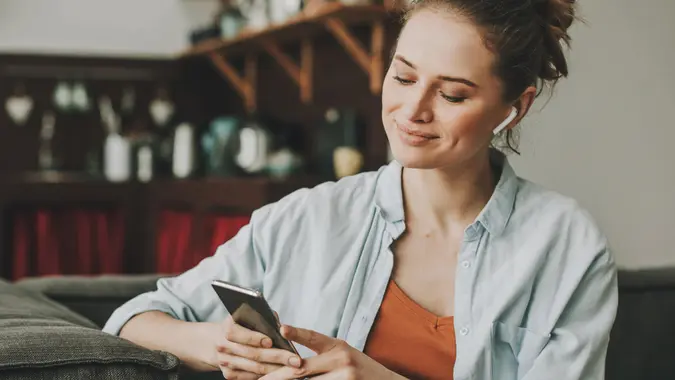 YakobchukOlena / Getty Images/iStockphoto
It's possible to get paid to test products for money. In fact, many companies seek out people willing to test their products before releasing them to their customer segment. Not only can you make some extra cash this way, but your feedback also helps these brands give their best offering to the public.
Different companies across nearly all markets are looking for product testers. This makes this a potentially lucrative and rewarding side gig for you — whatever your interests are.
Top 10 Ways To Get Paid To Test Products
Here are the best companies offering legitimate product testing opportunities right now:
Johnson & Johnson
UserTesting
Influenster
McCormick & Company
American Consumer Opinion
BetaTesting
Pinecone Research
National Consumer Panel
SheSpeaks
BzzAgent
Keep in mind that some of these options pay in cash, while others offer gift cards, free products or samples, or other rewards. Additionally, some of these options will require specific knowledge of the product or a history with the brand being tested.
Make Your Money Work Better for You
1. Johnson & Johnson
Johnson & Johnson owns several reputable brands, such as Neutrogena, Clean & Clear and Aveeno. It also has its own Friends & Neighbors program for product testers.
When you register for this program, you'll need to provide some personal information and your phone number and email address. You must be at least 18 years old to participate.
You could end up testing products, completing online surveys, participating in online forums or focus groups, and more. The products you could be testing include things like dental floss, makeup, shampoo and body wash.
Once the testing period — or survey — is over, you'll generally get to keep the product. You may also receive a prepaid Visa gift card as compensation.
2. UserTesting
UserTesting pays people to test software, apps and websites for designers and developers. Most users end up taking one or two tests each week. The amount you'll earn for each one will vary depending on the types of tests you take. Approximately seven days after completing a test, you'll receive payment through PayPal.
Make Your Money Work Better for You
3. Influenster
With around 6.5 million members, Influenster is a product testing company that pays you to test products and services. As a member, you'll receive sample products in a VoxBox, as well as special discounts and digital offers. Products range from sporting goods, toys and games to personal care, beauty, health and groceries.
Rather than giving you money, Influenster compensates your work by letting you keep the products you test. All you have to do is download the app, provide some information about your preferences, and wait to be matched with brands that fit your profile. Once you receive a VoxBox, simply review the items honestly.
4. McCormick & Company
When it comes to food, McCormick & Company is another company that offers product testing opportunities. You'll need to apply to become a tester for McCormick. Once you do, keep an eye on your inbox for emails about upcoming studies.
McCormick has both at-home and in-person testing sessions. Testing occurs Monday through Friday during the day and evening. You can test products once every three months, or four times a year. Payment depends on how long the taste test takes and what type it is.
Make Your Money Work Better for You
5. American Consumer Opinion
American Consumer Opinion also pays people to take surveys, review new products and product ideas, and evaluate packaging designs. All you need to do to become a member is create an account. The information you provide will help determine the types of products or surveys you receive.
You can earn points by taking surveys. You'll need at least 1,000 points to redeem your points for cash via PayPal. Alternatively, you can use your points to participate in sweepstakes for prizes, or you can donate your earnings to charity.
6. BetaTesting
Becoming a beta tester for BetaTesting is simple and free. It only takes a few minutes to create a profile. Once you've completed your profile, you'll receive invitations from clients to test products. Products include websites, mobile apps and hardware like TVs and smart vacuums.
Many of the tests vary from around 45 to 60 minutes in length and pay out anywhere from $15 to $30 apiece. There are also shorter tests that pay less, in addition to tests that take place over several weeks or months and pay more. Most testers on the site receive up to five opportunities a month. BetaTesting also typically pays users via PayPal, gift cards or free products. Once you complete a test, you'll receive payment within around 14 days of the project's end date.
Make Your Money Work Better for You
7. Pinecone Research
Pinecone Research primarily offers testing of new and improved products. With this company, you can provide honest feedback via online studies about different products. You may also receive samples to test at home.
For every study you complete, you'll earn points that can be redeemed for prizes or cash rewards. This company typically processes any rewards within 3-5 business days after you complete the survey.
8. National Consumer Panel
Formerly known as Homescan, the National Consumer Panel pays you to share your opinions on shopping. When you become a member, you'll get access to the NCPMobile app. As a member, you can scan barcodes when you shop. Doing this will earn you points, though you can earn additional points by participating in surveys. You may also occasionally receive invitations to test products. You won't get paid in cash. However, you can redeem your points for goods or gift cards.
9. SheSpeaks
SheSpeaks primarily works with women who want to share their opinion and try out different products before they fully hit the market. With this company, you can either review products you're using or receive free samples in exchange for an honest review. Simply sign up for an account and go from there.
This company doesn't pay in cash. Instead, it has giveaways with cash prizes, free samples, and gift cards for the best reviews.
10. BzzAgent
BzzAgent is another product testing company that works with such brands as Lancome, L'Oreal, Armani Beauty and Hormel.
Make Your Money Work Better for You
To get started, sign up and share some information about your interests. Then, keep an eye on your email for product invites. Once you receive one, apply for a sample. Supplies are limited, so you'll want to be quick. If you're selected, BzzAgent will send you a sample one to three weeks after you've been selected. After you receive your sample, try it out and give your full, candid review. You won't get paid in cash for participating, but you get to keep the free samples.
How Do I Start Testing Products for Money?
If you're interested in testing products for money, there are a few things you should know first. Many companies will send their products to people in an effort to get real feedback before sending them to the market. These companies typically require an honest review and, in exchange, you get to keep the product.
Some companies will also pay you through a cash transfer, gift cards, or points that can be converted into money. The average full-time product tester earns $45,617 a year, according to Glassdoor. But even if you go freelance, you could still earn a few bucks on the side.
Make Your Money Work Better for You
Product testers can get paid well, but how much you can earn depends on a few things. Casual product testers, for example, tend to earn less than more avid ones. Certain companies will pay more than others. If you have a decent social media presence, you could potentially earn even more money.
It's important to find a reputable company, though. If you're starting out, it's a good idea to create an account on several legitimate product testing websites first. These sites serve as platforms that can help you find products based on your demographic and interests. The more sites you register at, the more products you could test — and the more you could earn.
Can I Get Paid To Test Products?
Whether it's simply sharing your opinions about websites or apps, or it's trying out products at home, you can test products for money. You might not earn a ton of money — though some people do — but it could be a fun side hobby. Plus, you might be able to earn enough cash to supplement your monthly income, pay down debt or save up for something you've been wanting.
Whatever your goals are, check out a few of these product testing websites and sign up today. You never know what types of products or services you might end up testing — and how much your opinion could affect the products out on the market.
Information is accurate as of March 20, 2023.
Make Your Money Work Better for You