15 Weekend Side Jobs That Will Make You Money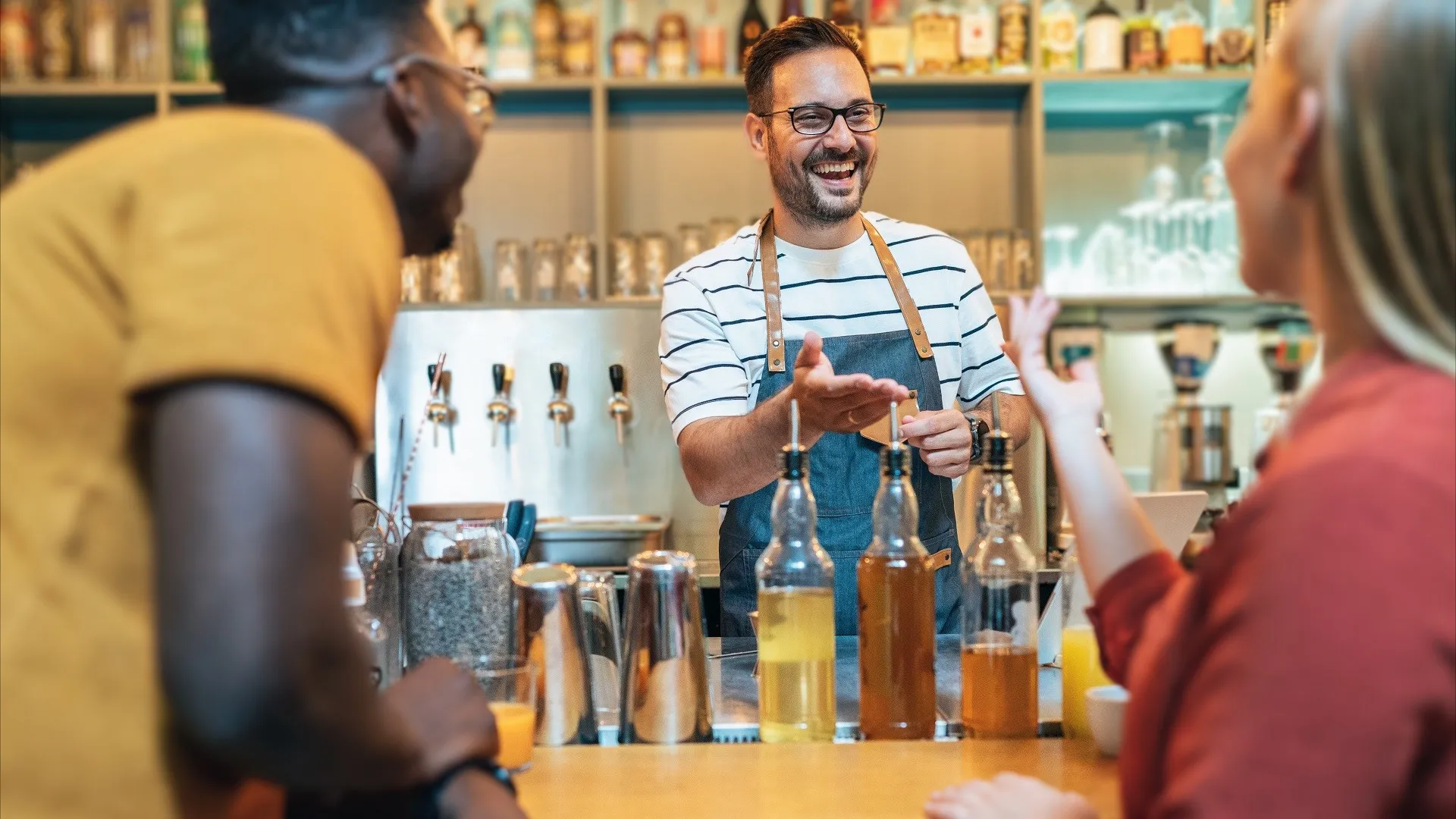 Bartender
Many people romanticize working as a bartender. What could be better than making drinks for friends, listening to a good playlist and pocketing cash tips?
However, as any bartender will tell you, the job isn't as easy — nor as fun — as it might seem. To get started as a bartender, you can enroll in bartending classes; however, nothing can replace experience. Many bartenders work their way up to the position after working as hosts, bussers, servers or waiters. Most will work as barbacks — which involves carrying heavy buckets of ice and cases of alcohol — before they make it to that coveted spot mixing drinks behind the bar.
If you're able to work your way up to a bartending gig, expect to make around $26,350 per year or $12.67 per hour, including tips. You can make more depending on your venue and rapport with customers.
Make Your Money Work Better for You
Brand Ambassador
If you've ever scrolled through the jobs section of Craigslist, you've likely seen a number of postings that call for a "brand ambassador" or "brand marketing representative." According to Entrepreneur Magazine, a brand ambassador is someone who is passionate about the brand, builds brand awareness and connects and engages with customers. It's marketing that happens face-to-face in real-time with potential customers.
Full-time brand ambassador jobs exist, but many of these opportunities pop up on a part-time basis to support special events. Brand ambassadors can make anywhere from the minimum wage to $52 per hour, averaging out to about $50,000 a year, which is not bad for a side hustle that calls for you to support a brand you know and love.
Event Planner Assistant
If you're the type of person who notices minute details — such as the color and fold of napkins at a dinner party or wedding — you might want to consider pursuing an event planner assistant gig. As an event planner assistant, you'll be responsible for completing behind-the-scenes tasks that help make weddings, birthday parties, corporate events and more run smoothly.
Event planner assistants earn an average of $15 per hour to help plan, set up and execute events. While the job might seem glamorous, be advised that event planner assistants work long hours, spending much of that time on their feet. Also know that event planner assistants are not event guests, meaning you will not partake in event happenings.
Make Your Money Work Better for You
Focus Group Participant
One of the easiest ways to earn money on the side is to become a focus group participant. Focus groups are small gatherings of select individuals organized by market researchers to garner feedback on a specific product or topic.
If you are selected as a focus group participant, you'll have the opportunity to try out new products, taste test food and drinks, take online surveys and more. The best part? You're paid for sharing what you do and don't like.
You can find focus group opportunities using resources like Focusgroup.com and Focuscope.com. How much money you make as a focus group participant varies widely. Participants can earn $75 to $150 for their time by using Focusgroup.com.
Food and Beverage Delivery Driver
If you have a reliable car, a good driving record and free time on the nights and weekends, consider part-time work as a food and beverage delivery driver. While delivery drivers were once limited to pizza parlors and restaurants that offered take out, the opportunities for delivery drivers today are endless.
For example, you can consider working for popular delivery apps like Uber Eats, Grubhub, DoorDash and Postmates, to name a few. Delivery drivers generally earn a commission on the delivery fee, plus tips.
Hair Salon or Spa Receptionist
Hair salons and spas are often bustling on the weekends with clients who want to kick back, relax and pamper themselves. You can take advantage of busy weekends by finding a side gig as a hair salon or spa receptionist.
To be successful as a receptionist, you need a friendly demeanor, a great attitude, excellent customer service skills and the ability to stay organized and schedule appointments.
On average, spa receptionists make about $17 per hour, and salon receptionists make about $11.93 per hour. Receptionists often get discounts on salon or spa services as well.
Make Your Money Work Better for You
Host or Barback
Securing a job as a host or barback is an excellent way to break into the restaurant business. These positions are ideal for individuals who have little or no restaurant experience but are interested in working their way up to waiting tables or working as a bartender.
Exemplary hosts have excellent customer service skills, as they are most often the first representative guests see when they enter a restaurant. They are required to keep track of reservations and waiting lists, to seat guests at their tables and to complete other miscellaneous tasks, such as cleaning menus or assisting with bussing.
Unlike hosts, barbacks do not usually interact with guests. Instead, they can be seen stocking the bar with ice, glasses, alcohol and other necessary items. Barbacks sometimes also clear dining tables, though this is usually reserved for bussers. While working as a barback is much more strenuous than working as a host, the pay is roughly the same. 
The average hourly rate for a barback and a host is $11. But of course, like with other jobs on this list, this often depends on where you live and the minimum wage in your city or state.
Lawn Maintenance Worker
If you want to make extra money on the weekends but don't want to spend your time indoors or inside of your car, consider a gig as a lawn maintenance worker. To get started, you can contact landscaping companies near where you live, or you can look for opportunities on services like GreenPal, which connects individuals who need yard services with lawn professionals via its website, YourGreenPal.com.
Most lawn maintenance workers earn an average of $11.25 per hour.
Lifeguard
Another great outdoor job is that of a lifeguard. Working as a lifeguard at a local pool, gym, water park or beach is not exclusively for high school students on summer break. In fact, any person certified through an accredited lifeguard training and certification course — which includes CPR, first aid and automated external defibrillator (AED) training — can do the job.
Soak up those sun rays and collect an average of $15 per hour — just don't forget your sunscreen.
Make Your Money Work Better for You
Nanny or Caretaker
Even families that employ full-time nannies or caretakers or utilize day care services often need extra help taking care of their children on the weekends. You can help fill this need so parents can get more done — or simply go on a date every now and then — by working as a nanny, caretaker or babysitter.
Word of mouth is still a powerful method for finding good work in the caretaking field; however, you can also sign up with reputable resources like Care.com or Sittercity.com. Be advised that caretaking experience is expected. Some parents might also prefer candidates with certifications in CPR and some early childhood education or training. One perk of this job is that you might be able to watch your own children while watching the children of others, making it an ideal job for stay-at-home parents.
The average babysitting rate is currently about $13.47 an hour; however, pay might be higher depending on your geographic location.
Pet Sitter
Pets are part of the family, and some people are willing to shell out cash to ensure their fur babies receive endless love and care. If you have experience caring for animals like dogs and cats, you should consider a side gig as a pet sitter.
Websites like Rover.com can help you find pets that need care in your area. Services offered can range from daily walks to caring for an animal in your home while the pet owner is away.
How much you make as a pet sitter depends on many factors, including the service you are providing and your experience with animals. Rover.com says its pet sitters can earn up to $1,000 per month.
Make Your Money Work Better for You
Retail Sales Associate
Retailers are often busiest on weekends, which presents a great opportunity for those looking to bring in a little extra cash. Retail sales associates work in the customer areas of stores to help maintain orderliness and appearance and to assist shoppers with any needs they might have. Retail associates spend the bulk of their shifts standing and are often required to be able to lift items weighing up to 25 pounds.
Retail sales associates earn a median pay of $14 per hour. Additionally, most retailers give their employees a discount on store merchandise.
Security Guard or Bouncer
Clubs, bars and music vendors are always on the hunt for extra muscle on weekends and for major events. To increase your chances of being hired as a security guard or bouncer, sign up for a training course that culminates with licensure.
Physical fitness is another requirement of the job, as you'll need to be able to handle unruly and, oftentimes, inebriated patrons.
As of May 2021, the U.S. Bureau of Labor Statistics reported that security guards make an average of $17.23 per hour.
Telemarketer
There are countless part-time telemarketing jobs available for anyone willing to work nights or weekends. Even better, these jobs sometimes allow you to work from the comfort of your own home — which is perfect if you're looking for jobs that offer work-life balance.
As you likely know, telemarketers call potential customers over the phone in the hopes of persuading them to buy products or services. Sales skills are a plus, though not necessary, as most companies provide their workers with a prepared pitch. A thick skin, however, is a must.
You can find telemarketing opportunities online on FlexJobs.com and via internet job boards. The median pay for telemarketers comes in at $14.73 per hour.
Make Your Money Work Better for You
Uber or Lyft Driver
Ridesharing apps have become so popular that "Uber" is now used as a verb as well as a noun. You must meet several requirements to become a driver for a rideshare service. For example, to become a Lyft driver, you must be at least 21 years old, own an iPhone or Android phone, have a state's driver's license that is at least one year old and pass a DMV and background check, in addition to other requirements.
As a driver, you'll set your own hours and generally choose the area where you want to drive. According to Lyft, some drivers make more than $800 by driving on Friday nights and weekends.
More From GOBankingRates