What We Learned From Working Three Side Gigs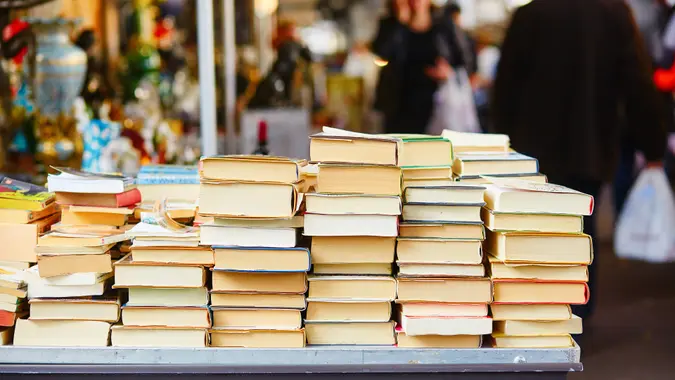 encrier / Getty Images/iStockphoto
A side hustle has long been regarded as a great way to earn extra money and explore your passions. Some hold down the same side hustle for years while others try out new side gigs every couple of months. No matter which kind of side gig you work, you'll come away from the experience having learned a lot about what it takes to succeed. 
GOBankingRates spoke to two professionals who have explored working in three different types of popular side hustles. Here's what they learned from trying these side gigs. 
Also see 22 side gigs that can make you richer than a full-time job.
Kathy B. — Wonolo App, iSecret Shop, Selling on Amazon
Kathy Belge is a writer and podcast host at Solo Women RV. Belge is also a side hustler who told GOBankingRates she has worked nine side gigs this year. Of the nine, Belge spoke about her experience selling on Amazon and working separate gigs for the Wonolo app and iSecret app.
Make Your Money Work Better for You
Wonolo App
Belge worked two gigs with the Wonolo app. Both gigs were merchandising at a Nordstrom Rack store. Belge said she made $17 an hour, minus the $4.23 trust and safety fee collected by Wonolo. Each gig was seven hours long with a 30- minute unpaid break. Belge worked two seven-hour shifts spaced a week apart and was paid within three days.
Jobs on Wonolo, Belge said, can be hit or miss. Many are roles where you are driving, so they require having a car. Other roles can be taking on a graveyard shift or doing housekeeping or warehouse work. 
"My advice is to check the app often," Belge said, "and if you see a good job, snag it right away."
Take Our Poll: Do You Think AI Will Replace Your Job?
iSecret Shop
According to Belge, the iSecret shops pay different amounts. Belge said she did two apartment shops that paid $40 and $45 each. She worked one hour with each shop. Users can see how much each shop pays on the app, with payments varying from $10 to shop a fast-food restaurant to $108 to test drive a Porsche. 
Make Your Money Work Better for You
However, it does take a while to receive the payments. The iSecret app says it usually pays within 33 days. Belge signed up for the app in November 2022. She has accepted just two shops (both in March 2023) and completed them on March 15 and March 20. While the app said her payment was sent on April 18, Belge said it hasn't reached her account yet.
Belge recommends reading the fine print before starting this side gig. "For each shop that you agree to, you usually have to sign an agreement with the company that is requesting the shop. The companies are the ones who pay you and it's not centralized."
Selling on Amazon
Belge has been selling used books on Amazon since May 2020. She said she was looking for something to do to earn money while traveling in her RV. She visits thrift stores during her travels and in her hometown. 
"Selling used books on Amazon is a fun thing to do if you are physically fit — you will be lifting boxes of books up to 50 pounds — and enjoy spending time in thrift stores and estate sales," Belge said. 
In 2021, Belge said she made $13,830 as a seller. In 2022, she made $6,433. She said she worked around 10 to 20 hours each week in 2021 but just five hours or so in 2022. 
Make Your Money Work Better for You
If you want to sell used books on Amazon, Belge suggests you educate yourself on which books are good bargains and sell often on Amazon. It also can be helpful to join a Meta group with knowledgeable sellers in order to stay competitive in the business.
Belge said, "I suggest investing in a Bluetooth scanner, a scanning app like Scout IQ and repricing software to help you find the best books to send in and to keep them competitively priced." 
Katie B. — Babysitter, Dog Walker, Virtual Assistant 
Katie Boudreau is the operations and HR manager for CallerSmart, an iOS app and website that helps users investigate mystery phone numbers and avoid unwanted calls and texts. Boudreau has worked three side gigs, including as a babysitter, dog walker and virtual assistant for businesses — and thoroughly enjoyed all three of them.
Babysitter
Boudreau's role as a babysitter lasted for a year. She earned between $18 and $20 an hour and was paid monthly. She worked at least three hours devoted to a single family, four days a week. 
Make Your Money Work Better for You
The side gig taught Boudreau that taking care of kids is not as simple as it sounds.
"All kids are different, so you need to know your comfort level," Boudreau said. "Have patience when you deal with them. Reinforce rules and limits yet be playfully open and active."
Dog Walker
Shortly after being a babysitter, Boudreau started the dog walking side gig. Boudreau cared for two dogs for a family and two cats and a dog for another family. Barring the weekends, Boudreau worked four hours for four days a week. Boudreau made around $22 an hour and was paid on a monthly basis, working in the role for close to eight months. 
For those who want to explore a side hustle as a dog walker, Boudreau recommends knowing everything about the dog you're taking care of. This includes understanding the dog's medical history, evaluating their activity level, using appropriate doggy gear when walking out and understanding the dog's needs.
Virtual Assistant 
In Boudreau's virtual assistant side gig, the pay ranged between $25 and $28 an hour to start. Boudreau peaked at $33 an hour and worked a minimum of four hours for five days a week. 
Make Your Money Work Better for You
Being a virtual assistant offered plenty of monetary and career growth perks. "I was eligible for bonuses for well-done jobs," Boudreau said, "and there were opportunities to opt for upskilling programs at no additional cost." 
Boudreau worked as a virtual assistant for two years and said there was so much learning and development experienced in this role. Boudreau shared these tips for succeeding as a virtual assistant: 
Work from a distraction-free place so you can concentrate on your work.
Take occasional breaks if you are working long hours.
Ensure proactive communication. This keeps the client aware of any updates. 
Use time blocking to complete high priority work on time. 
Use adequate project management software and communication apps to ensure smooth work management.
More From GOBankingRates
Make Your Money Work Better for You